Fight heat waves to ensure food security
By Fan Shenggen and Zhang Yumei | chinadaily.com.cn | Updated: 2022-08-22 15:27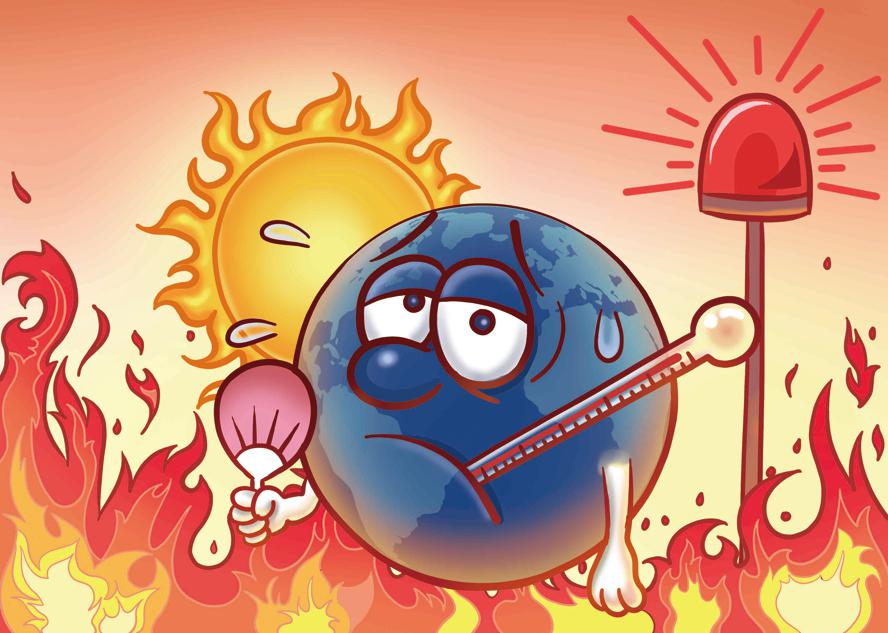 Intense heat waves have hit many parts of the world, including the United States, many European countries, East and Central Africa, India, Pakistan, Chile, the Republic of Korea and southern China.
Very high temperatures combined with rain shortfall have caused severe droughts, lowered water levels in rivers and reservoirs, and hastened the melting of glaciers in many parts of the world, which could seriously affect global grain output and, along with the lingering COVID-19 pandemic, the Russia-Ukraine conflict, and high global inflation and economic downturn, exacerbate food security risks.
According to the UN Food and Agriculture Organization's Crop Prospects and Food Situation, issued last month, precipitation in Somalia, northern and eastern Kenya and southern Ethiopia was unusually low from March to May, leading to crop failure. As a result, cereal production in Somalia is expected to be 40-60 percent below average.
In pastoral areas, dry weather has been hampering the regeneration of pastures and the replenishment of the underground water table, severely affecting herds and causing widespread livestock deaths. In fact, Ethiopia has lost about 2.5 million animals, Somalia 3 million and Kenya more than 1.5 million, and the figures are expected to increase in the coming months
Worse, by the end of June, the number of food-insecure people in Kenya, Somalia and southern Ethiopia had reached 16.5 million, up 80 percent year-on-year.
But Africa is not the lone victim of the high temperatures and heat waves. Extreme heat and widespread droughts have seriously affected agricultural production in the European Union, according to the US Department of Agriculture. In the 2022-23 market year, corn production in the EU is expected decline by 15.5 percent to 60 million tons — 10 percent below the past five years' annual average. And the wheat output of 132.1 million tons is expected to be 4.5 percent lower year-on-year.
Wheat output in India and Pakistan, too, is likely to decline — by 6 percent and 3.9 percent, respectively — while corn output could fall by 4.6 percent and 6.3 percent.
As such, food prices are expected to rise further in the fall, exacerbating the cost-of-living crisis.
As for China, the summer grain harvest this year was 147 million metric tons, up 1 percent year-on-year. But the July-September period is critical for fall grain output, and the eastern, southern and southwestern parts of the country have been experiencing unusually high temperatures since July, a trend that meteorologists say is likely to continue.
According to the Ministry of Water Resources, drought has affected 32.99 million mu (2.2 million hectares) of arable land, 2.46 million people, and 350,000 farm animals in nine provinces, including Anhui, Jiangxi, Hubei, Hunan and Sichuan provinces, and Chongqing municipality. To deal with the situation, the Ministry of Agriculture and Rural Affairs has dispatched provincial liaison groups and scientific and technological experts to key fall grain producing areas, especially those severely affected.
Also, on Aug. 11, the State Flood Control and Drought Relief Headquarters launched a four-level emergency response mechanism to better manage drought-resistant water sources, implement emergency water supply measures, and ensure water supply for irrigation, in order to minimize the effects of the dry weather on agriculture. Also, the central finance and disaster relief authorities have released about 500 million yuan to support drought relief work.
However, high temperatures are not exceptional to this year. As a matter of fact, extreme heat could become the new normal, with more frequent, longer lasting heat waves. The UN Intergovernmental Panel on Climate Change has warned that if global temperatures rise by 1.5 degrees Celsius, heat waves will increase, and summers will be longer and winters shorter. And if global temperatures were to rise by 2 C, extreme heat could cause serious health issues both for humans, agriculture and livestock.
Besides, studies show that adapting to and fighting climate change is becoming increasingly costly, with Africa facing the biggest threat to food security.
So China, while intensifying efforts to cope with extreme heat and ensure a bumper grain harvest in the fall, should play a bigger role in global food security governance and strengthen cooperation with the international community to minimize the negative impacts on global food security.
First, there is an urgent need for the international community to provide assistance where needed including supplying food to the affected regions in Africa, establishing social safety nets, and safeguarding the livelihoods of poor families, given the funding gap in the World Food Programme this year — the WFP needs $22.2 billion to help 152 million people in need but is facing a fund shortage.
Second, the Chinese authorities should strengthen research and development and increase investment in green technologies, climate-resistant crops and strengthen management. Chinese scientists have already developed new strains of heat-resistant and higher yield rice, The high-temperature resistance genes are already conserved in other major crops, such as wheat, corn, soybean and vegetables, and are valuable resources for breeding high heat stress tolerant crops to reduce crop losses caused by rising temperature.
Third, infrastructure construction should be expedited to improve "drought irrigation and flood drainage" during extreme weather events, so crop output is not affected.
Fourth, the authorities also need to take measures to improve the agriculture and food production systems in order to reduce greenhouse gas (GHG) emissions, because the global agriculture and agri-food sector accounts for a third of the total GHG emissions.
Fifth, agricultural insurance and green finance should be used to strengthen climate risk management and safeguard agriculture. For example, China's central financial agricultural insurance premium subsidy of 33.3 billion yuan ($4.8 billion) in 2021 helped protect farmers against natural disasters, allowing them to be better cope with climate risks.
Fan Shenggen is the dean of, and Zhang Yumei is a professor at the Academy of Global Food Economics and Policy, China Agricultural University.
The views don't necessarily reflect those of China Daily.