Sino-German twin gardens bridge the East and the West
Xinhua | Updated: 2022-08-23 08:07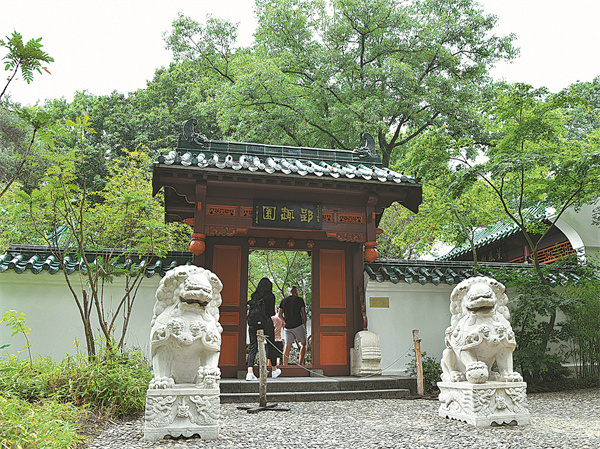 A Chinese-style garden reopened to the public recently in Duisburg, Germany, to mark the 40th anniversary of the city's partnership with Wuhan in Central China's Hubei province.
The China Garden was built in Duisburg Zoo in 1987 as a gift from Wuhan. It opened to visitors the following year, but has been closed for renovation since last October.
"In 1988, we were able to build this together thanks to support and help from Wuhan. Since then, countless people have found peace here, have been able to relax a little and have also enjoyed the incredibly beautiful Chinese culture," said Soeren Link, mayor of Duisburg, after the opening ceremony.
"I think it's an example of a very successful and well-tended city partnership between Duisburg and Wuhan, of which we are really proud."
In 1982, Duisburg became the first city in the Federal Republic of Germany to establish a "sister cities" relationship with Wuhan, a riverside industrial hub in Central China.
"We are both cities that have a proud industrial heritage," says Link. "We work at different speeds, for example in the area of (economic) structural transformation, so we can learn from each other. Sometimes one knows better and has had both positive and painful experiences that the other can learn from."
The city of Duisburg straddles the Rhine and Ruhr rivers in western Germany. As one of the destinations for China-Europe freight trains, Duisburg functions as a European transport hub.
Due to the COVID-19 pandemic, the renovation schedule for the China Garden was disrupted. Eventually, Wuhan and Duisburg cooperated via video conference, with experts in Wuhan giving construction guidance. Materials for the renovation were transported via freight train from Wuhan to Duisburg.
Renate, a local amateur photographer, says that she was a regular visitor to the garden and has been looking forward to its reopening for a long time.
"I particularly enjoyed the beautiful autumn views. I don't think the restoration has changed the original look and beauty of the garden," she says.
Hu Songbing, deputy general manager of a Wuhan eco-gardening company, which was involved in the renovation project, says the new China Garden could last 50 years before it needs another renovation.
It also has a "sister garden" in Wuhan Zoo, Hu explains. In the 1980s, to ensure that the garden would be well-built, the city of Wuhan decided to first build a similar garden in Wuhan Zoo.
"The garden has remained intact over the years, while other parts of the zoo have undergone profound transformation," Hu said in Wuhan before the opening ceremony in Duisburg.
"We have kept all the artistic concepts, including the plants, to preserve the memory and roots of the city.
"The two gardens, in the East and the West, are like two piers supporting the bridge of friendship between the two cities."