Low US jobless rate not helping productivity
By HENG WEILI in New York | China Daily Global | Updated: 2022-08-23 10:25
Amid declining worker productivity, payroll figures come under scrutiny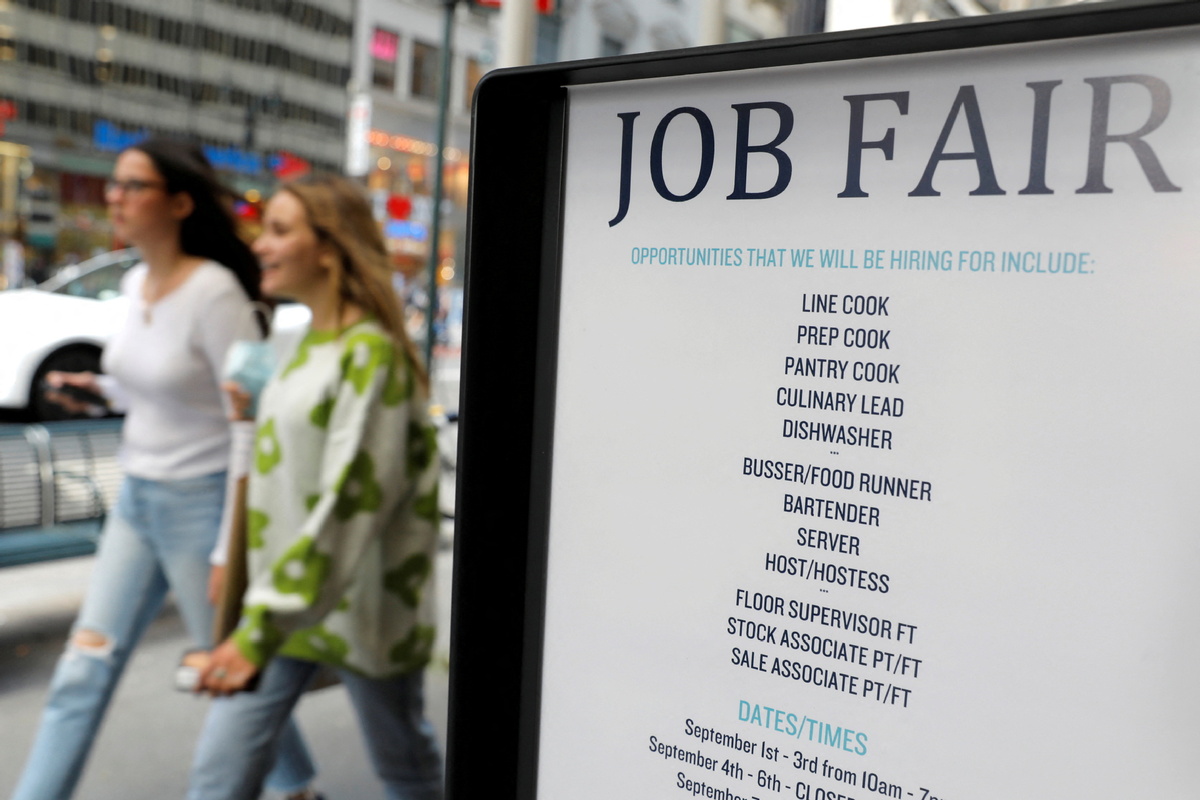 While US unemployment remains low, it coincides with a significant drop in worker productivity.
The Bureau of Labor Statistics (BLS) reported on Aug 9 that nonfarm business productivity fell 4.6 percent in the second quarter after falling even more — 7.4 percent — in the first quarter.
That happened as US employers added 528,000 jobs in July and the unemployment rate dropped to 3.5 percent, tying a 50-year low reached just before the onset of the coronavirus pandemic in early 2020.
Jan Hatzius, chief economist at Goldman Sachs, has questioned those numbers, saying there is "a possibility that the current jobs numbers are too large".
Whether that is true or not, the jobs report counts payrolls, not people working. So the person working two part-time jobs is counted twice, once for each job.
More Americans than ever now have two jobs, according to the BLS, which could be a sign of people trying to cope with inflated prices for food and energy.
In June, 426,000 Americans worked a 70-hour week, according to the bureau.
While more people are working and being paid more, if that doesn't translate into more output, then eventually it could have an impact on standard of living.
"A country's ability to improve its standard of living over time depends almost entirely on its ability to raise its output per worker," New York Times economic columnist Paul Krugman wrote in his book The Age of Diminished Expectations.
While the Federal Reserve has been regularly increasing interest rates to get persistently high inflation under control, higher costs are showing up in the workplace.
"The trend in productivity growth has worsened compared to prior to the pandemic, and the surge in unit labor costs makes the Fed's challenge of getting inflation back down to its 2% target all the more challenging," Wells Fargo economist Sarah House said in a research note.
So far this year, the Fed has increase rates four times from near zero in March to a range of 2.25-2.50 percent in an attempt to increase borrowing costs and tamp down on economic growth.
Current unit labor costs — the ratio of hourly compensation to labor productivity —increased 10.8 percent in the second quarter of 2022, the most in 40 years, according to the BLS. That breaks down to a 5.7 percent increase in hourly compensation and a 4.6 percent decrease in productivity.
"Declines of this magnitude are not sustainable — scorching labor costs will eventually lead to hiring freezes and outright layoffs unless there is a strong growth rebound. Increased recession odds suggest the former is more likely than the latter," wrote Bloomberg economists Yelena Shulyatyeva and Eliza Winger.
As for what is behind the productivity drop, workers moving from job to job could be one reason.
"The job-hopping enabled by the intense competition for workers could be one factor," reported the cfo.com website.
Another sector hurt by a worker shortage is small business.
"Hiring has never been harder for small business owners," said National Federation of Independent Business (NFIB) Chief Economist Bill Dunkelberg. "The labor shortage remains frustrating for many small business owners as they continue to manage inflation and other economic headwinds. Owners are adjusting business operations where they can to help mitigate lost sales opportunities due to staffing shortages."
An NFIB survey showed that 49 percent of small businesses had unfilled openings in July.
From the same quarter a year ago, nonfarm business sector labor productivity decreased 2.5 percent, reflecting a 1.5 percent increase in output and a 4.1 percent increase in hours worked. The 2.5 percent decline is the largest decrease in the series, which started in 1948.
However, real hourly compensation, which takes into account changes in consumer prices, decreased 4.4 percent in the second quarter of 2022, which followed a 4.4-percent decline in the first quarter of 2022, the BLS said.
On the plus side, manufacturing sector labor productivity increased 5.5 percent in the second quarter of 2022, as output increased 4.3 percent and hours worked decreased 1.1 percent, the report said.
Manufacturing sector output is now 3.6 percent above its level in the fourth quarter of 2019, the last quarter not affected by the COVID-19 pandemic, according to the BLS.