Detailed plans urged for safe start to new school semester nationwide
By ZOU SHUO | CHINA DAILY | Updated: 2022-09-01 09:19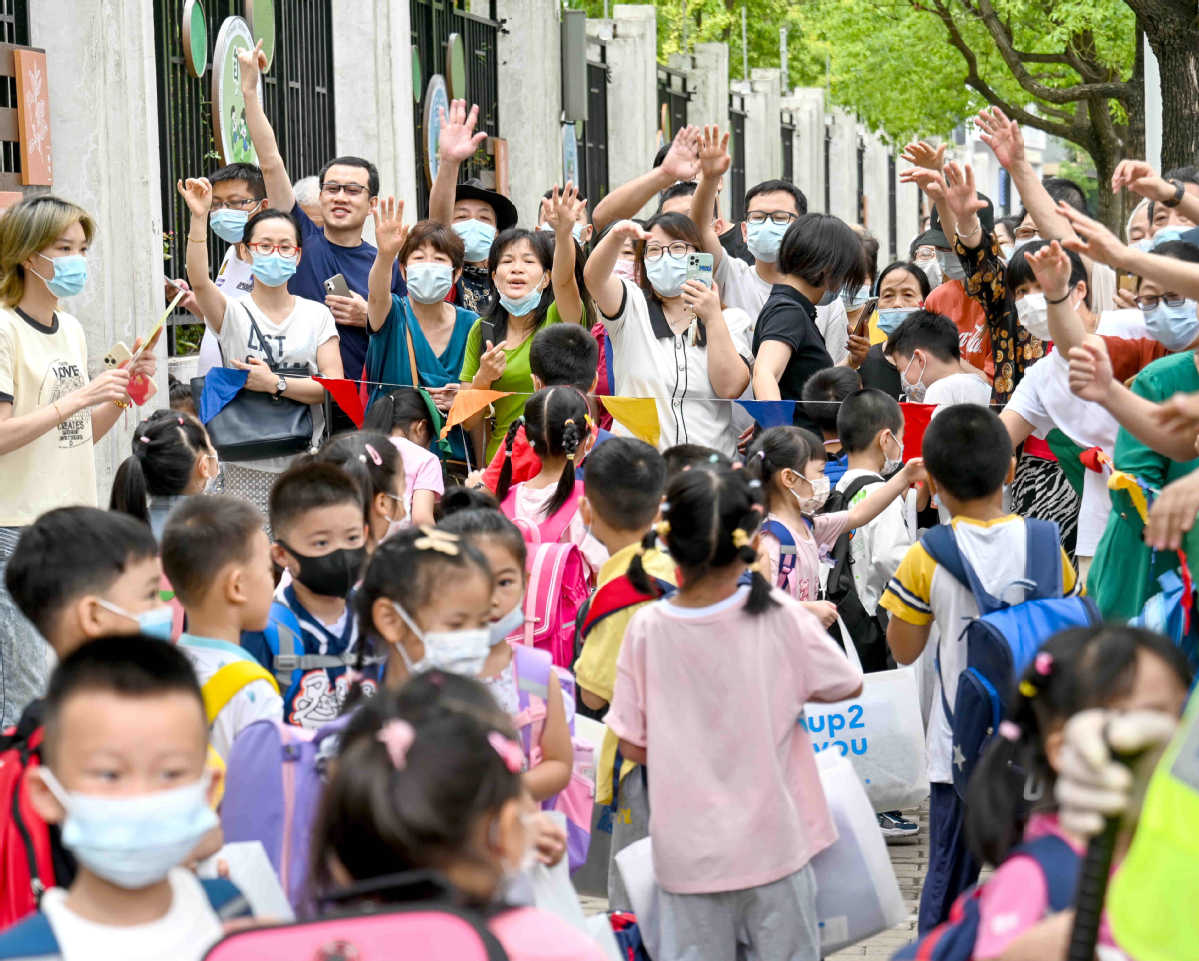 As schools and universities across the country prepare for the new school year, the Ministry of Education has required strict implementation of epidemic containment measures to make sure there will be no large-scale outbreak on campuses, the ministry said in a release on Wednesday.
Schools should make detailed plans and have emergency response mechanisms to make sure students and teachers can return to campuses in a safe and orderly way, the ministry said.
Schools and universities need to make timely adjustments to their epidemic control measures, so that they are scientific, targeted and have minimal impact on teaching, it said.
The ministry has also asked them to enhance cooperation and information sharing with local authorities, so that potential campus outbreaks can be handled swiftly, it added.
According to the latest epidemic containment plan for universities, all people entering the campus must wear masks and have their health code and temperature checked.
Teachers and students need to follow the rules of entering the campus, and during an emergency situation they need to not leave the campus unless absolutely necessary, the plan said.
A separate plan for primary and secondary school students said all visitors to schools must have their health code checked and information registered, while only authorized people can enter school campuses.
If confirmed cases, asymptomatic cases, suspected cases or close contacts are found among teachers and students, schools and universities should immediately activate an emergency response mechanism and report to local disease control authorities within two hours, both plans stipulated.
Under the guidance of health and disease control authorities, they need to seal off the campus, conduct nucleic acid tests on all people and start online teaching, the plans said.
Southeast University in Nanjing, capital of Jiangsu province, has welcomed all students back to the university in several batches from Aug 5 to 30.
Students from low-risk regions needed to have a negative nucleic acid test from within two days and conduct daily health checks before entering the campus, and those from medium and high risk regions cannot return to campus for the time being.
After arriving at the university, the students are required to take two nucleic acid tests within three days, and no large gatherings are allowed in the first three days.
Tian Bingbing, principal of Chunhui Primary School in Hangzhou, Zhejiang province, said teachers and students are required to not leave the city one week before the new semester begins on Thursday.
They are required to take nucleic acid tests every two days after the new semester begins. The school has prepared enough epidemic control materials for two weeks' use and finished complete disinfection of the campus, she said.
Hu Fang, a mother of a middle school student in Beijing's Fengtai district, said her daughter's school has asked students and people living with them to have negative nucleic acid tests two days before school starts on Thursday and they should not leave Beijing from one week before Thursday.
The school will also organize regular nucleic acid tests for all students and teachers after the new semester starts, she said.
Those with high temperatures and who have traveled to other provincial regions within one week cannot return yet, she said.
"I think it is a good thing that the school is taking strict measures and providing routine nucleic acid tests, so I don't need to worry about it," she added.