Film about visionary musicians begins production
By Cao Chen | China Daily | Updated: 2022-09-02 07:52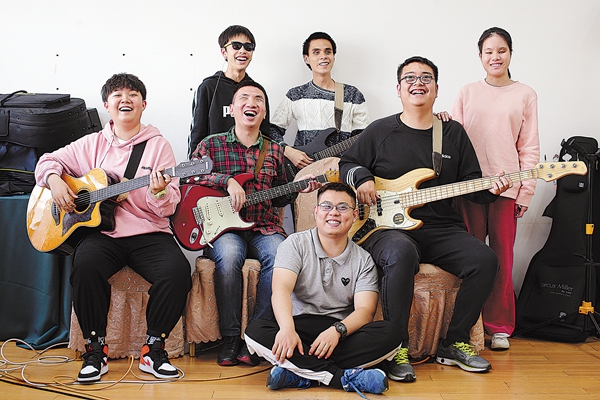 A Miracle Band, which is about six visually impaired musicians, started filming in Shanghai last month.
The film's lead character is Nie Ming, a young man who forms a band and overcomes a series of challenges before impressing audiences.
The character is based on Han Xingchen, the lead singer of a band that was formed in 2018.
The band, Bukaopu (Men of Straw), is part of the Meiai Ronghe art development center, a charity institution which receives support from several entities, such as the city's civil affairs bureau, the culture and tourism bureau in Huangpu district and the No 18 nonprofit organization park, where the center is located.
Zhou Zifeng, an electroacoustic musician, has been the band's mentor for the past few years.
The film's story is based on the experiences of band members. Many actually star in the film. Han plays the owner of a massage parlor who joins the band.
The movie's director Xu Chunling says the inspiration for the film came after her visit to one of the band's rehearsal sessions in Shanghai last year.
Impressed by the band's passion for music, Xu even stayed with the members for some time to understand their motivation before she started filming.
Yu Huan, one of the film's producers and founder of the Meiai Ronghe art development center, says the musicians had to undergo training in body language, speaking and acting.
"The biggest challenge was that they could not communicate with each other through eye contact. Because of that, they needed training so they could analyze each character's personality and improve interactions and their sense of direction on the stage," Yu says.
Yu adds that the movie will raise social awareness about the spiritual needs of visually impaired people, including their desire to realize their self-worth.
Yu, who has been involved in music education and research for children with visual impairment for three decades, says while schools today have special curricula for people with physical challenges, many students still lack the ability to share their feelings with others.
She adds that people with visual impairment can do a lot in different fields. Music, for example, is a route that allows them to showcase their creativity.
"Music is my sustenance. I cannot go a single day without music. It brings me confidence, hope and happiness," says Han.