Putin, Scholz discuss nuclear plant
Updated: 2022-09-15 09:13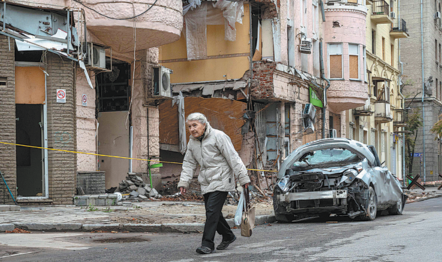 MOSCOW/BERLIN-Russian President Vladimir Putin and German Chancellor Olaf Scholz discussed issues related to the Zaporizhzhia nuclear plant in Ukraine in a phone call on Tuesday, the Kremlin said in a statement.
Putin also told Scholz that "Russia is ready to deliver large quantities of grain to external markets and to provide needy countries with the fertilizer blocked in European ports at no charge", and he highlighted Russia's willingness to remain a reliable energy supplier, the Kremlin said.
The two leaders focused on developments around Ukraine in the context of Russia's special military operation, according to the Kremlin.
Putin described in detail the coordinated measures led by the International Atomic Energy Agency to ensure the physical protection of the Zaporizhzhia plant.
In the 90-minute call, Scholz stressed the need for the safety of the plant and also appealed to Putin to continue to fully implement a grain export agreement backed by the United Nations, German government spokesperson Steffen Hebestreit said.
During an exchange of views on the implementation of the grain deal concluded in Istanbul on July 22, Putin spoke of his concerns over the geographical imbalance in Ukrainian shipments of grain, saying "only a negligible share of which goes to the neediest countries", according to the Kremlin. Putin also said there has been no progress in removing obstacles to Russian food and fertilizer exports.
The two leaders agreed to maintain contact.
UN trade negotiator Rebeca Grynspan said on Tuesday that the UN is working to limit sanctions affecting Russia's exports of ammonia, a key fertilizer ingredient.
"The UN is pursuing all efforts to allow for a positive outcome on Russian ammonia exports to international markets," said Grynspan, the secretary-general of the UN Conference on Trade and Development.
According to the Joint Coordination Centre in Istanbul, 129 ships carrying over 2.8 million tons of grain have left Ukrainian ports since the agreement was signed in July. Alongside the UN, Turkiye helped to broker the deal.
Meanwhile, all three of the backup power lines at the Zaporizhzhia plant have been restored, the UN nuclear watchdog said on Tuesday after the first of those lines went back up on Saturday.
"One of them, a 750/330 kilovolt (kV) line, is now providing the ZNPP with the external electricity it needs for cooling and other essential safety functions. The 330 kV and the 150 kV lines are being held in reserve," the IAEA said in a statement.
Agencies via Xinhua