Picasso anniversary honored with year of exhibitions
By ANGUS McNEICE in London | China Daily Global | Updated: 2022-09-15 09:36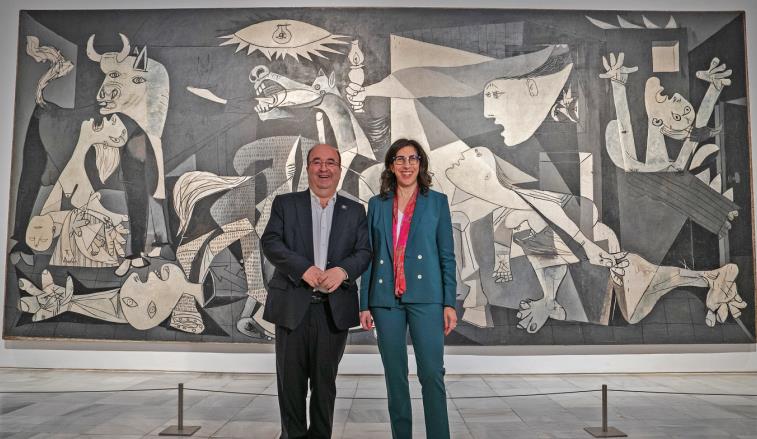 Dozens of museums across Europe and the United States will put on Pablo Picasso exhibitions next year as part of a vast program of activities to mark the 50th anniversary of the death of the iconic Spanish painter.
The governments of France and Spain have joined forces on the Picasso Celebration 1973-2023 program, since the artist spent most of his life between the two countries.
Temporary exhibitions will open in Spain next month, and will continue at multiple locations throughout 2023, half a century on from when Picasso died at his villa in the French town of Mougins at the age of 91.
Among the most influential artists of the modern era, Picasso is famous for co-founding Cubism, an early 20th Century avant-garde movement in which painters and sculptors examined, broke apart, and reconstructed objects in abstract forms.
"If there is an artist who defines the 20th century, who represents it with all its cruelty, its violence, its passion, its excesses and its contradictions, it is, without a doubt, Pablo Picasso," Spain's Culture Minister Miquel Iceta said when announcing the program from the Museo Reina Sofia in Madrid.
Picasso was born in Malaga in 1881, and divided much of his early career between Barcelona and Paris. He was already settled in the French capital when the Spanish civil war broke out in 1936, and the artist vowed never to return to Spain during the life and rule of the dictator Francisco Franco, who outlived Picasso by two years.
Minister Iceta and France's Culture Minister Rima Abdul Malak outlined the program while standing in front of Guernica, a 7.5 meter-long canvas produced by Picasso in 1937 that is regarded among art critics as one of the most compelling anti-war paintings in history.
Picasso completed the sprawling piece in just over a month, directly following the aerial bombing of the Spanish town of Guernica by Franco-led forces on April 26, 1937, when hundreds of civilians were killed. Picasso learned of the atrocity two days later from an eyewitness account published in The New York Times, which he used as inspiration for the haunting composition, which includes flames, wounded animals and screaming women and children.
"Picasso's work continues to exert a real fascination throughout the world, abundant, inventive and often radical; for its artistic strength, of course, but also for its political strength," said Malak. She added that the program will bring Picasso's work to a new generation born in the 21st century "to enable them to discover and understand it in the light of our times".
The program so far includes 42 exhibitions at museums in Spain, France, Germany, Switzerland, Monaco, Romania, Belgium and the US. There will also be two academic conferences held next fall at the Museo Reina Sofia and the head office of the United Nations Educational Scientific and Cultural Organization in Paris.