Reassurance for Kyiv in key EU speech
By CHEN WEIHUA in Brussels | CHINA DAILY | Updated: 2022-09-15 10:04
But von der Leyen silent on fresh aid, while stressing action on energy crisis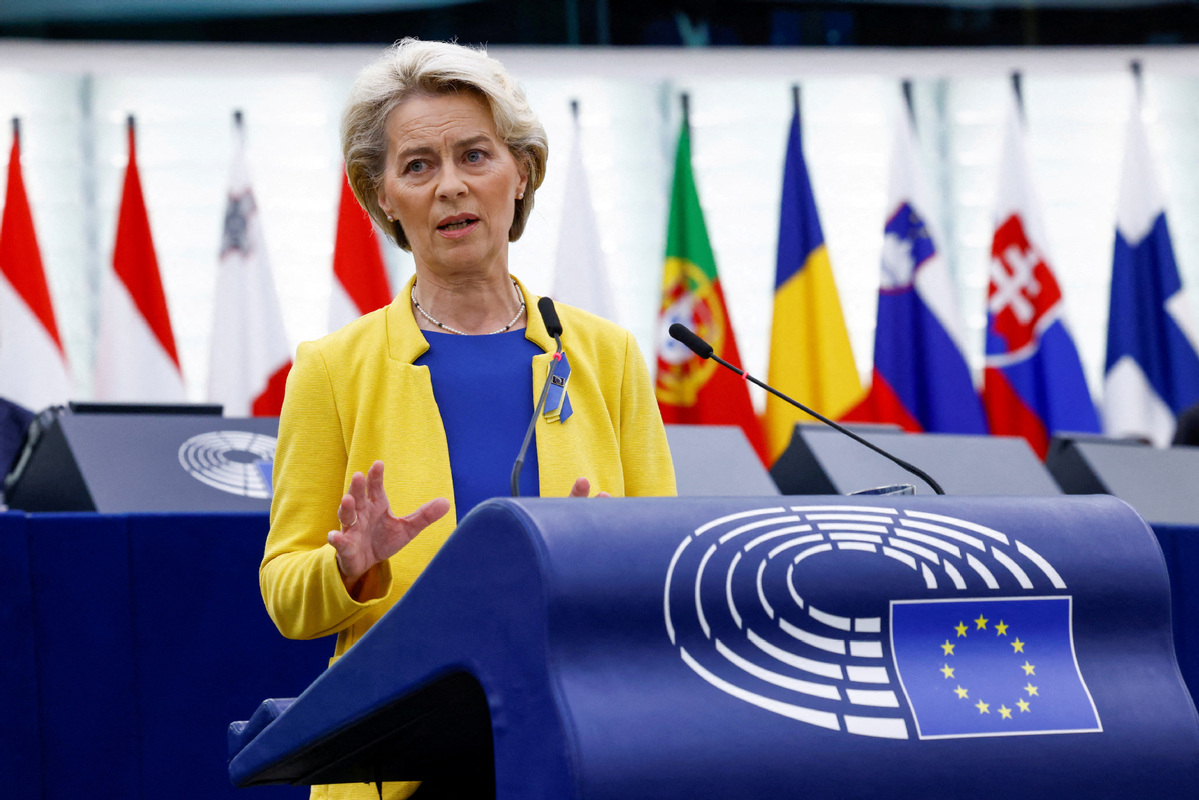 European Commission President Ursula von der Leyen pledged continued support for Ukraine and measures to tackle the continent's looming energy and economic crisis as she delivered her State of the European Union address on Wednesday.
Speaking in Strasbourg, France, and with Ukrainian first lady Olena Zelenska present, von der Leyen announced that she was going to Kyiv later on Wednesday to meet Ukrainian President Volodymyr Zelensky to talk about Ukraine's "seamless access to the single market, and vice versa".
But she did not announce any major new aid to Ukraine in her speech.
"Our union as a whole has risen to the occasion," she said of the EU's response to the Russia-Ukraine conflict in her address to the European Parliament, in a clear reference to the EU's seven rounds of sanctions against Russia and economic and military aid to Ukraine.
"And I want to make it very clear, the sanctions are here to stay. This is the time for us to show resolve, not appeasement," von der Leyen said.
'Not easy'
She noted that "the months ahead of us will not be easy. Be it for families who are struggling to make ends meet, or businesses, who are facing tough choices about their future."
She continued to push for the commission's proposals for member states to reduce their overall electricity consumption and stressed the importance of putting a cap on the revenues of companies that produce electricity at a low cost, adding that the EU has to decouple the dominant influence of gas on the price of electricity.
In her address, the former German government minister did not mention a proposed cap on prices of imported gas, something that she has been lobbying for in recent weeks.
Some EU member states, including Germany, have opposed the measure for fear of provoking Russia into a complete shutdown of gas supplies to Europe.
Norwegian Prime Minister Jonas Gahr Stoere, whose country has increased gas supplies to the EU, said on Monday after a phone call with von der Leyen that he is "skeptical toward a maximum price on natural gas".
"A maximum price would not solve the fundamental problem, which is that there is too little gas in Europe," he said in a statement.
Iratxe Garcia Perez, a Spanish politician and leader of the Socialists and Democrats group in the European Parliament, said: "We heard fancy words by von der Leyen, but the social dimension was neglected in her SOTEU address. We need a social resilience package to fight poverty and inflation."
Manon Aubry, a French politician and co-chair of The Left group in the European Parliament, criticized von der Leyen for not caring about people's livelihoods with the strains caused by rising prices. She mocked von der Leyen for finally paying attention to the issue of the mega profits raked in by some companies during the crisis; Aubry's group has long called for higher taxes on such earnings.
"It should not be just about fossil fuel companies, but all the companies that have benefited from the crisis-the shipping sector, the banking sector and the luxury goods sector," she said in the debate after von der Leyen's speech. "You didn't say much about climate today. We have the hottest summer in history in Europe," she said of the address.
A recent poll on YouGov conducted in five European countries showed that Europeans are concerned about the possibility of the energy crisis leading to social unrest.
The EU's 27 members are taking measures to cut energy consumption to tackle the crisis.
Paris announced a plan on Tuesday in response to a call by President Emmanuel Macron to cut energy consumption by 10 percent. The "energy sobriety" plan unveiled by Mayor Anne Hidalgo includes turning off the lights on the Eiffel Tower 75 minutes earlier than usual and switching off the lights for public buildings across Paris as early as 10pm. The plan will take effect on Sept 23.
chenweihua@chinadaily.com.cn