America's Gen Z getting drawn into political life
By MAY ZHOU in Houston | China Daily Global | Updated: 2022-09-19 07:58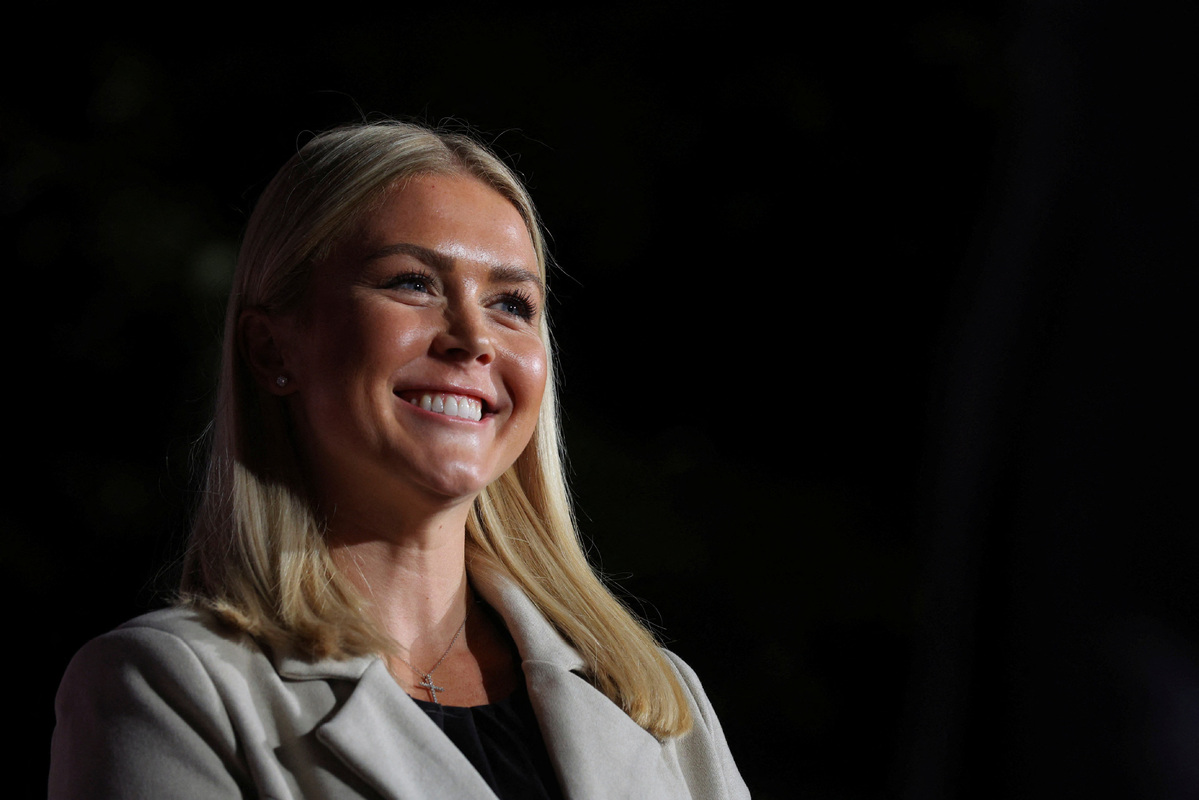 One is a Republican and the other is a Democrat, but what they have in common is their age-25.
In addition, both could become the first members of Generation Z to be elected to the US House of Representatives, and they are unhappy with the current state of US politics and want change.
While politics today has driven many young people and members of Gen Z to disillusionment, anger and despair, according to surveys, it has compelled some to seek public office as soon as they are legally eligible.
This year, the oldest Gen Z members are turning 25, the minimum age to run for a House seat. The Pew Research Center defines Gen Z as people born from 1997 to 2005.
As of now, two Gen Z members are engaged in the final race for a seat in the US House of Representatives.
On Tuesday, Karoline Leavitt, formerly an aide to then-president Donald Trump, won the Republican primary in New Hampshire's 1st Congressional District. She turned 25 last month.
Leavitt's win comes less than a month after Democratic candidate Maxwell Frost made history as the first member of Gen Z to win a congressional primary.
He won the Democratic nomination in Florida's 10th Congressional District last month. Because the area heavily favors Democrats, he is likely to be elected to Congress in November.
During their campaigns, both Leavitt and Frost played up their youth.
Leavitt worked as an assistant press secretary under Trump and served as the spokeswoman for New York Representative Elise Stefanik. In her campaign, she also unequivocally repeated Trump's claim that the 2020 presidential election was stolen
Throughout her campaign, Leavitt framed her youth as an asset rather than a detriment. She argued that younger voters need to hear from more conservative voices.
"It's a very one-sided culture that we live in," Leavitt told National Public Radio.
Leavitt told NPR in July that she wants to see changes in the current political culture.
"How do we break through that mold? It's by electing young people to office that can resonate with these voters, have a platform at the national stage, that can show them ideas, policies, values that they're not hearing elsewhere."
After her victory, she touted her age as an asset that sets her apart in the field.
"As many of you know, my youth is one of the many reasons that I felt compelled to run for Congress in the first place. Because it's my generation of Americans, your children, your grandchildren, who are not being served well by the current state of our education system, our media and our entire culture."
Frost, an Afro-Cuban, campaigned on key progressive issues, including Medicare for all, the Green New Deal, student debt cancellation and an end to gun violence. Frost tweeted on Aug 24, the day he won the primary race, "Don't count out young people."
Frost has acknowledged that age plays a symbolic role in his campaign.
"Yes, we march, yes, we engage in mutual aid, yes, we engage on social media. And now, we're running for office because we believe that we are prepared to be in the room and to be the voice for our communities, and we can do that and young people should be allowed," he said.
Leavitt and Frost aren't the only Gen Z members unhappy with the current political scene.
A survey by The New York Times and Siena College found that among voters ages 18 to 29, only 32 percent said they are "almost certain" to vote in November.
The poll found that 22 percent of voters between 18 and 29 said they wouldn't vote if Trump and Biden have a rematch for the presidency in 2024.
A New York Times reader, self-identified as Sarah, commented on US politics: "As a 26-year-old who has voted in every election since I came of age, the disillusionment is real. Young people are either apathetic or angry, and I often fluctuate between the two."
Olivia Miller, an IT worker of Gen Z in New York, has voted in major elections since she turned 18.
However, she said she is disappointed with the US political scene. "I feel I am just voting for the less unsatisfying candidates," she told China Daily.
mayzhou@chinadailyusa.com