Animated movie is success story overseas
By Xu Fan and Liu Kun | China Daily | Updated: 2022-09-21 07:59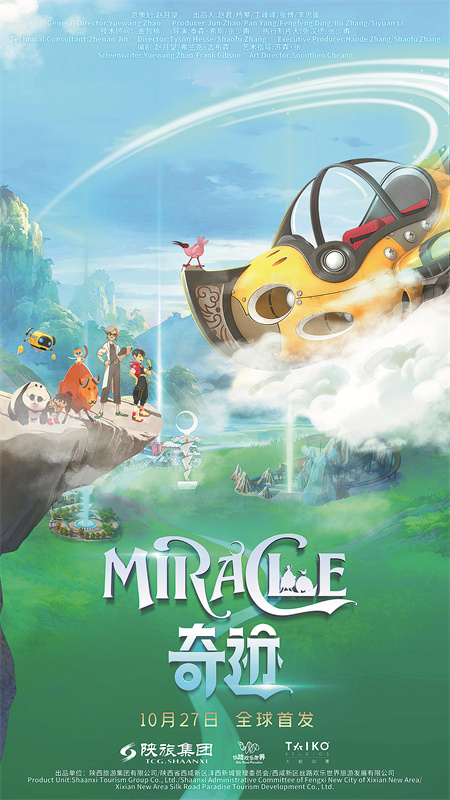 Crested ibis. Giant panda. Snub-nosed monkey. Takin. These four species of rare animals, collectively dubbed the "four treasures of the Qinling Mountains" in Northwest China's Shaanxi province, have recently helped a Chinese animated short movie to earn recognition in France.
Starring all these wild creatures, Miracle, the 7-minute movie produced by the Chinese company Taiko Studios, has recently been shortlisted in the final competition for the Cannes 7th Art Awards, formerly known as Cannes International Independent Film Festival. The winners will be announced in mid-October.
Currently available on multiple streaming sites, including Tencent Video and iQiyi, the short movie unfolds with a young boy's visit to his grandmother, a scientist who invents an inter-dimensional ship capable of time travel. After he accidentally starts the machine, the boy, his younger sister and the grandmother are pulled into an unknown dimension, ushering in an adventure to encounter the animals in a mysterious jungle that is related to the ancient Silk Road.
Since its debut online in October last year, the movie has won eight awards overseas, including the best animation of the 12th Chicago Indie Film Awards and the best animation at the Amsterdam International Film Festival.
Zhang Shaofu, a native growing up in Wuhan in Central China's Hubei province, co-directs the movie with American animator Tyson Hesse, known for the Sonic the Hedgehog franchise.
Speaking of the four rare animals as one of the highlights, Zhang recalls that animating the fur of the creatures to behave in a natural and realistic way was a major technical challenge.
With an international team, the movie has gathered 12 animators from China and overseas who spent 87 days creating 102 computer-generated scenes, Zhang says.
With the movie featuring quotes from US entrepreneur Elon Musk and his model and dietitian mother, Maye, Zhang Hande, the movie's producer and the father of Zhang Shaofu, says that the protagonist boy, whose name is Silkma, is inspired by Elon Musk, as the billionaire's innovative and adventurous spirit matches the imagination of the protagonist.