Ningxia matures into center for digital economy
By FAN FEIFEI in Beijing and HU DONGMEI in Yinchuan | China Daily | Updated: 2022-09-21 09:22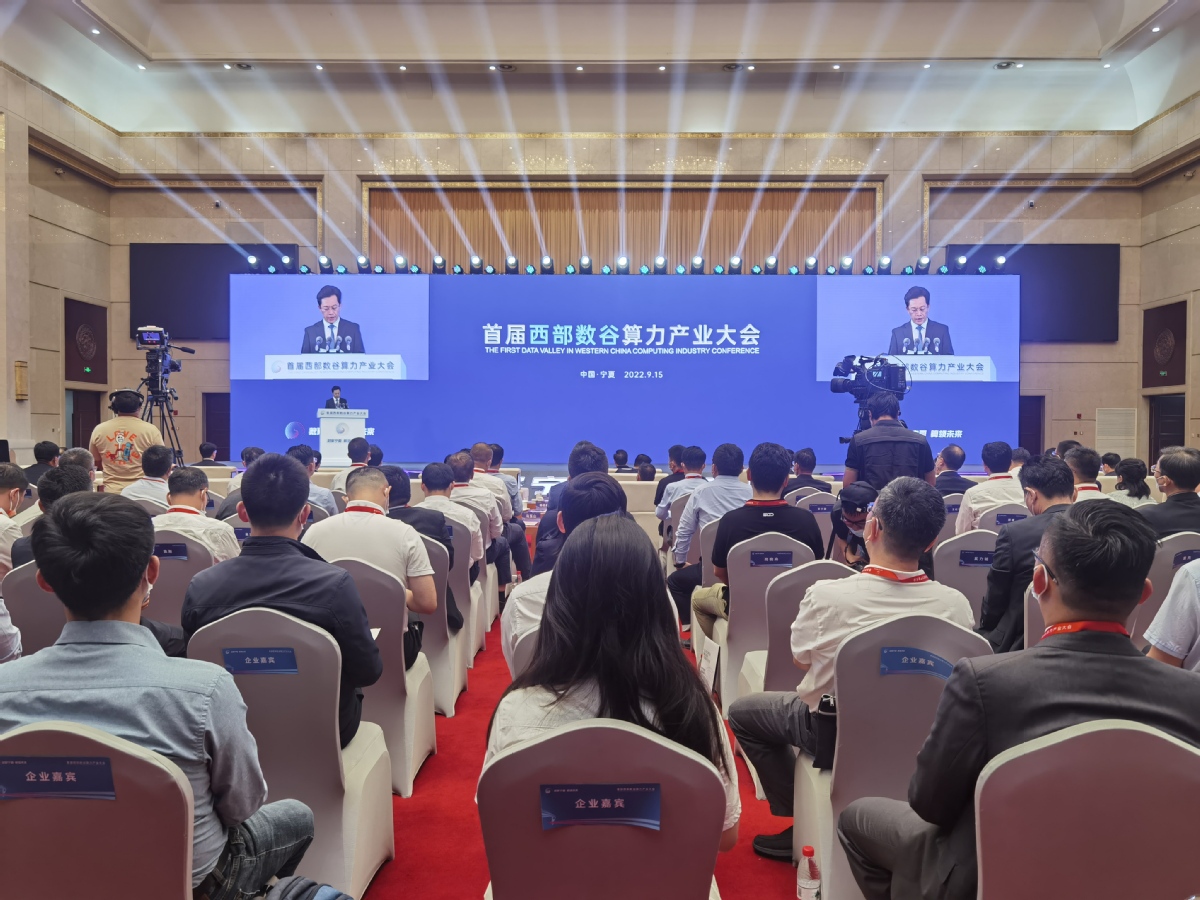 Northwest China's Ningxia Hui autonomous region is speeding up efforts to build green, low-carbon and safe data center clusters, network infrastructure and integrated computing power scheduling systems as part of its broader push to inject fresh impetus into the digital economy and help achieve the country's dual carbon goals, government officials and experts said.
Computing power, which serves as a core productive force in the digital economy era, has become an important engine driving China's economic growth, said Mai Yanzhou, a member of the Standing Committee of the local Party committee and vice-governor of the Ningxia Hui autonomous region.
Mai said that in recent years, Ningxia has given full play to its unique advantages in terms of location, climate and resources to promote the digital transformation of industries, industrialization of digital technologies and development of the digital economy.
By 2025, the number of data center racks, which consist of a physical frame made of steel and other alloys to house electronic servers, cables, networking devices, cooling systems and other computing equipment, are expected to reach 720,000 in Ningxia, and the utilization rate of renewable energy to increase by up to 65 percent, he noted.
Mai made the remarks at the first Data Valley in Western China Computing Industry Conference, which was held on Thursday and Friday in Yinchuan, capital of Ningxia.
A batch of tech companies from home and abroad such as Amazon Web Services, Meituan, China Unicom, China Mobile and China Telecom have built data centers in Ningxia to offer cloud computing services due to its abundant energy resources and cooler climate.
In February, China launched a megaproject involving the construction of eight national computing hubs and 10 national data center clusters, indicating that its strategy to channel more computing resources from the country's eastern regions to its less developed yet resource-rich western regions is in full swing.
Ningxia is among eight national computing hubs, with Zhongwei, a city in Ningxia, included in the 10 national data centers.
Zhang Yunming, vice-minister of industry and information technology, called for efforts to accelerate the construction of new infrastructure, including national integrated computing hubs, large and super-large data centers and intelligent computing centers, while boosting the in-depth integration of computing power with various sectors like healthcare, education and government affairs.
Furthermore, heightened efforts are needed to propel the green and low-carbon transformation and upgrading of computing infrastructure, Zhang said at the conference.
China's total computing power scale now ranks second in the world, according to the Ministry of Industry and Information Technology. By the end of June, the number of data center racks in use topped 5.9 million, and the number of servers reached nearly 20 million in China.
The market scale of China's computing power industry exceeded 1.5 trillion yuan ($213.9 billion) last year, with cloud computing surpassing 300 billion yuan and internet data center services over 150 billion yuan, said the China Academy of Information and Communications Technology, a government think tank.
"Most of China's computing infrastructure is distributed in the eastern regions at present, while the western regions have the potential to foster the development of data centers and meet the needs of data computing in the eastern regions," said Yu Xiaohui, head of the China Academy of Information and Communications Technology.
Yu said the implementation of the east-data-west-computing project is conducive to optimizing the allocation of national computing power, utilizing green energy in the western regions, improving the energy efficiency of data centers and nurturing emerging digital industries.
Liu Liehong, chairman of China Unicom, a major Chinese telecom operator, said the company has invested 3.2 billion yuan in Ningxia, and will continuously increase investment to quicken the construction of low-carbon, high-efficiency data centers. It is estimated that once the project is completed, the number of data center racks will amount to 12,000, with the number of servers reaching 400,000.
China Telecom has actively participated in the country's megaproject for computing power hubs and data center clusters. Shao Guanglu, general manager of China Telecom, said the company will build green data centers and safe, reliable computing platforms to promote the high-quality growth of the digital economy.
It also plans to explore the construction of the country's first integrated computing power trading and scheduling platform in Ningxia and provide and share computing power trading solutions by teaming up with suppliers and service providers in the upstream and downstream of the industrial chain.