Robotics prowess sign of strength
By OUYANG SHIJIA | China Daily | Updated: 2022-09-22 10:04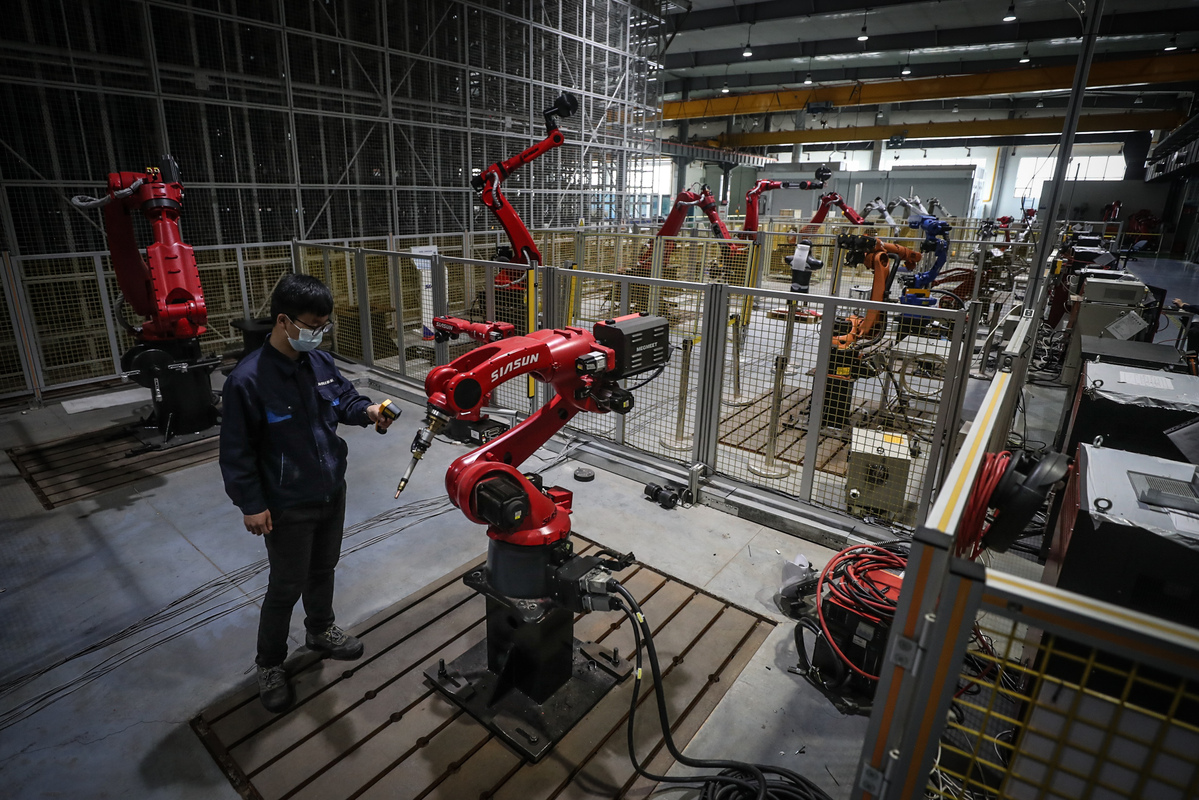 In the case of detection of defects in industrial products, traditional manual inspection is expensive and inspectors may miss problems or make mistakes, while using machine vision to detect defects can greatly improve efficiency and accuracy, experts said.
In the construction industry, workers are often exposed to harsh or difficult conditions such as heights, excess dust, loud noise or toxic gases. By introducing robots, efficiency can be improved and the safety of workers safeguarded, according to experts.
In addition, AI provides efficient digital technology useful to all industries in these times of the digital economy. The sensors of intelligent robots are able to examine the environment and collect data, process the information and make decisions through logical analysis and understanding, and then react to situations and complete tasks, Chen said.
"Robotics is particularly important to promote the transformation from traditional manufacturing to smart manufacturing. Robots have become the core equipment to make smart manufacturing happen and an integral part of smart factories," said Tao Yong, an associate research fellow at Beihang University in Beijing.
To meet current needs, robots are being updated rapidly. The new generation of robots, based on the previous two generations, incorporates technological innovations in fields such as materials, energy and life sciences, and extends human capability.
With the help of exoskeletal robots, adults can easily lift objects weighing hundreds of kilograms. Nanobots are being designed to enter human tissue for diagnostics and sample collection. As development progresses, robots are expected to replace even more human work and, in effect, help replenish the labor force.
Chen from Yunqi Partners said innovations in hardware and software technologies have played a driving role in the development of China's robotics industry. In hardware, domestically made core components account for more than half of the essential parts in the nation's robotics market.
The past decade has also witnessed the rapid development of software technology. Those widely used in robot intelligence include deep learning, which allows computers to solve more complex problems, cloud computing and other emerging technologies such as reinforcement learning, in which computers can learn from experience and modify their behavior. Chen said that software technology has become as important as hardware in the field of robotics.
"Financing in the robotics industry has been relatively stable over the past five years, and the robotics industry has witnessed around 200 cases of financing per year. Even in 2022, dubbed a 'capital winter', our data show that nearly 90 financing events were completed in the robotics sector in the first half of the year," Chen said. "Capital winter" refers to a time of a relative shortage in financing.
Robots for delivery, cleaning, surgery and storage are particularly popular among investors, and many companies producing such robots have become unicorn companies, according to Chen. A unicorn company is a private company with a valuation exceeding $1 billion.
Food delivery robots have also become more popular in the past few years. The advantage of delivery robots lies in cost, Chen said. While food service workers cost about 6,000 yuan ($851.4) per month in first and second-tier cities, food delivery robots produced by Shanghai-based Keenon Robotics Co Ltd cost about 1,500 yuan per month, Chen said.
In 2021, the Ministry of Industry and Information Technology and 14 other central departments jointly released a new five-year plan for the development of the robotics industry from 2021 to 2025, focusing on promoting innovation and aiming to make China a global leader in robotics technology and industrial advancement.
"Although China's robotics industry is developing rapidly, it still suffers from practical difficulties, lack of core technologies and a large talent gap. More efforts should be made to develop technologies such as visual recognition, interactive motion controls and smart operations," said Tao from Beihang University.
He said the government should introduce more policies to encourage the development of the domestic robotics industry, and more efforts should be made to improve the supportive environment for enterprises and encourage purchases of domestically made robots.
He Jingwei contributed to this story.