Future of monarchy debated
By EARLE GALE in London | China Daily Global | Updated: 2022-09-22 10:05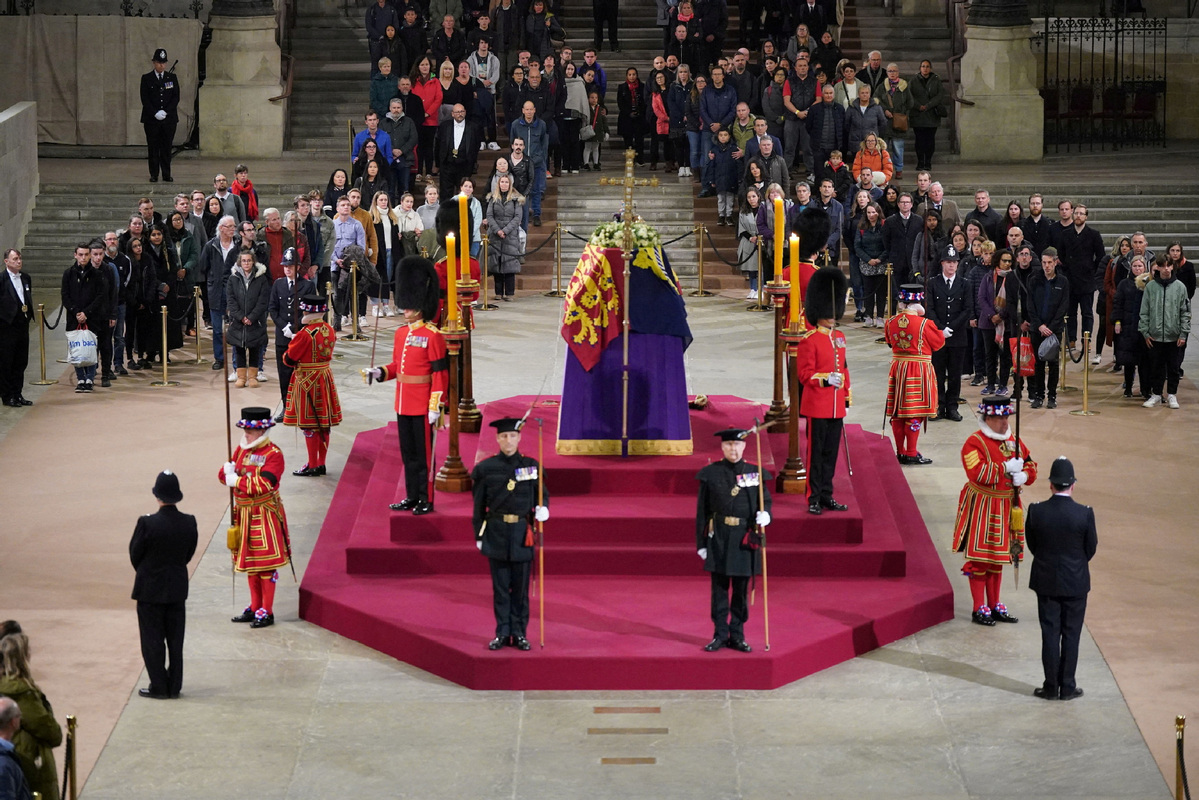 Several Caribbean countries currently contemplating switching to a republic
The funeral of Queen Elizabeth II in London on Monday united a nation and attracted the attention of the world. But as the solemn day ended, some nations resumed conversations about the relevance and future of a hereditary system that reminds them of a bygone colonial era.
Nowhere is that more pronounced than in the Caribbean, where eight countries are still in the Commonwealth of Nations and with the British monarch as their head of state. Several of them are contemplating a different future.
Gaston Browne, prime minister of Antigua and Barbuda, said the country wants to hold a referendum in the next three years on the idea of breaking away from the Commonwealth and the royal family, and becoming a republic.
In the summer, he told Prince Edward, the brother of King Charles III, that he would also like the United Kingdom to pay reparations to former colonies for having permitted slavery.
"We believe that all human civilization should understand the atrocities that took place," he said.
Protests against the royal family and past British colonialism flared in the Caribbean during the summer, when dignitaries visited to celebrate the 70th anniversary of the queen's coronation.
Repeated call
Browne repeated his call for a referendum this week. "This is a matter that has to be taken to a referendum for the people to decide," he said.
Saying he did not want the idea to be confused with "any form of disrespect to the monarch", the BBC quoted him as saying: "This is not an act of hostility or any difference between Antigua and Barbuda and the monarchy. It is a final step to complete the circle of independence to become a truly sovereign nation."
Browne, who was among mourners at Westminster Abbey, is not alone. Elsewhere in the 56-nation collective known as the Commonwealth, several other nations are contemplating an end to their royal ties, largely because of the monarchy's historic links to the British empire and slavery.
Barbados decided to sever its links earlier this year, and Jamaica is planning to hold a referendum.
Critics said the unfolding threat to the monarchy is the most pressing challenge facing King Charles III.
Royal expert Myko Clelland, who has worked with the royal family for a decade on documenting and digitizing their lineage, told Metro newspaper: "The queen was a rock and a stable institution. In 1947, she said she was going to devote her life to service, and this is a sentiment Charles echoed in his very first address to the nation."
But Clelland said the king will need to find a way to ensure "continuity during this huge sea of change".