Steady China-Japan ties beneficial to both, Li says
By XU WEI | chinadaily.com.cn | Updated: 2022-09-22 23:33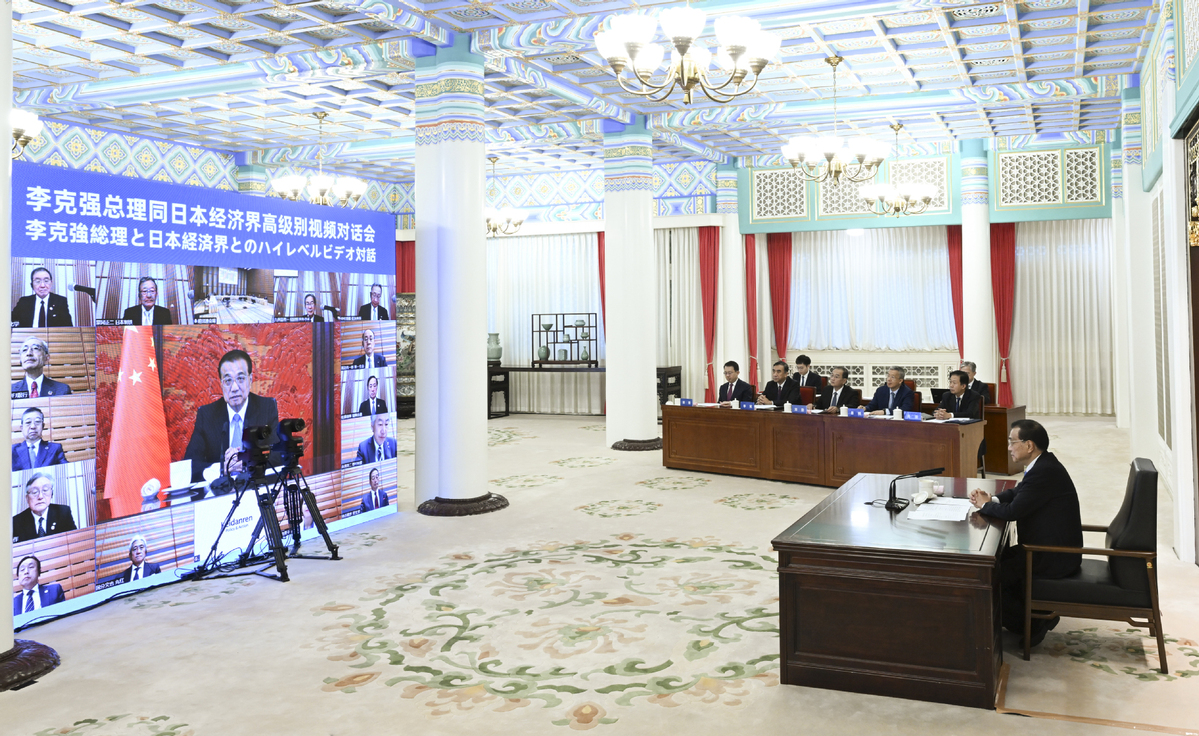 Premier Li Keqiang emphasized on Thursday Beijing's readiness to work with Tokyo to enable the upgrading of bilateral cooperation in all dimensions, wide-ranging areas and multiple levels, calling on the two sides to better tap into the potential for regional economic growth.
In a dialogue via video link with business leaders from Japan, Li said that ensuring steady China-Japan relations fits in with the interests of both sides, helps promote the well-being of both peoples and is conducive to regional and global peace, stability and development.
The two nations are set to mark the 50th anniversary of the normalization of their bilateral ties later this month.
The premier lauded the substantial development made in the overall relationship over the past 50 years, saying that both sides should stay committed to peaceful and friendly coexistence, adhere to the principles of the four bilateral political documents, see each other's development from an objective and rational perspective and work toward steady and sustained progress in bilateral relations.
He described their economic and trade ties as the ballast and driver of the bilateral relationship, with their cooperation showing strong resilience and potential.
Trade between the two nations reached $371.4 billion in 2021, up by 17.1 percent year-on-year.
Li called on the two sides to make full use of the Regional Comprehensive Economic Partnership, a pact marking the first free trade arrangement between the two nations, adding that Beijing will increase the number of direct flights between them and put sound anti-epidemic measures in place.
Li said Beijing will remain committed to a path of peaceful development and that he hopes the two sides will respect each other, treat each other as equals, enhance mutual trust, properly manage differences and jointly safeguard a peaceful and stable neighboring environment to attain the common development of both nations and regional countries.
The premier said the Chinese economy, amid shocks that went beyond expectations, has faced mounting downside pressure this year.
With a rapid response and timely regulation measures, the economy has now taken on recovery momentum, with major indicators now within an appropriate range, he said.
He highlighted the importance of sticking to the facts while making the utmost efforts to attain a better outcome in this year's economic growth.
He assured the business leaders that China will remain unwavering in its opening-up policy, saying that the country will be more and more open.
In making itself a big market for the world and a top attraction for foreign investment, China will press ahead with reforms to streamline administration and bolster compliance oversight and administrative services to develop a market-oriented, world-class business environment governed by a sound legal framework, Li said.
He pledged to formulate regulatory rules that are transparent, stable and predictable, saying that the nation will further widen its market access and put stringent measures in place to protect intellectual property rights.
The premier extended a welcoming message to the business leaders in grasping China's development opportunities, actively explore the Chinese market and step up their cooperation with their partners in China.
The Japanese business leaders expressed optimism for China's economic prospects, saying that they will continue building up their business in China and help develop a bilateral economic relationship for the new era.