Hot, dry and automatic, Wuhan's noodles go robotic
By LIU KUN in Wuhan and CHEN MEILING | China Daily | Updated: 2022-09-23 09:21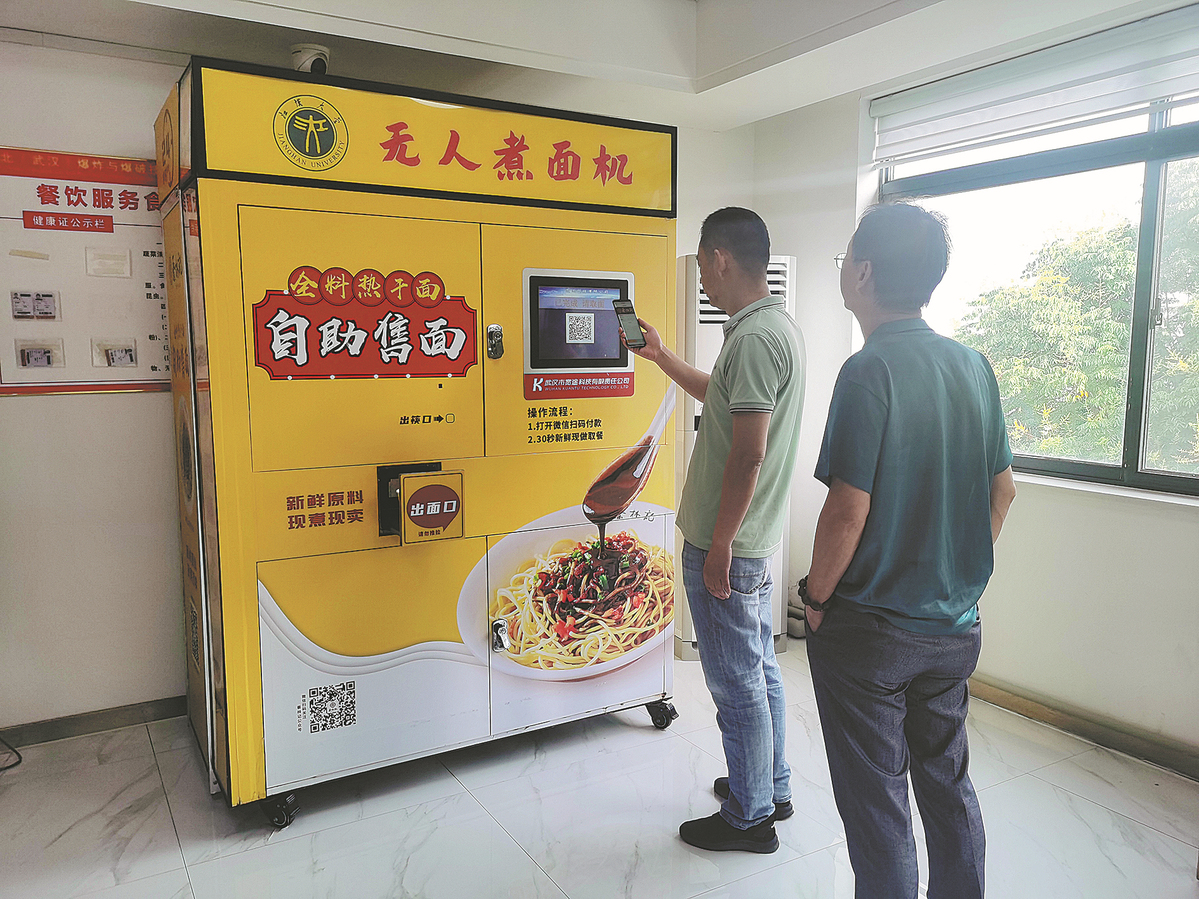 Busy commuters in Wuhan, capital of Hubei province, are now able to get their favorite breakfast — a bowl of hot dry noodles — from robot chefs in under a minute.
The robots, which resemble vending machines and accept payment via WeChat, are responsible for the entire cooking process, from boiling the noodles to preparing ingredients with mechanical arms.
Each robot is capable of cooking two bowls at a time in just 50 seconds.
Hot dry noodles are a classic Wuhan delicacy, and are one of the most popular breakfast items in the city.
However, quality is hard to control, and is not easy to prepare the noodles in summer, when the cooking fires cause chefs to sweat. Wuhan is one of China's "four ovens", known for its high temperatures in summer.
"Conditions can affect the quality of noodles prepared by people, but robots are able to perform in a uniform fashion," said Zuo Zhijiang, 48, a professor at the Intelligent Manufacturing School at Wuhan's Jianghan University and developer of the robots.
The machines, which are 1-square-meter in size, can store up to 360 bags of fresh noodles in enclosed refrigerated chambers and are also equipped with automatic disinfection and cleaning equipment. Zuo said that the aim is to make noodles with a dine-in, handmade taste, not that of instant noodles.
Cailinji, a local restaurant chain with a 94-year history of making the dish, provides the ingredients the robots use. When the machines first started operating, the restaurant sent 30 of its managers to test the final results.
Zhang Yu, one of the managers, gave the dish a thumbs-up.
"It tasted more delicious than mine," he told Hubei Daily, adding that cooks at his restaurant work hard every day, as they have to wake up at 4 am and cook on a stove in 40 degree heat.
The robots can be installed in subway stations, hospitals, schools, offices and other places with sufficient human traffic, according to Cailinji. The company plans to open neighborhood clusters of unmanned hot dry noodle restaurants that can be run by a single manager.
Currently, the robots are working in a canteen at Jianghan University and also in a factory. Each bowl of noodles costs 4.5 yuan ($0.65).
Wuhan Huaxia Fine-blanking Technology has invested 20 million yuan into the project to increase production and improve stability. Jiang Chengdong, chairman of the company, told Hubei Daily that its high-end manufacturing production lines are able to produce several thousand hot dry noodle robots a month.
Zuo said one of the challenges is that the robots cannot respond to requests for variations.
"For example, some people ask for more vinegar or chili sauce," he said. "We will work to offer more options."
He said he hopes to install the robots in airports and railway stations.
"Six years ago, I was unable to move because of pain in my feet, and I thought a lot about what a burden I would be on my children when I got old. So I want to do more to develop intelligent robots," Zuo said. "Besides, with the population shrinking and youngsters unwilling to do heavy work, robots will be the best replacement."
Zuo's school has developed a number of different robots, including ones used for blasting and drilling, supermarket tallying, delivering goods and picking tomatoes.