Physicist's life seen as inspiration for exchange
By ZHAO HUANXIN in Washington | China Daily Global | Updated: 2022-09-26 10:32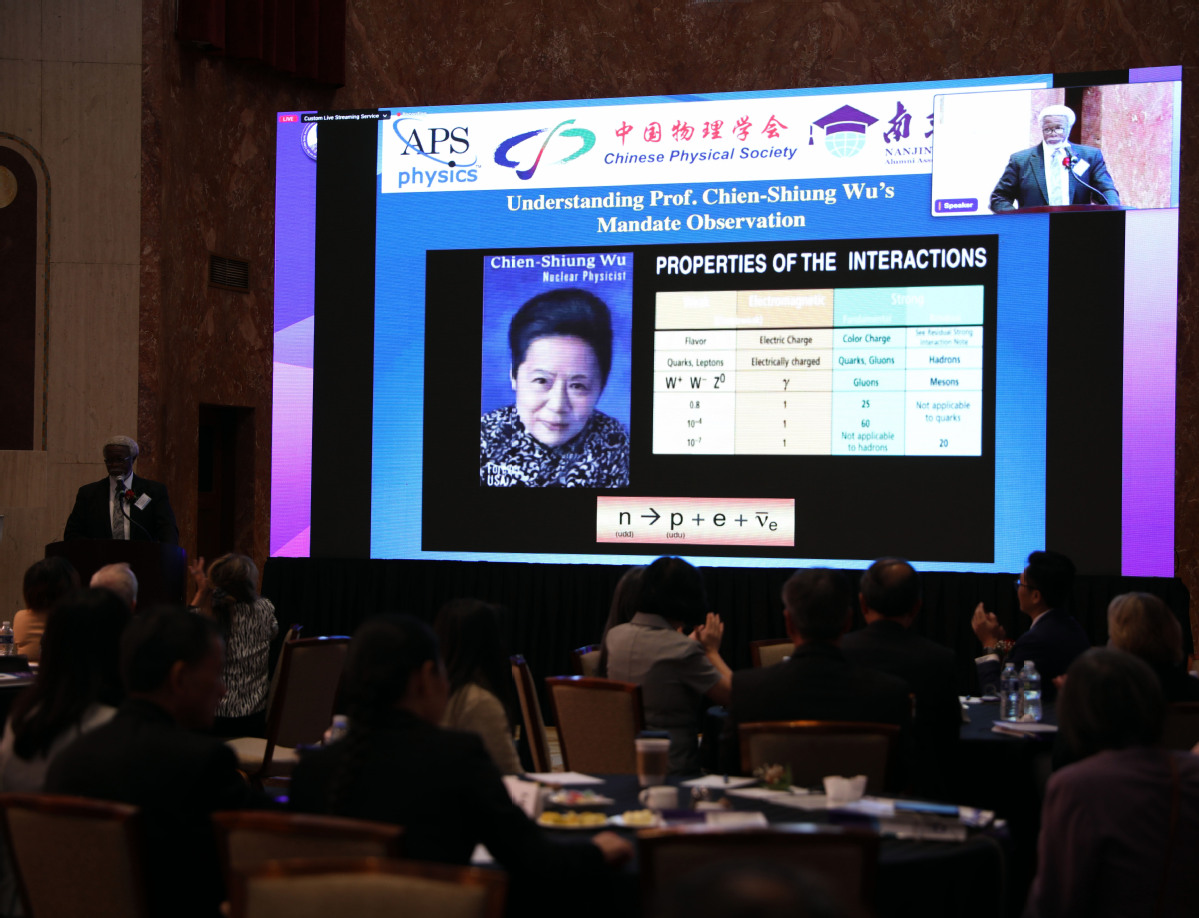 People celebrating the extraordinary life of renowned Chinese-American nuclear physicist Chien-Shiung Wu highlighted the need to ramp up scientific exchange between the two countries and to fight discrimination against Asians in the US.
Sponsored by the American Physical Society and the Chinese Physical Society, an international forum on the 110th birth anniversary in honor of Wu was held Saturday in Maryland and was attended online and in person by representatives from leading US and Chinese universities as well as legislators and officials.
In a speech delivered to the gathering, Chinese Ambassador to the US Qin Gang noted that Madame Wu's life is an excellent example of how scientific exchange knows no borders, and the only correct way to progress is to actually cooperate and promote the exchange.
"As the world's two largest economies, China and the United States should work together to address the common challenges facing humanity," he said in the speech read at the forum.
Qin said he hopes that in the future, more scientific exchange and dialogue can be established between scholars, universities and even middle- and high school students.
"China and the United States should join hands to promote more people to understand and love physics, devote themselves to science, and make contributions to the progress of the two countries and the world," he told the forum.
One of the forum participants was Dutch Ruppersberger, a US representative, who said he believes that China and the US could work together for the benefit of both.
He said the two countries should settle their issues that are not benefiting either side.
"China and the United States can work together in areas like space, for instance. I know China wants to go to the moon, and we've been to the moon. Wouldn't it be better if we work together and help each other and save time and money? And hopefully we're doing it for knowledge and safety," the Maryland Democrat told China Daily in an interview.
"But this relationship right now between China and the United States has got to get better. We have got to communicate. We all have families; we all want to do better. We have different philosophies. That doesn't mean we can't work together, like we did in the past," Ruppersberger said.
Ruppersberger's comments on space cooperation are rare for a Congress member, as congressional prohibitions on space cooperation with China — as stipulated by the Wolf Amendment in NASA appropriations bills — have been in place since 2011.
In a report titled "Caught in the Crossfire: Fears of Chinese-American Scientists" released by the Asian American Scholar Forum on Friday, researchers said that the US leadership in science and technology has greatly benefitted from immigrants from other countries, most notably from China in recent decades.
"However, feeling the pressure of potential federal investigation since the 2018 launch of the China Initiative under the Trump administration, Chinese-origin scientists in the US now face higher incentives to leave the US and lower incentives to apply for federal grants," it said.
In another interview with China Daily, Sylvester James Gates Jr, president of the American Physical Society 2021, noted that the China Initiative is a "misrecognition".
"When you think about the United States government and you think about the Chinese government, what you should think about is not that they should be enemies," he said.
"You have all kinds of sports, football, soccer, baseball, and there is a competition, but that doesn't mean that the one team is actually trying to destroy the other, and that has got to be the relationship I hope for between our two governments," he said.
Many participants at the forum noted that in early 2021, the US Postal Service issued a commemorative Forever stamp in honor of Chien-Shiung Wu.
"The timing I believe was not coincidental. Since the beginning of the COVID-19 pandemic, Asian Americans have been targets of unacceptable, horrific and increasingly frequent acts of hate and tolerance," Ruppersberger said in his speech.
"I was proud to join with my colleagues and passing legislation to expand multilingual reporting resources for victims of hate crimes and expediting the Department of Justice's review of pandemic-related hate crimes," he said.
Susan Lee, a Democratic state senator from Maryland, said having the stamp for Wu and celebrating the 110th anniversary of birth is "truly significant".
"The last presidential administration set us back in science years, because we were singled out and targeted; we were targets of violence and discrimination just because of our ethnic origin," Lee said.
"So now I hope that our new president, who is not new anymore, can take us forward," she said.
Young-Kee Kim, president of American Physical Society 2024, said the idea that science must address the challenges of our times is one that Madame Wu has firmly believed in.
She said that throughout her life, Wu witnessed the full range of how science can impact the world. Working on the Manhattan Project and seeing the aftermath, Wu learned that physics that can bring about the end of a world war also can lead to the world's destruction.
"She was deeply dismayed by the use of the nuclear weapons that scientists have created," Kim said.
Kim said some colleagues argue that science should be pursued for science's sake and not involved in the murky world of policy applications.
"I disagree. So did Madame Wu. Instead of turning away from the world, she leaned in, and so should we all," she said, stressing that scientists need to embrace the role that science must play in building a better world.
"I give you just one example, climate change. Global warming was predicted by scientists, the evidence has been accumulated by scientists, and scientists must continue to engage in developing the solutions that can help us avoid the worst outcomes," she said.