African youth demand action on climate change
By EDITH MUTETHYA in Nairobi, Kenya | China Daily Global | Updated: 2022-09-27 09:34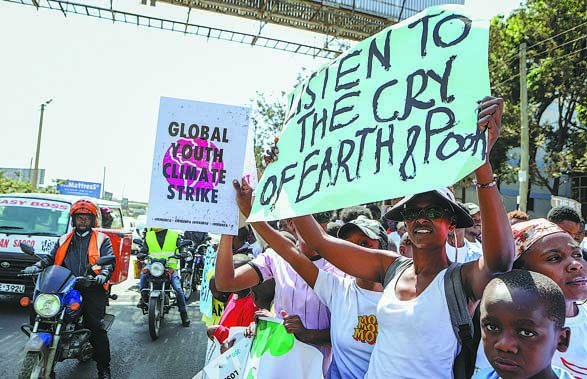 Ahead of the United Nations climate change conference COP 27 scheduled for November, young African climate activists are demanding action against loss and damage due to climate change impacts.
Dissatisfied with inadequate global efforts for halting the climate crisis, activists took to the streets over the weekend to voice their demands.
In Kenya's capital Nairobi, thousands of youths, under the Pan African Climate Justice Alliance, demanded that states compensate for losses that pastoralists and smallholder farmers in the country suffer due to the ongoing drought, which has been described by locals as the "worst in 40 years".
Chanting "We are calling for climate reparations now! Not as charity, but as a transformative justice process", the youth demanded the UN Framework Convention on Climate Change negotiations include the financing of loss and damage and that the financing is not in the form of loans.
The activists called for the wealthiest developed nations to be held responsible for their actions, inaction and willful ignorance.
Mithika Mwenda, executive director of the Pan African Climate Justice Alliance, said communities are losing livelihoods due to the climate crisis.
Data from the alliance indicated that floods last year killed about 100 people in Kenya and displaced about 200,000, with 3.5 million people becoming victims of extreme weather.
In South Africa, hundreds of youth and members of civil society marched from Hanover Street to the Cape Town parliament on Saturday as part of Heritage Day celebrations, demanding urgent action against climate change and socioeconomic crises.
The protests were organized by the youth-led African Climate Alliance. "We have a system in this country and in many parts of the world that treats the majority of people and our living planet as worthless," Gabriel Klaasen from the African Climate Alliance said ahead of the protests.
Inequality highlighted
"This has led to many interlinking crises from income inequality to water and food insecurity, to the climate crisis. We are marching for urgent action to address the climate crisis and transform our economic and social systems."
The peaceful protests in both Kenya and South Africa aligned with the global climate strike led by young climate activists across the globe.
Meanwhile on Saturday, Egypt, which is hosting COP 27, called on the international community to act on climate pledges made to developing countries.
In his speech to the high-level segment of the UN General Assembly, Egypt's Minister for Foreign Affairs Sameh Hassan Selim appealed to all members of the international community to act on the pledges and commitment of support for developing countries to cope with the devastating impacts of the emergency.
Selim said adaptation finance needs to be doubled and that the $100 billion promised for climate finance annually must be duly delivered. He added there must also be a just transition to renewable energy.