Divisions linger with Abe's state funeral
By WANG XU in Tokyo | chinadaily.com.cn | Updated: 2022-09-28 09:48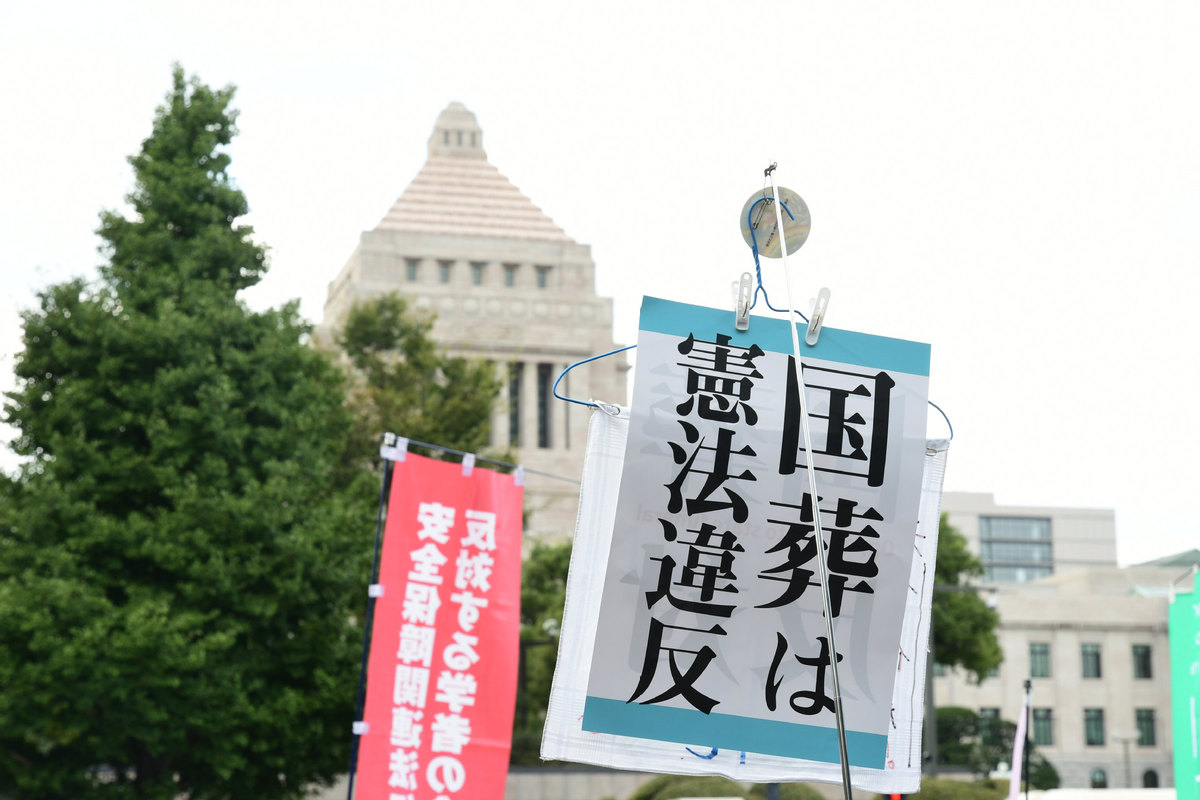 Tributes were paid to Shinzo Abe on Tuesday at a funeral attended by world leaders and dignitaries, amid protests against the Japanese government's decision to grant the controversial former prime minister a state funeral.
The government had held firm in its decision to proceed with the state funeral for the assassinated ex-leader despite polls suggesting that more than half of the country's population were against it.
Some 4,000 people including world leaders such as United States Vice-President Kamala Harris, Indian Prime Minister Narendra Modi and Australian Prime Minister Anthony Albanese, along with members of Japan's imperial family, gathered for the ceremony at Tokyo's Budokan arena. They were joined by Japanese politicians and other dignitaries.
"Abe-san, you were someone we needed to stay with us for much, much longer," Japanese Prime Minister Fumio Kishida said in front of a large photo of Abe surrounded by white chrysanthemum flowers.
As Japan's longest-serving prime minister, the assassinated leader left a controversial legacy of a huge economic stimulus program, a hawkish stand on reforming the pacifist Constitution and plans to expand Japan's military presence in the world.
The death of Abe had further split the Japanese society as opponents of his state funeral had repeatedly held rallies in front of the prime minister's office, the parliament building and elsewhere, and filed lawsuits demanding that the event be scrapped.
Last week, a protester even set himself on fire near the prime minister's office in an apparent protest against the state funeral. Yet, large numbers of people gathered to lay flowers from early in the morning on Tuesday for Abe, who was shot dead during an election campaign event in July.
Strict security
To get the situation under control, Japan's National Police Agency had mobilized some 20,000 officers to enforce strict security in the capital and particularly around the Budokan hall where the ceremony was held.
Kishida's decision to hold the $11 million state funeral proved disastrous for a prime minister whose approval ratings have fallen to dangerously low levels.
An opinion poll conducted by public broadcaster NHK showed that more than half of respondents did not approve of it while 72 percent said the government had not done a good enough job explaining why the state funeral was needed.
As a result, Kishida's government approval ratings have crashed to about 40 percent, a stark contrast with the 70 percent approval that pollsters had revealed in May.
"Kishida prides himself on being a good listener, but now even though more than half the people raised their voices against the state funeral, he's not listening to them," said a woman in a gathering at Tokyo's Chiyoda ward on Tuesday, "It's not acceptable to force a state funeral without legal grounds. There are many people who are struggling to make ends meet. It is irresponsible of the government to waste our tax money."