High-profile bridge completed in Guizhou
By Yang Jun in Guiyang and Luo Wangshu | China Daily | Updated: 2022-09-28 09:29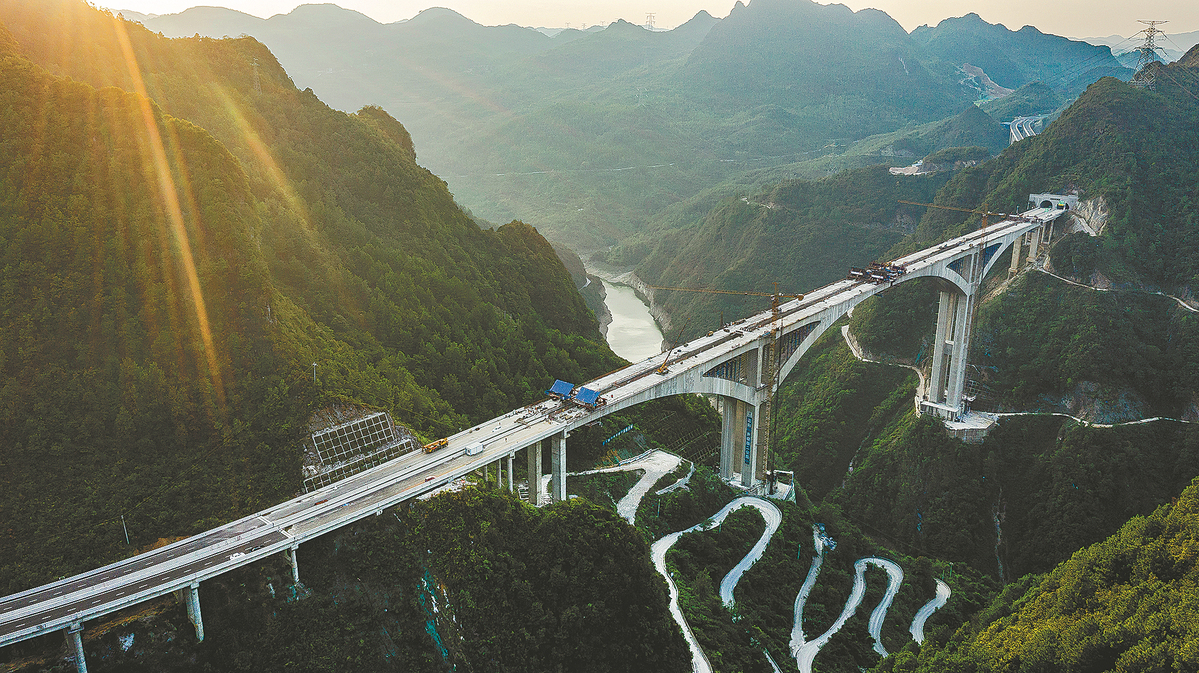 Construction was completed on a high-profile bridge in Guizhou on Monday, which when open will reduce travel time in the province and promote local economic development.
The Ganxi Grand Bridge, spanning 1,220 meters, is a key project of an expressway in Guiding county of Guizhou.
The bridge, which spans a reservoir in Ganxi forest park, means that vehicles will no longer need to travel along a winding mountainous road to get from one side to the other. Travel time between Xinba township to Guiding county will be reduced to 15 minutes from the current hour.
The construction team spent more than three years tackling the technical challenges of building the bridge in the mountainous region.
Landlocked and mountainous Guizhou has developed rapidly in terms of its expressway infrastructure in the past decade. By the end of last year, the total length of the expressway network in the province exceeded more than 8,000 kilometers. Expressway mileage tripled from 2,630 km in 2012 to 8,010 km in 2021, and now ranks fifth in the country. Nearly half of the world's 100 highest bridges are located in the province, according to the provincial government.
Construction was completed on another high-profile bridge in Guizhou — the Wujiang Grand Bridge — last month.
Its total length is 1,834 meters, with 504 meters spanning the water.
Because of its mountainous location, huge span and small construction space, the bridge, made of concrete-filled steel tubing, presented many challenges during construction.
Poor transportation infrastructure has impeded the development of the inland province for years, as Guizhou is the only province in the country without plains.
The past decade has witnessed a "big leap" in the development of infrastructure in the province, Shen Yiqin, Party secretary of Guizhou, said at a news conference in provincial capital Guiyang in August.
"The influence that comes with the development of transportation infrastructure in Guizhou is enduring and profound," said Li Bingjun, governor of Guizhou.
Wang Jin contributed to this story.