Climate focus stressed amid energy crisis
By JAN YUMUL in Hong Kong | China Daily Global | Updated: 2022-09-28 09:44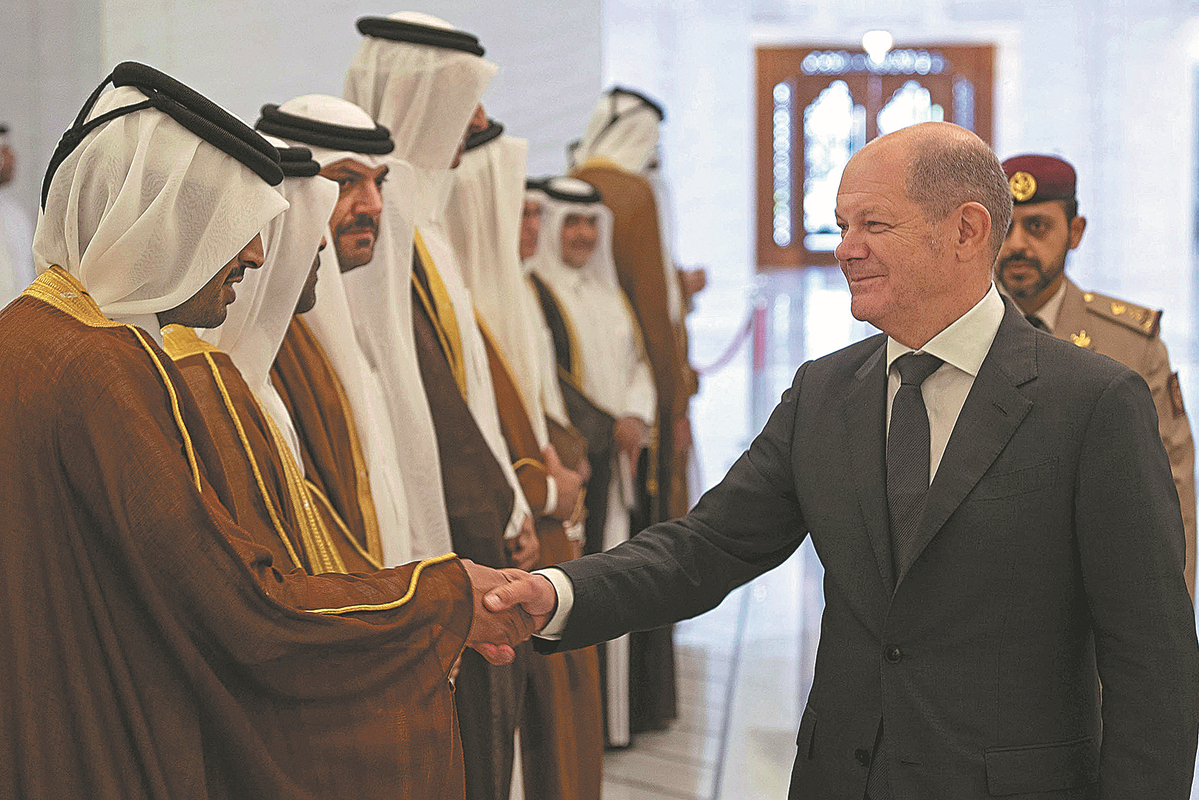 Experts: Germany's supply hunt in Gulf should not put green push at risk
In the wake of German Chancellor Olaf Scholz's energy-focused visit to the Gulf countries, experts say there is no need to decouple climate action from the current energy pressures as Europe's economic powerhouse tries to find a way out of a gas crisis.
They also said that important lessons from the energy crisis gripping Europe, fueled by sanctions over the Russia-Ukraine conflict, show the need for diversified energy sources, as well as partners. An effective energy agenda cannot be successful without reliable supplies of natural gas, they added.
Scholz, whose two-day trip to the Middle East ended on Sunday, became the latest Western leader to woo officials from Saudi Arabia, the United Arab Emirates, and Qatar for energy supplies and cooperation in recent months.
Others include United States President Joe Biden, French President Emmanuel Macron, and Britain's Boris Johnson, before his prime ministership came to an end.
Germany, which is Europe's largest importer of Russian gas, has been tapping new sources of energy amid supply disruptions from Russia after the US and Europe imposed sanctions on Moscow over its conflict with Ukraine. It has also forced the region's biggest economy to reactivate some of its coal-fired power plants.
"It has to be clearly understood that war and sanctions have made sporadic contributions to the global energy prices' volatility, hence disturbing the prices of the basic commodities and services," said Henelito Sevilla Jr, a West Asia expert and dean and professor in the Asian Center at the University of the Philippines.
"Given the war and sanctions, and given also the geoeconomic reality of resource supply, European countries, including Germany, would have to temporarily, if not, permanently divert sources of their energy in order to sustain their economic operations, hence going as far as the Middle East to source these alternatives."
Aisha Al-Sarihi, a climate policy expert and research fellow at the Middle East Institute at the National University of Singapore, said that the energy crisis in Europe "sends mixed signals globally" regarding the urgency of the energy transition.
"Indeed, meeting the immediate energy needs and keeping households in Europe warm this coming winter should be a priority," Al-Sarihi said. "However, these emerging new energy agreements should not put the clean energy transition aside."
The scholar said Scholz's visit to the Gulf "should not decouple climate action while seeking new natural gas agreements with UAE, Saudi Arabia and Qatar".
During the chancellor's weekend visit, the UAE and Germany inked an agreement aimed at boosting energy security, decarbonization and combating climate change.
The agreement also covers Abu Dhabi National Oil Company, or Adnoc, supplying German energy company RWE with liquefied natural gas toward the end of the year.
In addition, Adnoc has reserved a number of other LNG cargoes for German companies in 2023, The National reported.
'Securing access'
"Securing access to these new capacities early by laying the ground for long-term contracts is key for Europe's energy security, especially now that European countries are competing with Asian buyers for these capacity additions," Yesar Al-Maleki, an energy expert and Gulf analyst at the Middle East Economic Survey, an energy publication in Cyprus, said.
"The bases for mutual benefit are clear and what the Ukraine crisis has made clearer to European policymakers is that any effective energy transition agenda cannot be successful without reliable supplies of natural gas."
Gokhan Ereli, Gulf Studies coordinator at the Center for Middle Eastern Studies in Turkiye, said that with the possibility of the Russia-Ukraine conflict stretching into next year, that scenario may see Germany's policy to diversify its energy partners move from a temporary necessity to a long-term policy choice.
Ereli said the most important lesson "for the entire Western world" is that the Russia-Ukraine conflict has revealed the necessity for diversity in energy, by type and partners, and that investments in renewables "will continue to intensify in all Western countries".
Al-Maleki said: "For the Gulf Cooperation Council, these capacities were years in planning anyway. They may have been impacted by a wave of underinvestment in recent years but now their economic feasibility and importance are even greater.
"If you look at the greater and longer-term picture, this might not be negative for the global energy transition agenda — quite the contrary."