Sweet on tongue, light on pocket, Yunnan grapes grow in appreciation
By Li Yingqing in Kunming and Chen Meiling | China Daily Global | Updated: 2022-09-28 09:56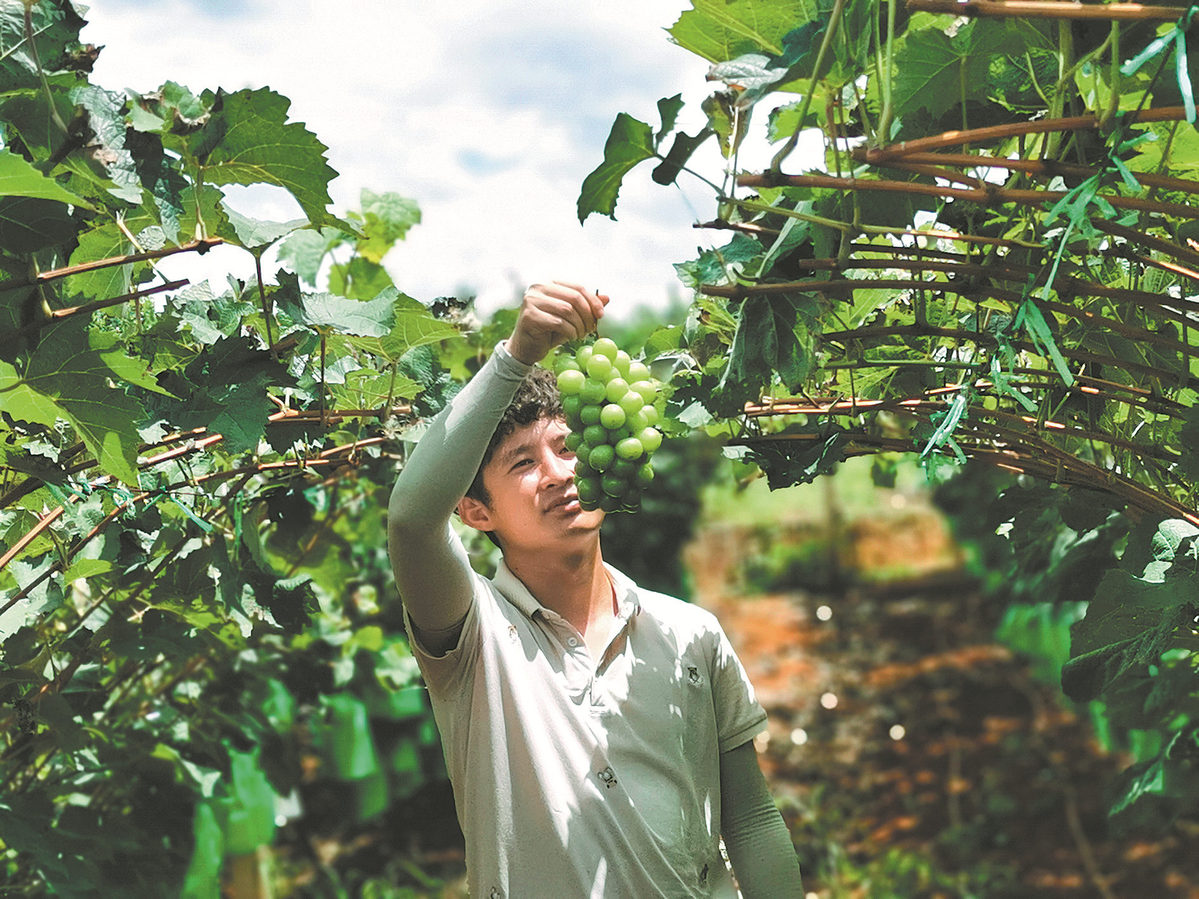 What would be a dream job? Testing grapes for their sweetness of grapes might be one good answer.
Zhao Yao, an experienced 27-year-old technician in Binchuan county in the Dali Bai autonomous prefecture, Yunnan province, tests 2,000 bunches of grapes every day.
He crushes them, extracts the juice and puts it into a sugar refractometer to read the sugar content. Any registering higher than 16 percent are mature and ready to be sold.
"Enough sweetness makes a grape taste good. It's an important part of quality control," he said. "We test all bunches of grapes every three to five days, and select those that meet the standard."
Zhao previously used a more traditional instrument — his tongue. There was only one problem. "If you drink alcohol or eat spicy food the night before, your judgment might not be accurate."
In 2019, Binchuan created a new occupation of "grape sugar tester" as local farmers began to plant shine muscat, a variety known as the "Hermes of grapes", which fetched prices as high as 600 yuan ($84) per kilogram several years ago. The variety originates in Japan and became popular in China in 2018.
Zhao returned home after graduation to help with the family business.
Now, they grow about 6.67-hectares of shine muscat grapes, with a net income of about 450,000 to 600,000 yuan per hectare annually.
Unlike ordinary grapes, shine muscat grapes are more sensitive to temperature and it took a long time for Zhao and his family to learn how to grow them properly.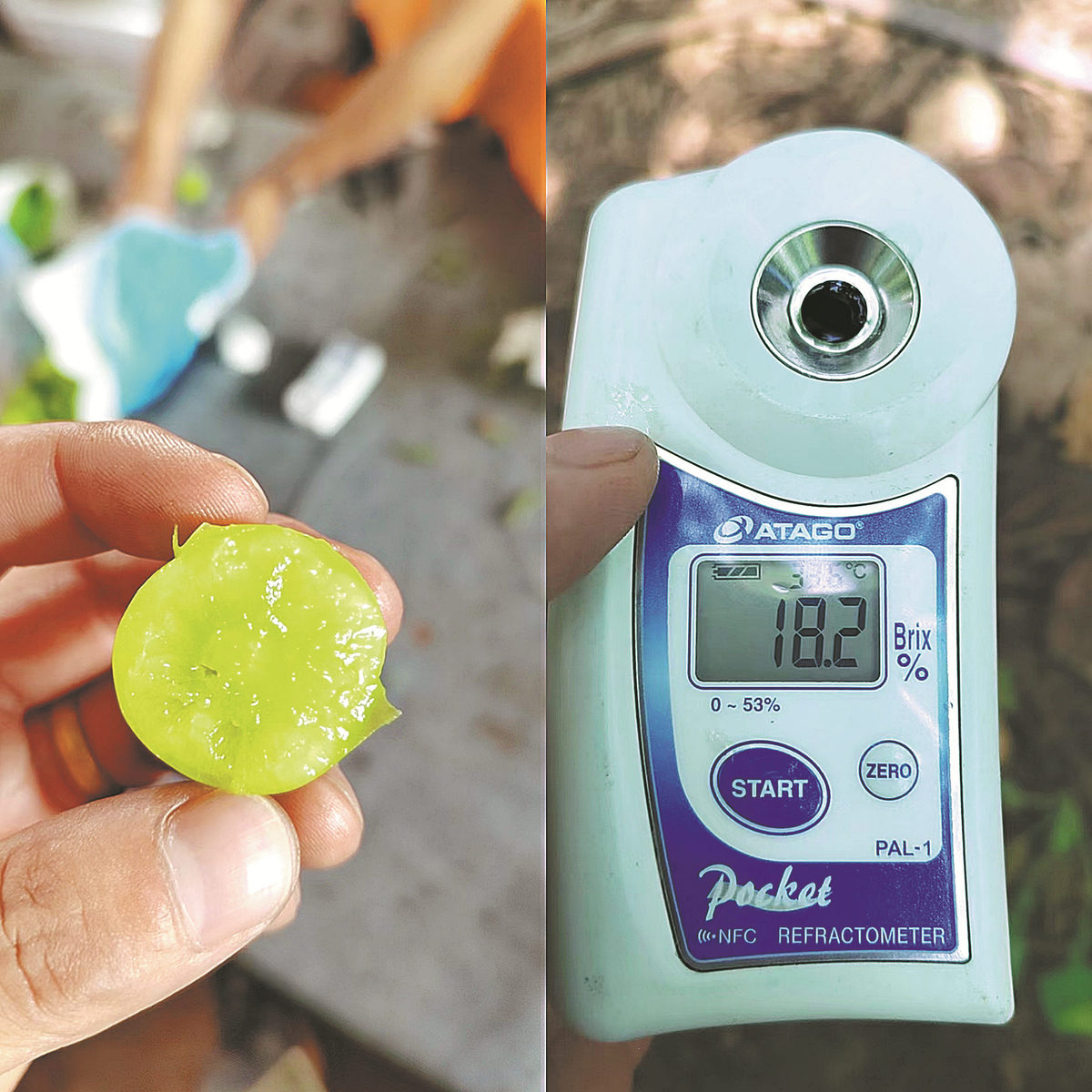 "If the temperature is too low, the grapes will not sprout; and in bad weather, the flowers will fade; and if it rains frequently, the fruit cracks or rots and doesn't become sweet," he said.
So Zhao has to keep an eye on the temperature. "Yunnan's weather is changeable. Taking care of shine muscat grapes is more difficult than looking after children," he said.
In fact, he spends more time with grapes than with his girlfriend. "Repeating the same movement 2,000 times a day has given me pain in my back and knuckles. I am also out in the sun all day during the summer."
Binchuan is famous for its grapes in Yunnan. Last year, the output value of agriculture in the county reached 13 billion yuan, according to Yunnan.cn and in the first half of this year, it produced 210,000 metric tons of fruit.
The industry also drives local employment. Wang Jintao, a supplier of grapes, said that in peak season, some farms hire part-time workers to help test for sweetness, and they can earn about 8,000 yuan a month.
The selection and packaging process also creates jobs. Zhao works with 50 to 60 farmers and sells shine muscat grapes via delivery service provider Meituan, to 2,000 regions across the country.
Prices have dropped significantly as a result of overplanting. Now, shine muscats command only 40 to 60 yuan per kg, but sales on Meituan grew 120 percent in August compared to last year.
Zhao said that he is not worried about the drop in price. "It shows the market is becoming more regulated and rational. Besides, if more customers can afford them and more want to buy them, farmers can sell more," he said, adding that they can still profit if the price doesn't drop below 20 to 30 yuan per kilo.