Chongqing noodles ride the wave of booming ready-made food market
Xinhua | Updated: 2022-09-29 11:02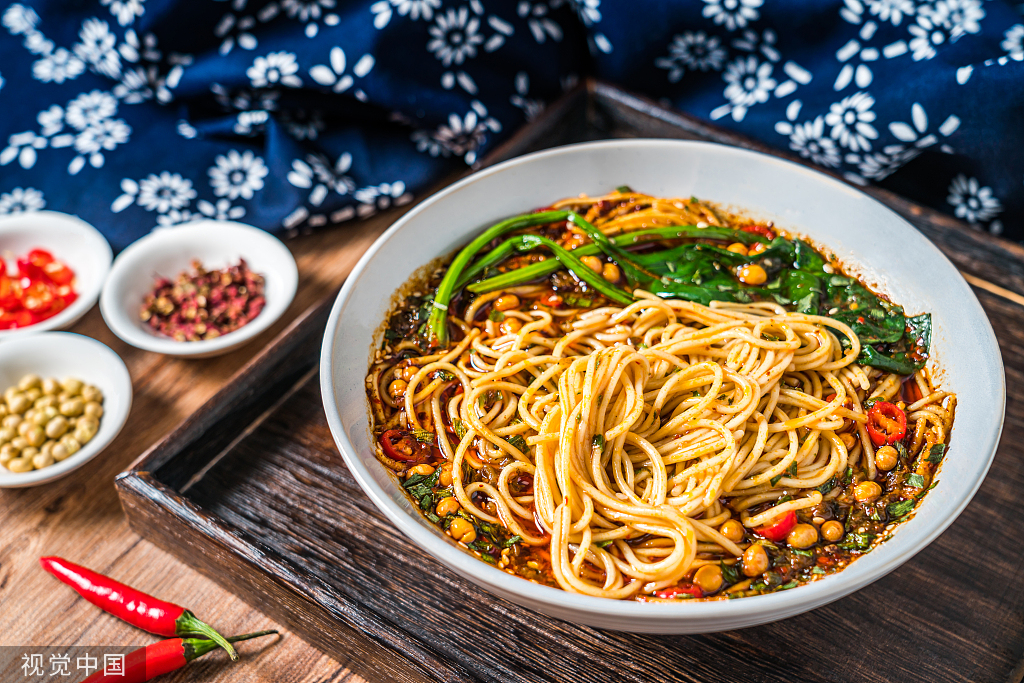 CHONGQING -- With the burgeoning growth of China's "prefabricated food" industry, Chongqing xiaomian (spicy noodles), popular street food in southwest China's Chongqing municipality, is tapping the novel business model to expand its market.
Chongqing's Dadukou district established an industrial park in August 2021, particularly aimed at cultivating a larger market for its signature xiaomian.
"In total, Chongqing has about 84,000 xiaomian eateries, selling 13 million bowls of the spicy noodles a day and garnering an annual sale of nearly 40 billion yuan," said Li Xiaodan, deputy director of the district commission of economy and informatization.
The strong vitality of Chongqing xiaomian is not just limited to offline stores and it is highly likely that it will capture the hearts of consumers in the ready-to-eat food market as well, Li added.
Business figures have in a way validated Li's optimism. From January to July this year, the industrial park produced prefabricated xiaomian with an output value of 147 million yuan.
As a local company that began to sell ready-made xiaomian seven years ago ahead of other competitors in the fledging market, Chongqing Kings Noodle Management Co Ltd has rolled out 17 kinds of the delicious noodles under its brand "Kings Noodle."
"In the first seven months of 2022, we sold nearly 30 million yuan of xiaomian, of which approximately one-fifth were exported to more than 10 countries," said Li Junxi, the manager of the company.
"To our surprise, most of the overseas clients reached out to us initially because they believed the ready-to-eat xiaomian could allow foreign consumers to taste authentic Chinese food in a more economical way," Li added.
Although "xiaomian" means "small noodles" in Chinese, this does not imply that the ingredients and production process of this delicacy are simple.
There are three to four components in a serving of ready-made xiaomian, including noodles, toppings and sauces, but more than 30 types of seasonings are required to create a flavor that is more palatable to the masses.
"We even invested millions of yuan to do research in collaboration with colleges and universities, merely to make sure the noodles are chewy enough or can be preserved for more than four months," said Fu Yong, chairman of Chongqing Jingguyuan Food Technology Co Ltd, which joined the ready-made xiaomian fray last year.
Fu added that starting in 2021, the company has spent 13 months on product research. Although the ready-to-eat xiaomian products have been on the market for just two months from June to August, the offline sales already exceeded 1 million yuan.
China's current prefabricated food market size has the potential to reach 1 trillion yuan in the next six to seven years, according to a report released by Shenzhen-based research firm AskCI Consulting.
Dadukou district has also set a sales target of 10 billion yuan for the ready-made food market with xiaomian taking the lead.
"The spicy xiaomian has a history of over 400 years in Chongqing. With the advent of new technologies, we have the confidence to turn this street delicacy into a chain brand and let the entire world savor its flavor," Li Xiaodan said.