Is the US economy about to tank?
By Gregory K. Tanaka | chinadaily.com.cn | Updated: 2022-09-29 13:36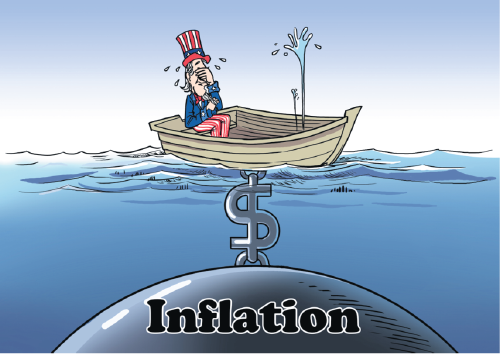 Despite their best efforts, US economic policymakers are not yet out of the woods. Inflation is rising. The "US Labor Participation Rate" continues to decline.

A growing percentage of Americans are feeling the pinch caused by a combination of rising food and gas prices and lower job participation rates.

One can now add to these trends the recent report that "the number of Americans filing for first time unemployment soared to 8-month highs" (Zero Hedge, 21 July, 2022).

The most alarming development, in my view, is that there are now deeper signs of "structural weakness" beginning to appear in the US economy.

For example, "US manufacturing" is a key structural component of the US economy, but US manufacturing has been in decline for several decades. The problem is that those who own or manage US manufacturing companies have been moving their plants offshore to countries that offer much lower labor costs than the US.

While this structural shift has resulted in higher profits for the owners of these multinational corporations, it has ruined the lives of tens of millions of American middle and working class workers who had come to rely on having decent paying jobs located at US manufacturing sites.

Secondly, "the US agriculture," another structural pillar of its economy, is now under attack by their own federal government which ordered that large swaths of land not be planted this year.

This policy is in parallel with an effort launched by massive multi-state combines to gobble up tens of thousands of small farms at low prices—farms that had once sustained millions of American families in the Midwest, South and West Coast.

To prop up a structurally failing US economy, the Federal Reserve Bank has been furiously printing trillions of dollars with the hope that by flooding the economy with ready cash, economic trends will reverse and turn rosy. This gambit has not worked. Worse, foreign investors are beginning to think the US dollar is not what it used to be because of the excess money printing and have begun dumping their holdings of US Treasury bonds and other US assets. This includes nations with very large economies like Russia, China, Brazil and India.

With more and more nations starting to reject US Treasury bonds and other dollar denominated assets—including stocks, state and local bonds, and US real estate—the dollar itself has begun losing its "global reserve currency" status where other nations were formerly required to trade with each other using the dollar as their medium of exchange.

In halcyon days, having that global reserve currency status meant the US could "export its inflation abroad" because other nations would later be collecting on money they had loaned the US by being paid back in inflated and thus much cheaper dollars.

However, with the great structural weakening that comes from losing global reserve currency status, the US can no longer rely on using the dollar to "export" its inflation abroad. What that means is that this total accumulated inflation will one day come bouncing back on to the US consumer.

Meanwhile, record levels of debt continue to appear across all sectors in the US Total accumulated debt among all 50 states is now running at $1.1 trillion. Accumulated local city and county debt has reached $2 trillion. Total accumulated personal debt among Americans has exceeded $23 trillion and total accumulated debt owed by the federal government has now reached an astounding $31 trillion (US Debt Clock, 22 September 2022).

With massive debt and money printing coming to define US capital markets—and the US slipping deeper and deeper into recession—the real possibility is raising that its citizens will one day weather a period of hyper-stagflation redolent of the 1930's.

What this means is that economic policymakers in the US are currently facing very stiff headwinds with little relief forthcoming in the way of possible options or solutions.

Gregory K. Tanaka, formerly a banker and a law school dean, is the author of Systemic Collapse and Renewal: How Race and Capital Came to Destroy Meaning and Civility in the US and Foreshadow the Coming Economic Depression (Peter Lang Publishing, 2018). The views don't necessarily reflect those of China Daily.
If you have a specific expertise, or would like to share your thought about our stories, then send us your writings at opinion@chinadaily.com.cn, and comment@chinadaily.com.cn.