Zeiss, Oasis International Hospital tackle vision hardships
By ZHU WENQIAN | chinadaily.com.cn | Updated: 2022-09-30 15:04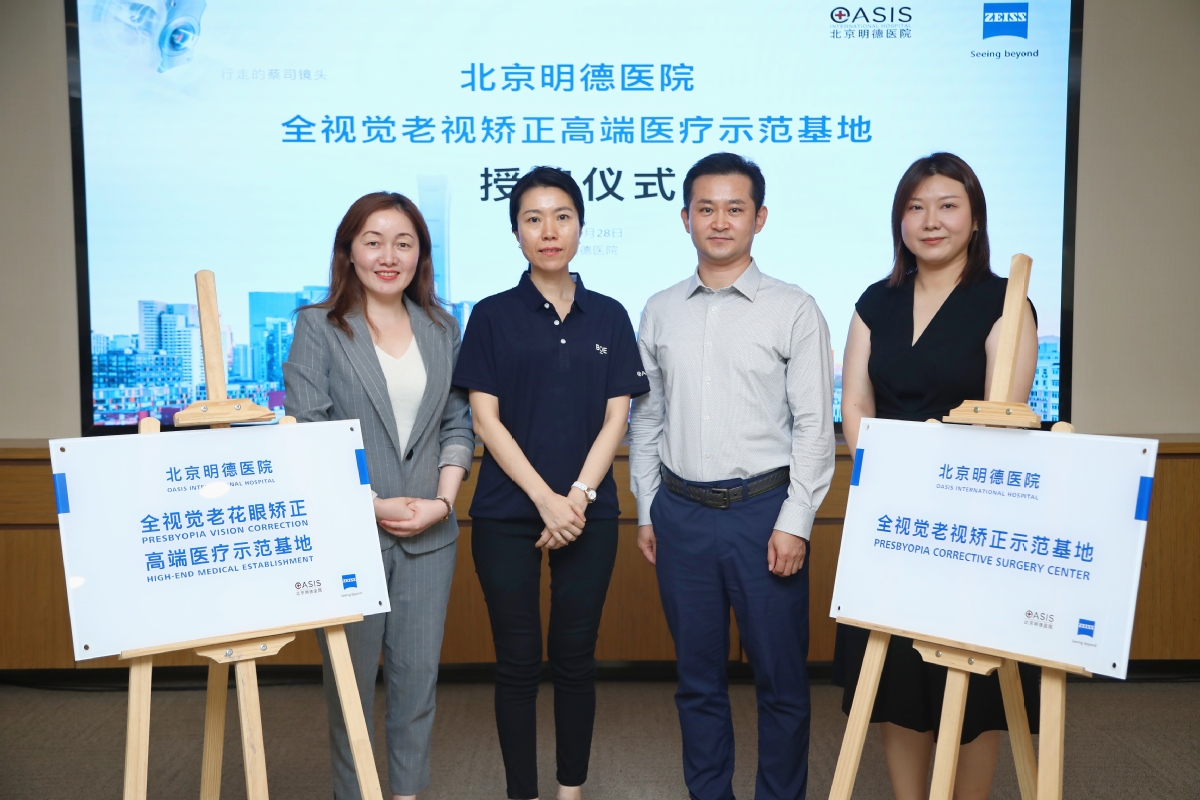 Zeiss Group, a German optics company, launched a new cooperation with Oasis International Hospital, an international high-end general hospital in Beijing. The cooperation is to build a high-end medical demonstration base for presbyopic correction, as they are focused on the demand for tackling vision difficulties, especially by the aging population in Beijing.
As people age, they will face eye problems like presbyopia and cataracts, and some of these problems may combine with myopia or hyperopia. Oasis International Hospital said it offers a comprehensive range of solutions to tackle those problems, with the help of the trifocal lens produced by Zeiss.
Since the COVID-19 pandemic, Oasis International Hospital said it has seen an increasing number of people inquiring and taking optical surgeries to solve their vision problems.
"As people are required to wear masks, they have been increasingly willing to take off their glasses and get satisfactory visual performance. Compared with before, patients are pursuing a better quality of life and some medical needs are consumptive," said Kelly Wang, head of Ophthalmology Department of Oasis International Hospital.
"Many people, especially teachers, doctors, lawyers and actors, hope to improve their visual function to extend the length of their careers. Among the patients we have received, 60 percent are Chinese and 40 percent are foreign consumers, and a majority of patients who are seeking optical surgeries are females," Wang said.
She added that as patients are showing an increasing demand to raise their visual function, technology, such as the implantation of full-vision trifocal lens, have been widely applied.
The optical surgery can help patients get a full vision range from near to far distance. They include near-distance activities such as using mobile phones and reading books; intermediate-distance activities such as driving, social networking and doing housework; and distant activities like hiking.
Oasis International Hospital, which started operation in 2011, has been a private hospital owned by Chinese display panel supplier BOE Technology Group Co Ltd. Zeiss and the hospital began their cooperation in 2018. This year, they further enhanced collaboration to a more comprehensive level.
Last year, for the first time, the proportion of people aged 60 and above made up for more than 20 percent of Beijing's population, and people aged 65 and above accounted for over 14 percent, indicating that Beijing has officially become a moderately aging society, according to a report on the development of the aged society in Beijing.
Nationwide, 92 percent of Chinese aged 40 and above have different degrees of vision difficulties, according to data from Ipsos, a global marketing research institute.
In the past decade, Zeiss has seen a strong business growth in China, and it is expanding its research and development capabilities in the country to meet a more tailored demand.
zhuwenqian@chinadaily.com.cn