Adventure activities see rise in popularity with larger enthusiast group
By LIU YUKUN | CHINA DAILY | Updated: 2022-10-01 07:52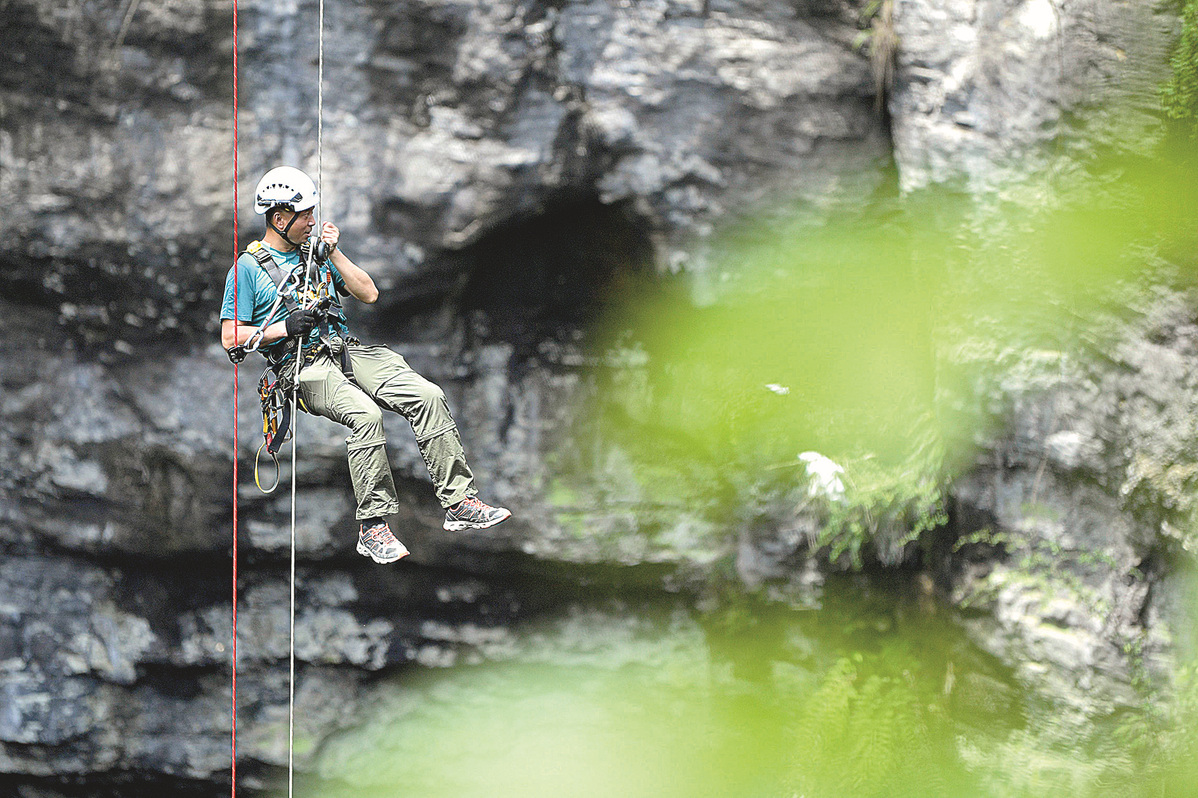 With his helmet on, 38-year-old Li Dezhi squeezes the motorcycle clutch lever at full grip, presses the start button and waits for the exhilarating sound of the engine firing.
The CEO for Aosheng Extreme Distributor on weekdays and a semi-professional off-road motorcyclist on weekends, Li said riding in the dirt away from the city and performing jumps and stunts gives him a feeling of freedom and mental stimulation.
Li isn't the only fan of adventure sports. Outdoor adventure activities, such as off-road motorcycling, rock climbing and caving, are gaining increasing popularity among Chinese consumers, and a burgeoning market in China has formed around these activities.
On lifestyle-sharing platform Xiaohongshu, relevant posts surpassed 560,000 as of early September. On short-video platform Douyin, posts that depict people adventuring in caves among glaciers and hiking in "no man's land" in the Tibet autonomous region have been among the top trending topics in the last two years.
A report by the China Adventure Association estimated that total output of China's outdoor adventure industry will surpass 1 trillion yuan ($139.8 billion) by 2025. It predicted that as living standards rise and young urbanites start looking for ways to blow off steam supported by higher disposable income, the industry will enter a rapid-development phase of 10 years since 2026, with an annual growth rate of over 10 percent.
Li, as head of a sports accessory business and an outdoor adventure activity veteran, is planning a new venture to sell off-road motor riding equipment to tap the growing market.
"I love adventuring in nature. Spending time around mountains and rivers helps me reconnect with myself, while performing stunts gives me a sense that I can conquer the difficulties I face and achieve something," he said.
Li founded his company in 2008 out of an enthusiasm for snowboarding. "I started the business selling skiing equipment. At that time the sport was less well-known, and our customers numbered just a few hundred skiing fans in Beijing."
"Within less than two decades, we had numerous buyers and about 90 distributors across the country. We later expanded our business to skateboards and will start a new off-road motor riding sector. We are confident about market prospects."
A report by the China Adventure Association said that about 23 percent of people participated in at least one type of outdoor adventure activity in China in 2020, and the number has shown a rising trend in the last two years.
Among those surveyed, people who took part in rock climbing or mountaineering accounted for 40.75 percent, and about 10.83 percent rode mountain bikes.
Yang Yi, a freelance film producer, just started rock climbing three months ago. She said rock climbing helps her focus on the moment and get rid of pressure and anxiety.
"The first time I walked into the club was the day I got fired from my previous job. I was a little depressed, but when the coach taught me to start climbing, I forgot about work and life pressure and was able to refresh my mind."
"I started practicing in professional indoor clubs in Beijing. Recently I've been invited to outdoor rock climbing, but I just watched and learned because I'm not skilled enough and I have safety concerns."
The report by the China Adventure Association showed that about 72.26 percent of people surveyed voted safety concerns as a top reason to keep them away from outdoor adventure activities.
They weren't worried for nothing. Data from the association showed that there were 352 safety-related accidents occurring while people were doing outdoor adventure activities last year, up 113 percent year-on-year, among which 287 involved injury or fatality.
Authorities have responded to the risks latent in the novel and lightly regulated market, and are strengthening security protocols on outdoor adventure activities. The Beijing municipal government launched seven measures earlier this year, urging relevant departments to set up signs in dangerous yet popular adventure areas and calling for more professionally trained and licensed organizers.
Experts have also said the government should extend support to the industry. Yang Zhongqi, an expert with the Chinese Academy of Forestry, told news agency Science and Technology Daily that there was an imbalance between growing demand for outdoor adventure activities and lack of sufficient emergency rescue teams.
Yang also called for further efforts to set up a safety alert system which will offer participants information on weather and road conditions in outdoor adventure activity areas through location positioning and electric monitoring.