Man's passion for steel wires advances career to senior tech
By YANG JUN in Guiyang and YE ZIZHEN | China Daily | Updated: 2022-10-03 11:47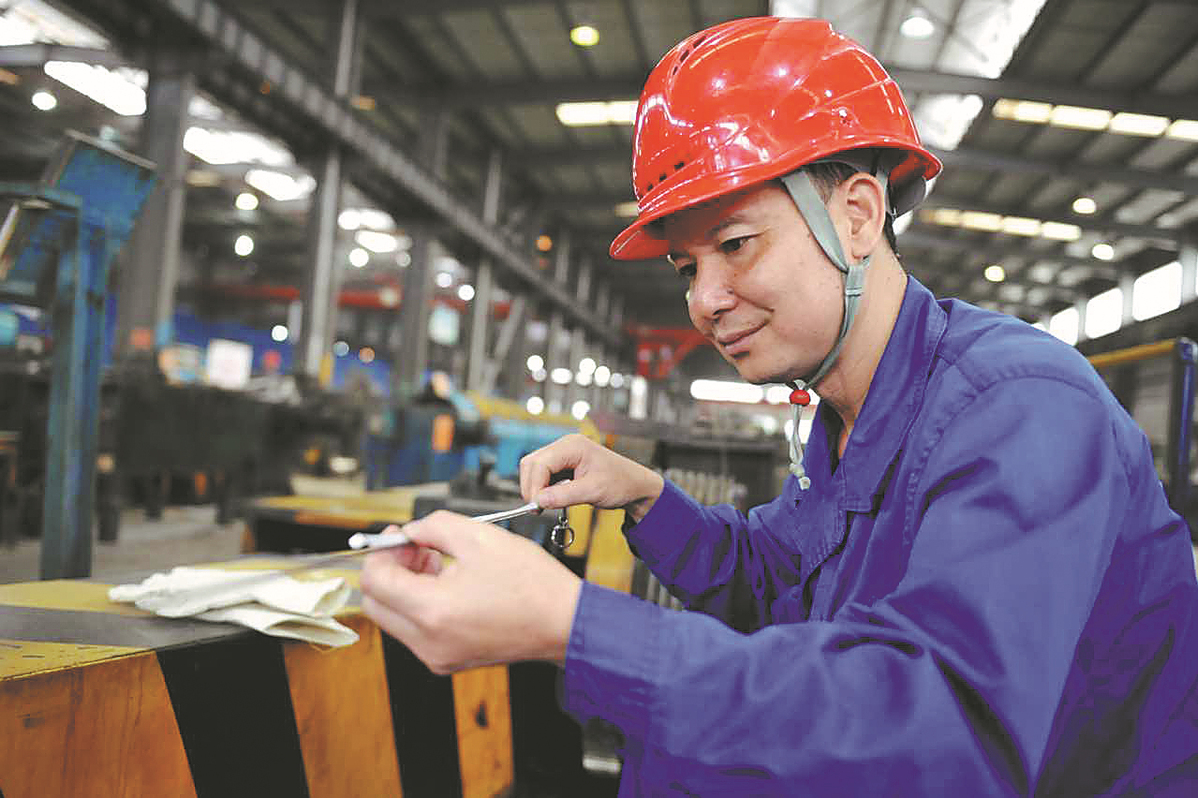 Working with steel wires as thin as hair and molding them into cables under a process using temperatures as high as 1,500 C is Zhou Jiarong's daily routine.
Going from an apprentice of steel rope-making to a nationally acknowledged senior technician, Zhou spent the past three decades in the field not only making himself skillful but also nurturing young talent for the future.
"The most difficult thing in life is to stick to doing the same thing for a long time, I was once told by a senior technician," said Zhou Jiarong as he shared his story at a news conference in November 2020 after being given the title of "national model worker".
"I have made it my motto and stayed devoted wholeheartedly to making steel cables, step-by-step, to improve my skills and the quality of our products."
Born in 1968 in Zunyi, Guizhou province, Zhou is a technician with Guizhou Steel Rope Group Corp in Zunyi and leads a workshop named after him in the company.
Before joining the company at the age of 19 in 1987, Zhou worked both as a farmer and worker upon graduation from junior high school.
"I dreamed about being an industrial worker as a child. To contribute to our country's development is a proud job," Zhou said.
"And I believe once you choose a career, you should learn to enjoy the honor and frustration it brings to you and appreciate it all."
Hardworking and passionate is the impression Zhou leaves on colleagues. He spends most of his leisure time researching and experimenting in his workshop.
At the beginning of his career, he observed how senior technicians operate, learned from the standard procedures and practiced himself. It took Zhou only three months to operate independently with the machines, while others usually need six months.
Steel rope can lift heavy objects and is widely used in infrastructure and industries including dams, bridges, spaceships and satellites. Several dozen wires as thin as hair, and sometimes hundreds of such wires, are twisted and welded together to make a stranded steel rope.
"Different steel wires have different diameters, lengths and stretching scopes. When the wires are arranged, appropriate molds are used to shape the rope," Zhou said.
After several years, Zhou still remembers in 2007 when he and his colleagues were invited to visit the Baling River Bridge in Guizhou after it was successfully installed.
"The bridge was recognized as Asia's highest at that time. I was excited and proud that the steel cables used for the bridge were made by us."
Not only the Baling River Bridge, but nearly 40 of the world's top 100 bridges have used the steel cables produced by Zhou and his company including the Hong Kong-Zhuhai-Macao Bridge, the world's longest sea-spanning structure.
In his hometown of Guizhou, the 500-meter aperture spherical telescope known as FAST, the world's largest single-dish radio telescope, was also constructed with the steel cable produced by Zhou.
"To research and develop more types of steel rope products of higher precision and to support our nation's technological development is my goal," he said.
In 2013, a workshop held on new product development, skill communication and nurturing of talent for steel rope manufacturing was established in the company under the authorization of the Ministry of Human Resources and Social Security.
"Since its foundation, we have developed steel ropes that are used in satellites and aircraft carriers, which are different from previous products," Zhou said. The workshop also contributes to the making and revising of product standards both nationally and internationally.
Founded in 1966, Guizhou Steel Rope Group Corp now has over 4,000 staff, with an annual production output of 400,000 tons. Julong brand steel wire, steel rope and steel strand wire are three major products. Its products are exported to some 40 countries and regions globally.
With his introverted personality, Zhou has many characteristics that have pushed him to become a senior technician — patient, hardworking and persistent.
"The difficulties of making steel rope is not only about technique, but also the patience and prudence the job requires," he said.
"I will continue studying in this field, revising and improving our craft, and developing more high-quality products. I will continue to make my contribution to our country."
Zhao Yandi contributed to this story.