Diplomat: 'Cold War mentality' biggest threat to world
By MINLU ZHANG at the United Nations | China Daily Global | Updated: 2022-10-11 09:35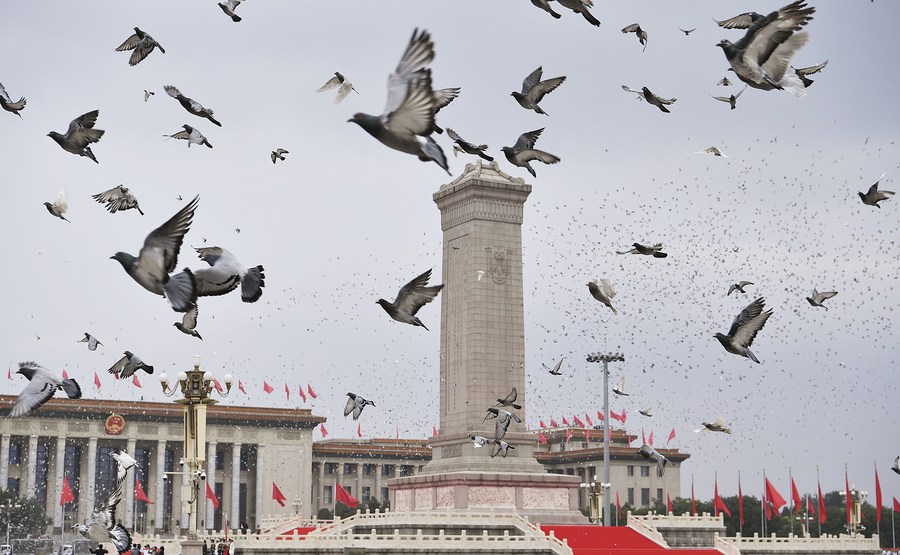 A senior Chinese diplomat on Monday said that "the Cold War mentality" remains the biggest threat to peace and stability in the world.
"Certain countries, driven by the Cold War mentality, have continuously instigated competition and confrontation among major countries, strengthened their military blocs and deliberately provoked and aggravated disagreements," said Li Song, China's ambassador for disarmament affairs, at the First Committee of the 77th Session of the United Nations General Assembly (UNGA).
"Such policies have been seriously undermining mutual trust among major countries, endangering global strategic balance and stability, and impeding the international arms-control and disarmament process," Li said.
"As an indivisible community, we must face squarely and give clear answers to the questions of our times, such as what security concept the world needs and how countries can achieve common security," he continued.
In April, Chinese President Xi Jining proposed the Global Security Initiative (GSI). The initiative seeks to promote the establishment of a balanced, effective and sustainable security structure; advocates a win-win mindset to address complex and intertwined security challenges; and champions the spirit of solidarity to adapt to the evolving international landscape, Li said.
The initiative offers China's solution to eliminating the root causes of international conflicts and achieving durable stability and lasting security in the world, he added.
"Mutual trust and collaboration among major countries is the cornerstone for ensuring international security and stability," Li emphasized.
"Nuclear-weapon states must abandon concepts of strategic competition and bloc confrontation; halt any pursuit of exclusive or absolute security; and stop putting their own security above that of others. We should dedicate ourselves to dialogues and cooperation, so as to rebuild strategic mutual trust," he said.
In January, leaders of the five nuclear-weapon states issued a joint statement stressing that a nuclear war cannot be won and must never be fought and reaffirming that none of their nuclear weapons were targeted at each other or any other state.
"This historic statement is of great and far-reaching significance to preventing nuclear war and avoiding arms races. The five nuclear-weapon states should further strengthen communication and collaboration and jointly uphold global strategic balance and stability," said Li.
The world has witnessed diminishing mutual trust and growing conflict among countries. That is because the UN Charter has been impaired by the so-called rules-based international order, said Li.
"The 'house rules' established by a certain country or bloc of countries must not replace the UN Charter. All UN member states should practice real multilateralism and firmly defend the international system with the UN at its core," he said.
He also emphasized that trilateral cooperation on nuclear-powered submarines among the United States, the United Kingdom and Australia (AUKUS) runs counter to the objective and purpose of the Treaty on the Non-Proliferation of Nuclear Weapons (NPT); deals a serious blow to the International Atomic Energy Agency (IAEA) safeguards system; poses severe risk of nuclear proliferation; and undermines regional peace and stability.
"China expresses deep concern with and strong opposition to such cooperation. China calls on all members of the international community, especially the IAEA member states, to pay high attention to this issue; conduct thorough discussions; and handle the issue with prudence, so as to preserve the integrity and effectiveness of the international nuclear nonproliferation regime," said Li.
"China has long pursued an independent foreign policy of peace and a defense policy that is defensive in nature. China has played an active part in and worked to advance the international arms control, disarmament and nonproliferation process," Li said.
Li reiterated that the objective of China's national defense forces is to resolutely defend national sovereignty and territorial integrity.
"The fundamental goal of China's arms-control policy is to promote a fair, reasonable and feasible multilateral arms-control process; to promote international peace, security and stability; and to safeguard China's legitimate security interests," he said.
Li said the world needs to supersede the Cold War mentality of win-lose competition. He said it needs to adopt a new vision of common, comprehensive, cooperative and sustainable security and needs to make sure that the security of every country be respected and protected.