MNC execs confident in market fundamentals
China Daily | Updated: 2022-10-21 11:32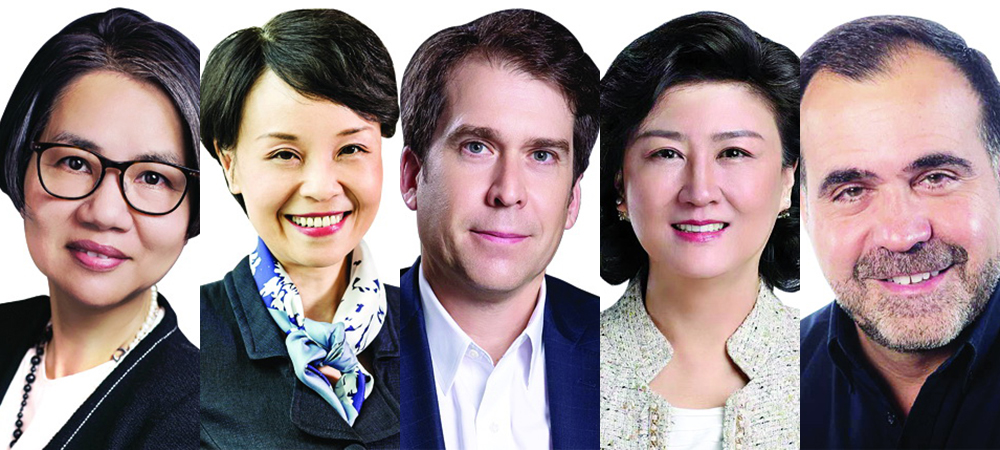 Editor's Note: The ongoing 20th National Congress of the Communist Party of China is widely expected to start a new chapter in the saga of reform and opening-up that energized the Chinese economy over the last four decades and made it the world's second-largest. It also sets the tone for improving the business environment for global firms, big and small, operating in the country. China Daily publishes a series of Q&As with business executives from leading MNCs featuring their outlook for the Chinese economy as well as their hopes for the future prospects of their businesses in China.
Q1 Against the backdrop of a much-troubled global economy, how will China's economy likely perform going forward, given that it has already made immense contributions to the tasks of stabilizing both the global supply chain and the world economy?
LAM: Citi's economists expect the country's economy to grow 5.6 percent next year despite a 50 percent probability of a global recession, with infrastructure spending being a key driver. This will offer global investors a hedge in an increasingly uncertain world and, given its sheer scale, a cushion for global growth. Most importantly, Citi's corporate clients in China — local and multinational — continue to invest in innovation and talent. With long-term confidence intact, China's growth engines could be revving as it heads into 2023.
ZHU: Despite some temporary shocks and downturns, China's long-term growth prospects remain intact. The biggest drivers for growth are businesses and entrepreneurs that are constantly innovating to become more efficient and competitive, and Chinese consumers whose spending power continues to grow steadily with rising incomes. China has become the world's fastest-growing consumer market, with its share in global consumer spending increasing from 7 percent in 2011 to 14 percent in 2021. China's rebalancing from an export-oriented economy to an important final demand market has benefited many businesses at home and abroad, and also contributed to global economic stability.
MACHADO: The global economy currently poses great challenges to all countries. Multiple factors such as climate change, environmental disasters, the COVID-19 pandemic, commodity price spikes and an increasingly complex geopolitical landscape, among others, make the environment really challenging. China's economy also faces challenges.
Nevertheless, the country has been undergoing an amazing process of growth and development over the past four decades, from lifting hundreds of millions of people from below the poverty line and modernizing its manufacturing base, to significantly increasing its population's level of education and building one of the world's most innovative ecosystems. Therefore, China has a strong foundation and all the attributes required to overcome current challenges, and I am confident it will continue to grow steadily and strongly.
YU: China plays an important role in global commerce and is one of the fastest-growing markets for digital payments. Over the past two and a half years, the world adopted all forms of digital technology at an unprecedented pace. The magnitude of these changes represents growth opportunities for many economies, China included, to accelerate economic recovery through continued innovation and collaboration, and it enables digital transformation for small businesses to survive and thrive.
We see significant potential for the continued evolution of digital payments in China, particularly cross-border commerce, both online and in-person, as borders gradually open up in the future.
BARRIOS: We are seeing global economic headwinds fueled by the ongoing COVID-19 pandemic, supply chain disruptions, rising inflation and climate change.
It is encouraging to see policymakers in China taking positive steps to transform the economy to ensure long-term sustainability and domestic strength through the dual circulation strategy, while remaining an essential part of the international trading system.
We are also actively seeing China policymakers' ability to quickly scale up to become the world's leader in emerging industries such as electric vehicles, renewable energy and digital technologies. Rio Tinto remains convinced that China's long-term economic fundamentals remain incredibly strong.
Q2 China has been deepening its reform and opening-up policy, particularly at the institutional level, so as to ensure equal treatment and an optimized business environment for foreign companies operating in China, and to persuade more of them to invest in China and benefit from the country's thrust on tech and innovation. How do you view China's efforts? How can China intensify such efforts, particularly in the context of any potential external or internal barriers?
LAM: In a world where global companies increasingly "go local" — to strengthen supply chains and capture new demand — markets with scale and openness will do well. We get a good view of this in China, where Citi serves 70 percent of Fortune Global 500 companies. Our multinational clients invested $100 billion "in China, for China" — to innovate and manufacture locally — in the 24 months ending last December. Some are taking over joint ventures and appointing China-based executives to senior positions. This expansion will likely continue as China opens up further and provides a level-playing field for those committed to serving this market.
ZHU: China has implemented many effective measures in recent years to further open up the domestic market, remove entry barriers, and level the playing field for foreign businesses and investment. These reforms are bearing fruit. We've observed that the sectors that opened up, such as the auto sector, have become more competitive and have enjoyed decent growth. Going forward, it is expected that the government will deepen its reforms to make the business environment more market-friendly and ensure a level playing field for all market participants. These will help China's economy stay competitive and fast-growing, and generate benefits and opportunities for foreign and domestic players alike.
MACHADO: China's development model also proved to be successful when it comes to research and development and innovation. The country counts today on top universities, very well-prepared local professionals, high-end R&D and innovation hubs, as well as policies that support the promotion of such activities. The combination of these factors makes China an innovation power, with an ecosystem that has a lot to offer.
A number of multinationals, including Suzano, have established innovation centers in China. The country now offers R&D and innovation to the world. Therefore, participating in the China innovation ecosystem has become a must for most business fields.
YU: We welcome China's efforts to continue opening up its domestic market, and look forward to seeing this expanding to digital payments because it will allow more participation, and more participation leads to more innovation, which leads to greater choices for consumers and small business owners. We believe continued opening-up in digital payments will strengthen collaborative innovations between China and the outside world, creating a recovery path for Chinese small businesses and empowering inclusive growth and social prosperity in China.
BARRIOS: To put it simply, you cannot be a global company without doing business in China. With close to 20 percent of the global population, the size and pace of the development of the market in China cannot be ignored.
Over the past four decades of reform and opening-up, while having made remarkable economic achievements, China has provided Rio Tinto and other foreign companies with abundant growth opportunities. We believe that China's continuous support for open trade and investment and commitment to the development of an improved system for an open economy will continue to benefit the international business community.
Q3 Innovation has been the bedrock of China's modernization. What new opportunities can you foresee for the world in China's pursuit of innovation-powered high-quality development?
LAM: The promising thing about China's economy is its focus on future growth. Apart from serving 300 leading corporates, Citi banks on a far greater number of "emerging" companies, across biotech, fintech and other new economy sectors. More than ever, these companies are tapping our global network spanning almost 100 countries and regions for capital and market access. We also support the financial infrastructure behind these businesses. This year, we became one of the first foreign banks to provide clearing and settlement on the nascent Beijing Stock Exchange. By supporting our clients as they innovate, we are helping to finance the future in China.
ZHU: Innovative companies in China have grown both in number and size. We are happy to see that the government has introduced many reforms in recent years to encourage private sector innovation and protect intellectual property.
MACHADO: China is clearly transitioning from high-speed growth to high-quality growth, which is made possible by its rich expertise in R&D and innovation accumulated over the past decades. China has its long-term plan and clear goals. Businesses and companies, local or foreign, need to be aligned with and contribute to such plans and goals to be successful.
One innovation field I believe to be very promising is the green economy, or R&D and innovation initiatives that can support China in its transition to a low carbon economy. This is fully in line with Suzano's focus. We are now building our Innovability Hub in Zhangjiang, Shanghai. "Innovability" means the pursuit of sustainable solutions through innovation. This is a key concept to us and presents across all our business models and investments. With the hub, we plan to develop "innovability "together with China.
YU: Innovation is the foundation of a vibrant digital economy and a core focus for Visa. We have operated in China for nearly 40 years. Through responsible innovation, where we ensure new solutions are designed based on global standards of security and interoperability, we work with Chinese financial institutional clients and partners to help Chinese consumers shop online and outside of China.
Visa opened its Beijing Innovation Center in 2019. Since then, we have worked with local fintech startups to co-create new digital solutions in China for the world. Throughout the pandemic, the Visa Beijing Innovation Center has continued to host partners virtually. It is an ideal platform for sharing insights and best practices from around the world with our Chinese partners.
BARRIOS: Rio Tinto is actively embracing the high level of innovation in China through meaningful partnerships with the government, education and private sectors. Our team in China has been closely following local technological developments, and we see great potential in collaborating further with our existing and new Chinese partners, including companies, universities, research institutions, and industrial organizations, to create novel solutions and help drive the transformation of the mining industry.
This year, we established the China Technology and Innovation Centre in Beijing to serve as a platform, connecting operational needs and internal expertise from across Rio Tinto's global business with China's technology and innovation capability.
Q4 What's your take on China's dual carbon goals, which have received a thumbs-up globally? Do you see big business opportunities arising from the country's carbon goals?
LAM: China's progress in pushing for carbon neutrality is evident in our business. About a quarter of Citi's sustainability financing in the Asia-Pacific region last year was raised for Chinese clients.
To help clients transition to low-carbon growth, we recently set up an environmental, social and governance (ESG) task force in China, led by two senior bankers. The task force will leverage Citi's global expertise to identify and mitigate climate risks for clients. On top of the sustainability-linked finance chain solution we launched this year, we hope to introduce more ESG products in China, and through them, contribute to China's carbon neutrality goals.
ZHU: Despite challenges in the near term, China has made tangible progress on green and low carbon development and has demonstrated its commitment to sustainable development over the medium to long term by pushing forward its ESG initiatives both in policy structure and in green finance.
We see substantial room for China's broad green finance market to expand, considering the more than 100 trillion yuan ($13.84 trillion) of investment demand for the green transition over the next three decades, and given that green finance currently accounts for only a tiny share in China's aggregate social financing structure. We expect China will ramp up investment at an average of 2.5 trillion yuan per annum for the decarbonization transition in the next decade.
MACHADO: Having been in the Chinese market for over 40 years, we firmly believe there are many opportunities for us to work together and offer solutions as China strives to achieve its "dual carbon" goals. The transition is generating increasing demand for bio-based products to replace fossil-based materials. This is an area where companies like Suzano can work with China to provide sustainable solutions for daily use, with a much smaller carbon footprint.
I always emphasize that when it comes to climate change and low carbon economy, competition should be replaced by collaboration. There are no winners or losers in this field. We should join efforts so that everybody wins.
YU: We applaud China for its dual carbon goals and believe Visa has the opportunity to leverage its role in commerce to help inspire and empower sustainable living and support the global transition to a low-carbon, sustainable economy. In 2020, we achieved carbon neutrality across all operations through energy efficiency, 100 percent renewable electricity use and limited carbon offsets.
In August, we launched Visa Eco Benefits in the Asia-Pacific region to promote sustainability-focused solutions that will help Visa cardholders across the region better understand the environmental impact of their day-to-day payments. We are committed to contributing to an inclusive and sustainable world.
BARRIOS: We applaud the leadership Chinese policymakers have shown in committing to clear targets for reducing carbon intensity and achieving carbon neutrality. They are backed by the commitments to the research and technology that will help make this a reality. It sets a strong example for other countries to follow and gives businesses the certainty required to plan and invest in long-term projects. Low carbon transition is at the heart of Rio Tinto's new business strategy, and China is an essential part of our global partnership network.
Q5 What's your view on modernization in China that has spawned common prosperity? What does this pursuit mean for foreign businesses?
LAM: I'm encouraged to see clients and colleagues in China committed to spreading opportunities and happiness across society. Together with our local philanthropic partners, we've committed tens of millions of dollars to good causes in China, ranging from youth employment to financial inclusion. Every year, our colleagues volunteer to care for disadvantaged groups and the environment through Citi's Global Community Day, devoting 1,200 hours in this year's initiative alone. As Citi's China CEO, I'm so proud of our people who, beyond the day-to-day business of banking, are playing a part in strengthening communities across the country.
ZHU: Chinese consumers are an increasingly important group of customers for foreign businesses. The growth of China's consumer market has in the past benefited from China's success in lifting its population out of poverty. Looking forward, we think China's consumer market will continue to grow alongside China's pursuit of common prosperity.
At the same time, China will need to not only better express its own policy intentions to avoid misunderstandings, but also better understand the demand and driving forces behind the actions of foreign governments and businesses. In this regard, it is critical to maintain and encourage two-way communications.
MACHADO: We are highly impressed by and fully respect the modernization progress in China. The country has been undergoing an amazing process of growth and development over the past four decades. After a high-speed development phase, now China transitions to a high-quality development phase driven by common prosperity, which we believe will bring more fairness and happiness to the Chinese people. At Suzano, one of our three cultural drivers is that "it's only good for us if it's good for the world". We firmly believe that building a society on common prosperity, properly tackling inequality, and ensuring a high-quality development of society and the economy is doing good not only for China but also for the world.
YU: At Visa, we believe everyone should have equal, full access to products and services that enable them to send and receive digital payments. Over the years, Visa has worked with a range of financial, technology and industry partners in China to support social imperatives around financial literacy, financial inclusion and rural vitalization. As a result, our partnership has helped more than 10 million Chinese rural residents improve their lives and work through financial literacy programs. In 2020, we committed to digitally enable 50 million small businesses globally over three years, and we are on track to meeting that goal. This year, we trained 5,000 female-led small businesses and prepared them for business opportunities brought by the Beijing 2022 Olympic and Paralympic Winter Games. As a purpose-driven company, Visa is committed to delivering long-term value for all of our stakeholders, giving back to the local communities in which we operate.
BARRIOS: Rio Tinto has been honored and humbled to provide some of the raw materials that have helped drive China's economic development in recent decades.
We are pleased to see China entering a new development phase with more efforts on reform, innovation and high-quality development in the future, while also looking to provide an economic uplift to increase the quality of life for Chinese citizens. We will continue to supply China with the quality resources it needs. Rio Tinto has been doing business with China for over 50 years, and I only see our partnership with China getting stronger in the decades to come.