GDI helps Cambodian infrastructure, promotes trade links among countries
By YANG HAN in Hong Kong | China Daily Global | Updated: 2022-10-25 10:50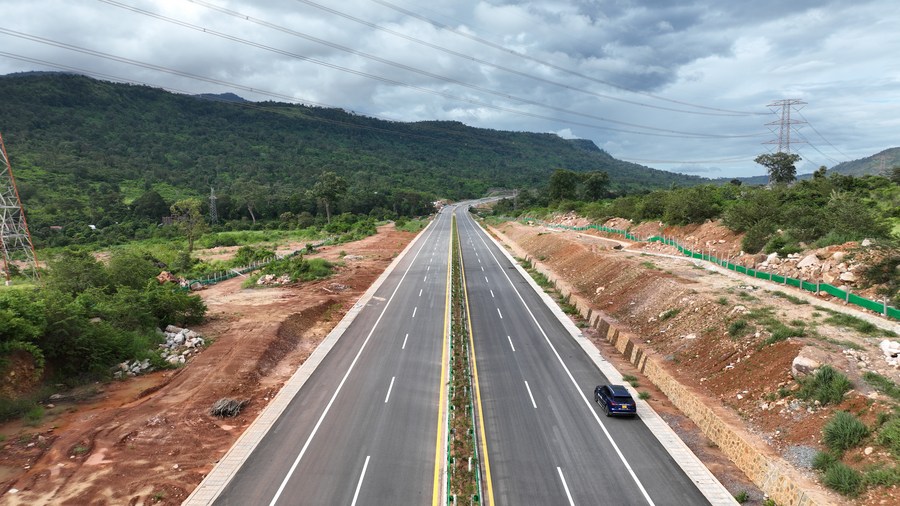 The China-proposed Global Development Initiative will create a platform for joint growth and see more benefits go to Cambodia due to its cooperation with China to build a community with a shared future, officials and business leaders said.
"(GDI) will become another significant cooperation platform for China and development countries to advance their fundamental and core national interests," Suos Yara, chairman of the Cambodian National Assembly's Commission on Foreign Affairs, International Cooperation, Information and Media, said.
Yara said the GDI complements Cambodia's national development strategy and its vision to become a higher middle-income country by 2030 and a high-income country by 2050.
"Cambodia is a strong supporter of China's global and regional multilateral initiatives … because these initiatives are inclusive and based on win-win cooperation and partnership," Yara said.
A case in point is the recent opening of the China-invested expressway in Cambodia.
With investment from the China Road and Bridge Corporation, the $2 billion Phnom Penh-Sihanoukville Expressway was opened to the public on Oct 1 for a month's trial use, reported Xinhua News Agency.
The 187-kilometer-long expressway connects the capital and the deep-sea port province of Preah Sihanouk.
With two traffic lanes in each direction plus an emergency lane on each side, vehicles will be able to reach their destination in about two hours on the expressway, instead of five hours on National Road 4.
Sun Chanthol, Cambodia's senior minister and minister of public works and transport, said he deeply appreciated the support from both the Chinese government and private sector, which have heavily invested in Cambodia's infrastructure.
"We also benefited from the Belt and Road Initiative from China to build the expressway between Phnom Penh and Sihanoukville …so we can (connect the) two economic poles, the Phnom Penh economic pole with the Sihanouk economic pole, so that is extremely important," Chanthol said.
He also said most of the roads in Cambodia will be upgraded from two to four lanes with China's support.
Chinese companies are also carrying out feasibility studies on many other projects in Cambodia, including canals, railways and metros, Chanthol said.
Injecting new impetus
Lin Shiqiang, chairman of the Chinese Chamber of Commerce in Cambodia, said Chinese companies have played an active role in building a China-Cambodia community with a shared future by injecting new impetus into bilateral trade and development.
Next year, China and Cambodia will mark 65 years of diplomatic ties and the completion of the first five-year action plan of building a China-Cambodia community with a shared future.
"The construction of new infrastructure projects like the Phnom Penh-Sihanoukville Expressway, the Siem Reap Angkor International Airport and the Huadian Sihanoukville Power Plant also demonstrated the determination of Chinese companies to invest and develop in Cambodia," Lin said.
He said the China-Cambodia free trade agreement came into effect on Jan 1, adding that China remained Cambodia's biggest trading partner, with bilateral trade volume reaching $5.99 billion in the first half of this year, an increase of nearly 20 percent from the previous year.
Lin said the GDI focuses on people's livelihoods and development, adding that close economic and trade cooperation between the two countries has created business opportunities for Cambodia's agricultural industry and related products, helping local farmers to be lifted out of poverty.
Yara said both countries have made remarkable progress in implementing the action plan, especially in the fields of infrastructure development and connectivity, trade and investment, strategic communication and human resources development.
Yara also said Cambodia is a strong supporter of open and inclusive regionalism and multilateralism, with international integration as a key foreign policy objective. He also said the principles of GDI are compatible with those of Cambodia, which include mutual respect, mutual benefits and inclusiveness.
Since the principles of the GDI are compatible with the development strategy of Cambodia and other countries in the Association of Southeast Asian Nations, Chheang Vannarith, president of Phnom Penh think tank Asian Vision Institute, said China has always walked the walk, which is why regional countries support the initiative.
Besides infrastructure, Chheang said green development will also be a key area of cooperation between China and Cambodia because many Chinese companies are working on green technology, and he hopes China can support Cambodia and the 10-nation ASEAN bloc to develop green growth as well.