Chinese officer honored for brave rescue
By BO LEUNG in London | China Daily | Updated: 2022-11-07 10:07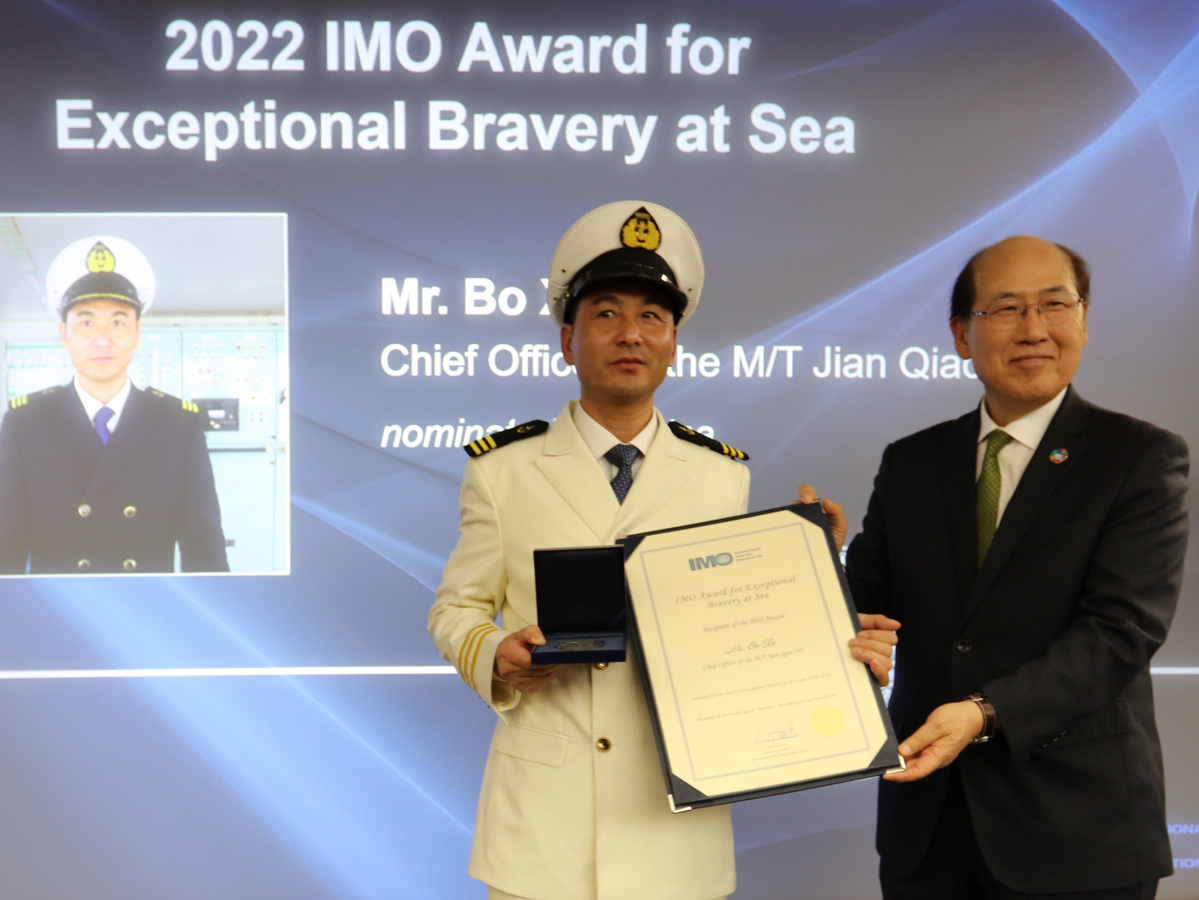 A Chinese chief officer on an oil tanker who jumped into freezing water to rescue two people from a life raft has been awarded the 2022 International Maritime Organization Award for Exceptional Bravery at Sea during a ceremony in England.
Xu Bo, who was serving on the Jian Qiao 502, was nominated for the highest accolade by China for his determination and endurance in rescuing two people near Zhifu Bay in northern China during bad weather and in choppy waters.
The International Maritime Organization, or IMO, is a United Nations agency responsible for regulating shipping.
At the awards ceremony at the IMO's headquarters in London on Wednesday, Xu said: "It's a great honor for me to receive this Exceptional Bravery Award from the IMO."
On the morning of Dec 12, 2021, the Jian Qiao 502, which was headed for the port of Dongguan, changed course to assist a vessel in distress and carry out a search and rescue operation.
It had received a distress call from the troubled cargo ship Tian Feng 369, which had started to sink 30 nautical miles northeast of Zhifu Bay.
Following a search that lasted more than an hour, Xu spotted a drifting life-raft filled with seawater with two survivors on board who were too weak to securely tie a rope to themselves.
"They had been soaked in cold seawater for too long and were almost in shock," Xu said. "Time was passing by and the seafarers were becoming weaker and weaker."
Xu then jumped into the freezing water, where he battled large waves and strong currents to swim to the raft.
"The low temperature and coldness numbed my body and slowed my movement, but I knew I was racing against death," Xu said.
After several attempts, he reached the raft and pulled himself on board to tie ropes to the survivors, who were then moved to the deck of the tanker with the help of other crew members.
After returning to his ship, Xu performed emergency resuscitation on both survivors, despite being tired and cold.
One of the rescued people later died from hypothermia but the other survived the ordeal.
"This award from IMO is not only an encouragement to me and my team, but also a recognition of China's efforts in maritime SAR," Xu said. "In 2021 alone, China successfully rescued more than 13,000 people in distress at sea, which protected the happiness of tens of thousands of families."
He added that he would never hesitate to jump overboard to save lives.
The IMO Award for Exceptional Bravery at Sea was established to provide international recognition to those who, at the risk of losing their own life, perform acts of exceptional bravery, displaying outstanding courage in attempting to save life at sea or in attempting to prevent or mitigate damage to the marine environment.