Rishi Sunak expected to take 'mature' China stance
By WANG MINGJIE in London | China Daily Global | Updated: 2022-11-21 09:32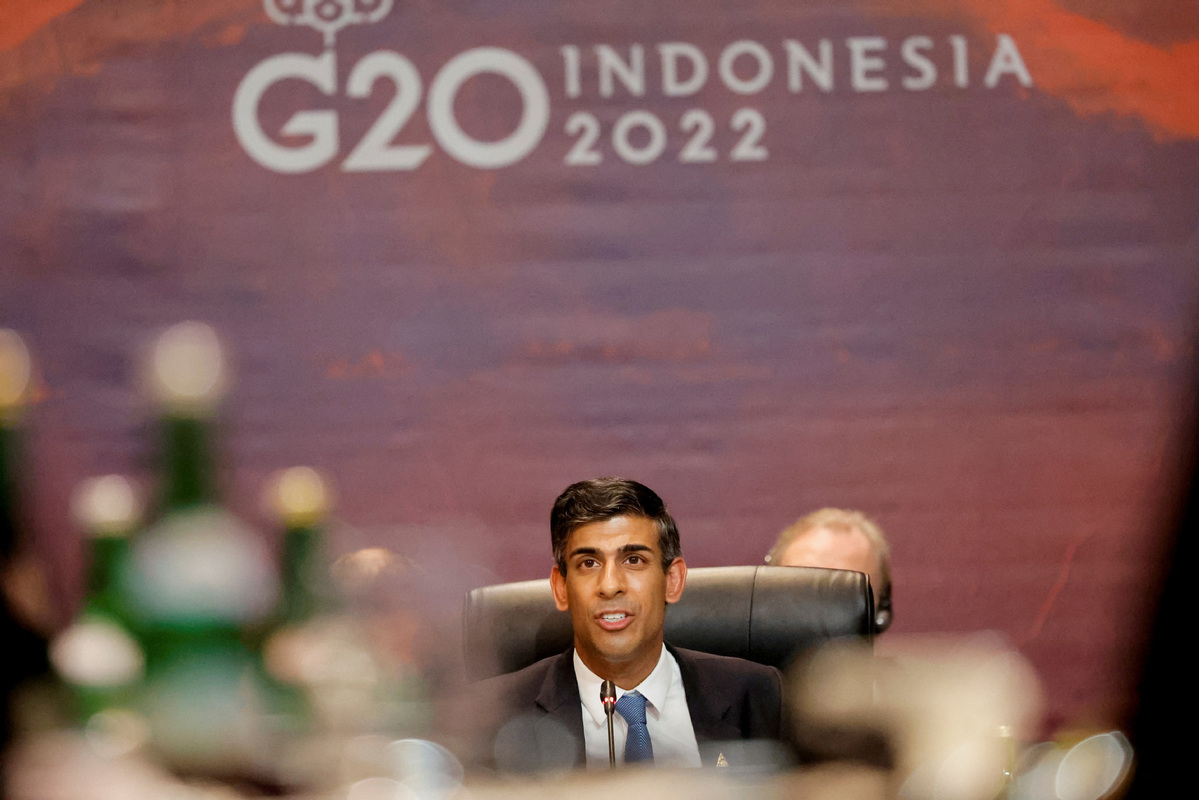 Britain's Prime Minister Rishi Sunak is looking to adopt a more "mature" and "adult" approach toward China, and prioritize economic and trade ties, analysts have said.
At the G20 summit in Bali, Indonesia, Sunak called China a "systemic threat", a subtle change from former PM Liz Truss saying Beijing was a "threat".
Stephen Perry, chairman of the 48 Group Club, an independent business network committed to promoting trade and cultural links between Britain and China, said: "The recent problems in the bilateral relationship are an aspect of US president (Joe) Biden's approach to China. The UK is a long-term ally of the US and takes great notice of the US policies."
Perry said it is in the interest of the West to have a good reciprocal relationship with China and Asia, adding: "China has to be every nation's high priority as China accounts for 30 percent of world growth and is very impactful in many ways. So, I think we will see a more adult approach to relations with China as our prime minister comes from an ancient Asian civilization, thought it will not be simple."
Jim O'Neill, a leading British sinologist and former UK treasury minister, said the relationship between China and the UK might not be like the days of the "golden era", but will be better than it was under Truss.
He said Sunak will view the relationship with China as "a net positive", but will be mindful of the pressure from right-wing members of his Conservative Party, and the hardline stance from Washington.
"But I do think he will try to explore better economic relations. His own inclination will be to balance this better, as he sees the economic positives for the UK from better engagement," O'Neill added.
Kerry Brown, a professor of Chinese Studies and director of the Lau China Institute at King's College London, said: "We have to have a pragmatic relationship. We cannot pretend there are no problems, but we cannot make everything a problem. Despite the tough politics at the moment, a lot of practical collaboration is happening and continues to happen; we have to be clear-sighted about where China is going to be for our growth."
China was Britain's largest import partner and sixth-largest export partner for goods in 2021, according to the UK's Office for National Statistics.
However, there was an unexpected decline in China-UK trade this year, with the total value of exports and imports between the two countries decreasing by 2.5 percent year-on-year during the first eight months, to $69.5 billion, according to China's General Administration of Customs.
Mark Logan, a Conservative Party member of Parliament and vice-chair of the all-party parliamentary group on China, said: "The UK government must take a comprehensive and mature approach to our relationship with China. It's vital that leaders in both countries find a way to ease economic pain, and global political disruption."
Logan believes Sunak has an opportunity to find "a healthy balance", through diplomacy.
Christopher Bovis, a professor of international business law at the University of Hull, said: "The new UK government will prioritize the China-UK agenda and seek to reestablish positive and meaningful relations with the Chinese administration."
He predicted the UK government will seek a different path from that of the US, as the UK has vested interests in areas, policies, and outcomes from closer collaboration with China.