More than 200 drugs in short supply in US
By MAY ZHOU in Houston | China Daily Global | Updated: 2022-11-22 10:59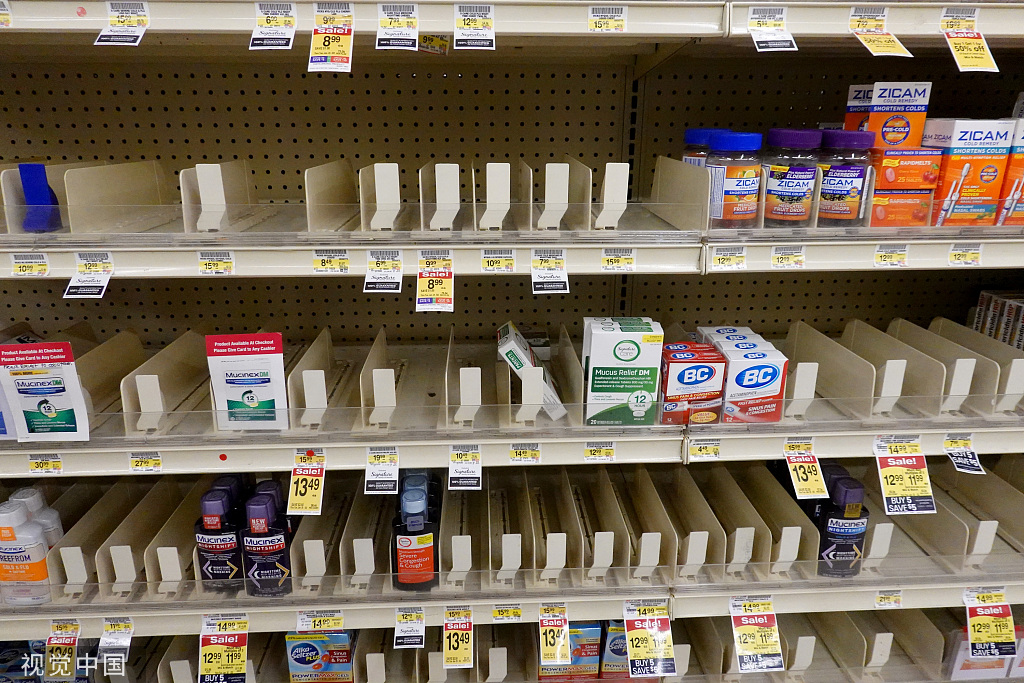 More than 200 types of drugs are in short supply in the US, according to a pharmacists' organization that tracks drug supply.
Some popular medications such as the antibiotic amoxicillin; Adderall which treats people with attention deficit hyperactivity disorder (ADHD); and Ozempic, which helps people suffering from Type 2 diabetes are among the latest added to a shortage list compiled by the American Society of Health-System Pharmacists (ASHP).
In addition, 10 injections were added to the list on Monday, including oxytocin, used in childbirth and abortion.
The shortage of the three popular drugs appeared to be a result of higher demand combined with supply disruption, according to various reports.
Teva Pharmaceuticals, one of the major Adderall manufacturers, had trouble hiring workers during the COVID-19 pandemic, The New York Times reported. The delays have been resolved, but a surge in demand for Adderall became the primary cause for the drug's shortage.
A 2018 study has concluded that the use of amphetamine — the key ingredient in Adderall — increased 2.5 times from 2006 to 2016 in the United States. Many people rely on Adderall to function in their daily lives, and the shortage of the drug is having a serious impact.
"The people that depend on the medication for daily functioning, for going to work, for being a good mother, for going to class, are struggling," Fairlee Fabrett, a doctor at McLean Hospital in Massachusetts told the Times. "This is not something to make light of."
When patients suddenly stop taking Adderall, some experience withdrawal, mood swings, irritability, appetite suppression and, in severe cases, suicidal thoughts, Fabrett said.
Other possible symptoms include headaches, jitteriness, intense fatigue and gastrointestinal distress, according to Anish Dube, chair of the American Psychiatric Association's Council on Children, Adolescents and Their Families. He told the Times that the ADHD that prompted patients to start medication in the first place can become even more severe when they stop medication abruptly.
A month after Adderall was put on a shortage list by the Food and Drug Administration (FDA), an FDA spokesperson told the Times in mid-November that the issue will take another 30 to 60 days to resolve.
The shortage of amoxicillin means that many people, especially children, who suffer respiratory syncytial virus (RSV) from the flu, will have to look for alternatives this winter.
The US is being hit hard by RSV this year as the flu season started earlier and stronger.
According to data from US Centers for Disease Control and Prevention (CDC), RSV cases started to increase since September, and weekly cases reached more than 10,000 in the week ending on Oct 22. More than 16,000 cases were recorded for the week ending Nov 5, four times the average 4,000 RSV cases recorded last year in the same timeframe.
Mostly children who develop a second infection from RSV require amoxicillin for treatment, and the high demand made the drug short in supply not only in the US but also in Ireland, Australia and Malaysia.
Michael Ganio, ASHP's senior director for pharmacy practice and quality, said drug shortage due to high demand is rare.
"Generally, what we see in the drug shortages is on the production side. In this case, we don't have any indication from the manufacturers that they're having any sort of difficulty with production," Ganio told CNN. "This one seems to be driven by demand, which is a little unusual. We see increased demand as a cause of a shortage fairly infrequently."
The shortage of Ozempic also is caused by higher demand. As a noninsulin drug used to treat Type 2 diabetes, Ozempic gained popularity for weight loss recently.
Ozempic and Wegovy use semaglutide as their active ingredient and are produced by the same company, Danish Novo Nordisk.
Ozempic went viral on TikTok as a weight-loss solution, and #Ozempic has generated more than 280 million views.
As Wegovy is in serious short supply, many people are asking for Ozempic from their doctors to control their weight, leaving many diabetes patients in an awkward position.
In October, Elon Musk tweeted that he uses Wegovy to stay "fit, ripped, health". Wegovy was approved by the Food and Drug Administration (FDA) in June 2021 for weight loss.
Ozempic is prescribed to treat diabetes, but it also leads to weight loss. Some doctors prescribe it for weight loss despite lack of FDA approval. Such an application is known as "off-label use".
"From clinical practice and observing healthcare workers, they are prescribing Ozempic off-label while there's been a Wegovy shortage, and so I have seen that," Neel Shah, associate professor at McGovern Medical School at the University of Texas Health Science Center at Houston, told the publication Health.