DR Congo develops with BRI
By Liliane Ahombo | China Daily | Updated: 2022-11-23 06:55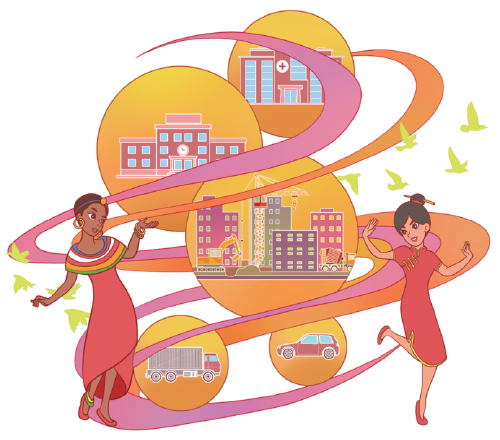 This year is especially significant for two reasons: it marks the 50th anniversary of the normalization of diplomatic relations between China and the Democratic Republic of the Congo and witnessed the convening of the 20th National Congress of the Communist Party of China.
China's diplomacy is centered on peaceful development, propelled by the Belt and Road Initiative and guided by the concept of building a community with a shared future for mankind.
Gigantic infrastructure development project
In September 2013 President Xi Jinping unveiled a gigantic infrastructure development project which came to be called the Belt and Road Initiative featuring investments of billions of dollars. The initiative's goal is to improve connectivity between China and Europe via Central Asia, and Africa using road and rail links, as well as sea routes, which involves the laying of submarine cables and investing in ports.
While for many observers, the Silk Road Economic Belt is a projection of China's power, for China, it is a means to deepen friendship between peoples, share economic benefits, create development opportunities, support each other, strengthen cooperation, build mutually beneficial partnerships, boost communication, improve transport connectivity, and facilitate trade.
Under framework of the Belt and Road Initiative, China-Africa cooperation has strengthened, with 52 African countries and the African Union Commission signing cooperation agreements with China. While many railway, road, airport, port and power station projects have been completed, many others are under construction or in the planning stage, which are expected to boost the socioeconomic development of Africa in general and the DR Congo in particular.
Despite being a country rich in mineral deposits, the DR Congo lacks the funding and infrastructure to use them to improve the well-being of its people. To solve this problem, the DR Congo has signed deals with Chinese companies to bring in capital to exploit the minerals and build and/or improve infrastructure.
Chinese enterprises help improve local livelihood
Sicomines is a pioneer in Sino-Congolese cooperation in the mining sector and infrastructure construction, and plays an important role in boosting cooperation between the two sides. This has been highlighted by DR Congo President Felix Tshisekedi Tshilombo, who said that Sicomines, by playing an important role in promoting the economic and social development of the DRC, has provided capital and techniques for Sino-Congolese collaboration. He said he hoped to make the cooperation with China a "new development opportunity" for the DRC, benefit from China's successful experience to bring out the prosperity of the DRC, and promote the Sino-Congolese relationship to an excellent level.
Since it started operations in October 2015, Sicomines has employed about 7,300 agents, about 5,200 of whom come from subcontracting companies.
Economic diplomacy between China and the DR Congo is a lever that facilitates community development in the African country. Today, we cannot talk about infrastructure in the DR Congo without mentioning China, which finances projects without imposing conditions or interfering in the internal affairs of the country.
Sicomines has invested about $1 billion and has been working on a mining project and infrastructure construction projects. Local people's living conditions are being improved. Among the projects it has completed roads and hospitals.
Also, it has recently provided the Tobongisa High School with a large batch of education materials, and financed the construction of Avenue Nzolana in the Malueka district in the south of Kinshasa city which will connect the Sangamamba, UPN and Lutendele districts and decongest access to the Don Bosco district.
Discovering charms of Chinese culture
Thanks to my few visits to China, I have gained a better knowledge of China's vision for the world and its innovation-driven high-quality development paradigm and remarkable achievements, apart from discovering the charms of Chinese culture.
Through deepening reform and opening-up, the Belt and Road Initiative and the efforts to help build a community with a shared future for mankind, China has been improving connectivity in many parts of the world, which has elevated its status in the international arena.
Far from being prejudiced and discriminatory as certain Western countries accuse it of being, China is an emerging economy and a development model for the DR Congo. China has developed at an unprecedented speed over the more than four decades because of the will, pragmatism and diligence of the Chinese people, and their belief in the Party's leadership. In other words, the secret of China's success lies in the unity of the Chinese people, and the rigor, leadership and efforts of the Party to realize its goals. One such goal was poverty alleviation, and the Party succeeded in eradicating extreme poverty and building a moderately prosperous society in all respects by the end on 2020.
A stronger community with a shared future
China's strength also comes from the strict observation and application of certain principles by its leaders.
At the 20th Party Congress, the Chinese leaders pledged to strengthen international cooperation to boost common development, emphasizing that China will continue to support other developing countries in their national construction efforts.
To build an even stronger community of shared destiny, we propose the two sides make joint, concerted efforts. The DR Congo is China's development partner just as China is the DR Congo's development partner. So the two countries must support each other in protecting common interests. And it is hoped, China, which is already an industrial and economic powerhouse, will continue to help boost the DR Congo's development.
The DR Congo wants to move forward with China, because China promotes more humane cooperation and uses Confucius' philosophy — the community must foster the virtues of generosity, respect for commitments, wisdom, work ethics, kindness and loyalty — to bolster development. The synergy among these virtues will make the DR Congo gain in strength and promote the building of a community without poverty and devoid of social injustice.
Fellow researchers are urged to devote more time to research, in order to understand the major stakes of cooperation, identify related mutual advantages, discover the weaknesses in cooperation and come up with ideas that will consolidate existing relationships, and help build new ones and develop a society that is equitable, egalitarian and delivers fair justice.
The author is the executive director of the Center for Strategic Studies and International Security in DR Congo.
The views don't necessarily reflect those of China Daily.
If you have a specific expertise, or would like to share your thought about our stories, then send us your writings at opinion@chinadaily.com.cn, and comment@chinadaily.com.cn.