Asian police captains sue NYPD for discrimination
By MINLU ZHANG in New York | China Daily Global | Updated: 2022-11-23 11:05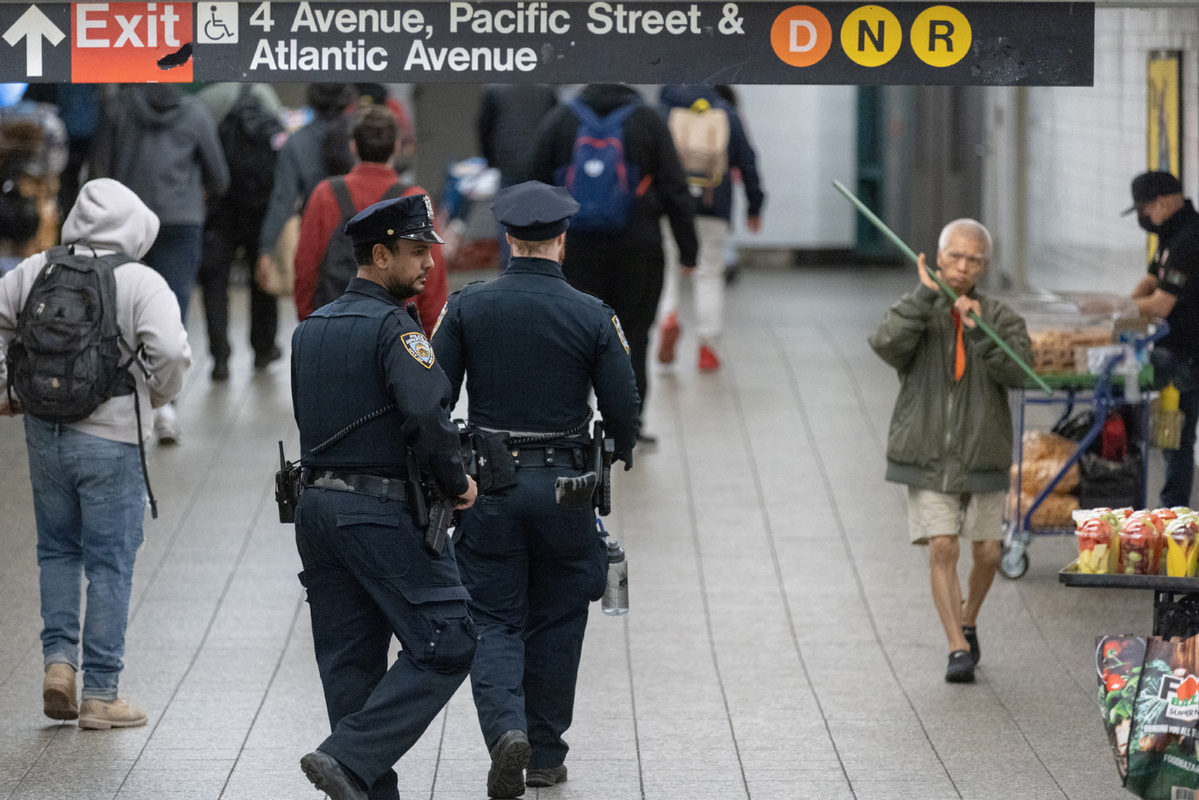 A group of Asian police captains is suing the New York Police Department for discrimination, alleging that not all members of the largest police department in the US have a fair chance at advancement.
Lawyer John Scola, who represents the plaintiffs, initially filed a suit against the NYPD on behalf of Ahmad Alli, 51, at the Brooklyn Supreme Court. Alli, a retired captain who is Asian, spent more than 10 years in that rank but was never promoted.
About 60 percent of white captains get promoted beyond the captain rank, compared with about 20 percent of Asians. That means white captains are nearly three times more frequent than Asian captains to get promoted, according to the lawsuit.
Scola has since added three more retired Asian captains as plaintiffs as they pursue a class action certificate for the suit.
If the class is settled, about 50 Asian captains in the NYPD would be eligible for the class, and they can opt into the case, Scola told China Daily.
Asians make up about 10 percent of the police department, but they account for about 5 percent of deputy inspectors, Scola said.
Between 2015 and 2017, Asian males spent an average of 7.2 years in the rank of captain before being promoted to deputy inspectors, longer than any other race, according to an NYPD internal report released in 2018 by the Police Management Institute, which is connected to Columbia Business School.
The same promotion for black men and women took an average of 3.3 and 2.9 years, respectively, while Hispanic men and women spent 3.8 and 5.4 years as captain before being promoted. Meanwhile, white men spent an average of 6.9 years as captains, compared with 4.2 years for white women in the same position, according to the report.
"Asian males, who represent the fewest number of discretionary promotions, spend the most time in the rank of captain," the report noted.
It wasn't the first time the NYPD, which is one of the oldest municipal police departments in the US, has been sued for alleged promotion discrimination.
In a lawsuit filed in 2017, three black detectives accused the NYPD's intelligence division of discrimination.
According to court documents, Roland Stephens, who retired after 26 years in the department, was repeatedly denied promotion despite excellent evaluations and recommendations from his supervisors — even as less-qualified white detectives were promoted to a higher position than him. Stephens said a supervisor once told him that he would have been promoted if he had been white.
There are several ranks within the police department, and most of them require a civil service test, said Scola. Officers seeking to become sergeants, lieutenants or captains know that their chances depend heavily on how they do on the exam.
"Once you get above the rank of captain, the next promotion is to deputy inspector, and that is not based on a test; it's discretionary," Scola said.
The NYPD report also highlighted that promotions beyond the rank of captain lack "feedback, both to those executives who are successfully promoted and for those who are not".
The report found that 80 percent of 213 captains who were surveyed weren't aware of why they were promoted or passed over.
Only six were told by their commanding officer why they weren't promoted, and only 19 got feedback after their rejection. Most of them, 87 percent, called the promotion process unfair.
The promotion is "based on race, gender and relationships. There is no formal mechanism in place for advancement," one captain wrote in the survey for the report.
"We're trying to make the NYPD's discretionary promotions fairer and more based on merit, not based on who you know or what fraternal organization you're a part of, or what group can advocate for you to get more lucrative positions," Scola said.
Asians in America are the least likely of any ethnic group to be promoted to senior management positions. The promotion ceiling also exists for Asian Americans in education, legal, financial services and medical professions.
A USA Today report in April examined workforce records for 88 companies in the Standard & Poor's 100 and found that Asian women are half as likely as white women to hold executive leadership positions.
The data line up with previous research. One 2018 report on the tech industry found that while Asians were the largest racial group among professionals, they were the least likely among all races to become managers and executives.