Natural process
By Xu Lin | China Daily | Updated: 2022-11-24 08:40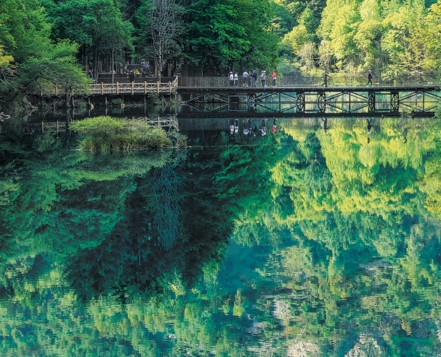 Nuorilang Waterfall, one of the widest waterfalls in China, collapsed after the 2017 earthquake. A 19.4-meter-long crack was formed, and Tang says if the crack was left there, erosion would grow bigger, threatening the safety of the nearby lakes and waterfalls.
The unusual landscape of Jiuzhaigou is formed by massive tufa (porous rocks) deposits, and the administration filled in the crack with tufa, successfully restoring the scenery of Nuorilang.
The number of geological hazard sites in the park increased from 78 to 182 after the quake, and 170 of which have been fixed via ecological engineering, such as building concrete retaining walls and protective nets.
Du says the vegetation ecosystem was badly damaged in the earthquake, affecting the integrity of the landscape. As it would take long for nature to restore vegetation, the administration implemented a project to beautify the newly built retaining walls by giving the slopes some greenery.
To prepare against natural disasters, it also established a system to monitor geological hazards, built shelters and constructed architecture, thought to be resistant to up to magnitude 8 quakes.
Du says as a natural world heritage site, Jiuzhaigou shares some problems faced by its counterparts elsewhere, with influences from climate change and extreme weather, and tourist activities. That means it's essential to enhance the sustainability of Jiuzhaigou via adaptive management based on a scientific approach.
"It means that we adjust our protective measures in accordance with long-term monitoring and analysis of data, including the tufa deposits, in Jiuzhaigou," he says.