Xi message buoys Indonesia
By LEONARDUS JEGHO in Jakarta | China Daily | Updated: 2022-11-24 09:45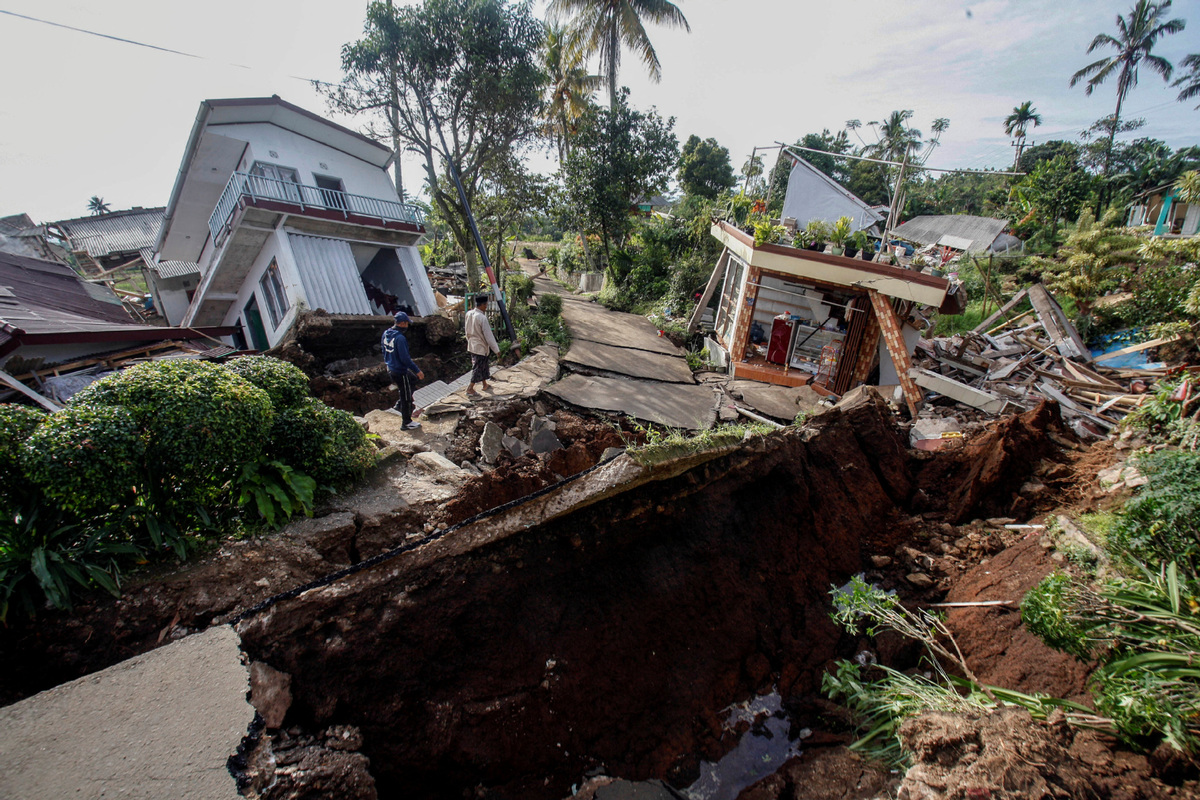 President's condolences attest to countries' partnership, experts say
The condolences expressed by Chinese President Xi Jinping for the families of victims of an earthquake in Indonesia this week demonstrate the care felt toward a friendly neighbor, officials and analysts say.
The earthquake that hit the Cianjur district of West Java Province on Monday has claimed 271 lives and injured thousands, according to National Disaster Management Agency. Xi sent his message of condolence to Indonesian President Joko Widodo on Tuesday.
"First of all, we thank President Xi Jinping for his message," said Saan Mustopa, vice-chairman of the House Commission in charge of home affairs, among other duties. "His message shows China's extraordinary attention to Indonesia."
Mustopa, from the NasDem Party, told China Daily that China views Indonesia as an important country in all respects. "And also China treats Indonesia as its friend," Mustopa said. The countries' cooperation will continue to be mutually beneficial, he said.
China has done a lot for Indonesia and the two have supported each other through various forms of collaboration, he said.
Emanuel Melkiades Laka Lena, vice-chairman of the House Commission for Health, said Indonesians appreciate the condolence messages sent by President Xi and the leaders of other countries.
The care expressed by Xi attests to the strength of the bilateral relations, he said. "We want to see that such a strong relationship will last a long time," he said.
Concrete action
Laka Lena said the Ministry of Health had sent medical supplies and personnel to quake-hit Cianjur and mobilized health units in West Java to take concrete action. Hospitals around Cianjur have been treating the victims in line with instructions from the ministry.
In Cianjur, Coordinating Minister for Human Development and Culture Muhadjir Effendy told TV networks on Wednesday that rescue workers, mainly from the National Disaster Mitigation Agency and the Search and Rescue Agency, were focusing on four sites. Helicopters are being deployed to take food and other supplies to two villages where communications had been cut off.
Some 40 people were still missing, according to the disaster agency.
Effendy said the government plans to help people build earthquake-resistant homes. Tremor-resistant houses and other buildings are needed to minimize the damage when quakes strike, he said.
Since Monday, more than 160 aftershocks have been recorded in the Cianjur area, with more feared. The aftershocks are making the rescue work even more difficult, officials say.
The writer is a freelance journalist for China Daily.