Trump hit by court setback on tax returns
Updated: 2022-11-24 10:17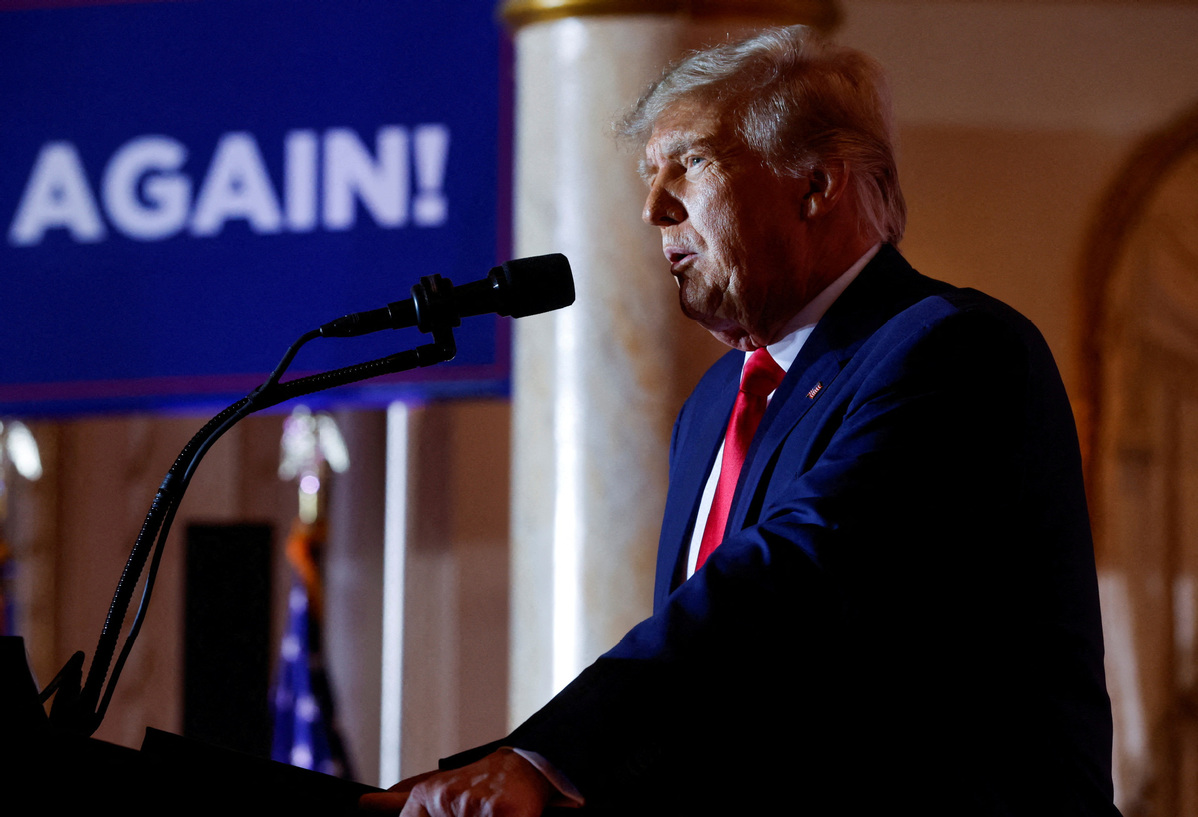 WASHINGTON — The US Supreme Court on Tuesday cleared the way for the imminent handover of former president Donald Trump's tax returns to a congressional committee after a three-year legal fight.
The court, with no noted dissents, rejected Trump's plea for an order that would have prevented the Treasury Department from giving six years of tax returns for Trump and some of his businesses to the Democratic-controlled House Ways and Means Committee.
Alone among recent presidents, Trump refused to release his tax returns either during his successful 2016 campaign or his four years in the White House, citing what he said was an ongoing audit by the Internal Revenue Service.
In the dispute over his tax returns, the Treasury Department had refused to provide the records during Trump's presidency. But the administration of US President Joe Biden said federal law is clear that the congressional committee has the right to examine any taxpayer's return, including the president's.
Lower courts agreed that the committee has broad authority to obtain tax returns and rejected Trump's claims that it was overstepping and only wanted the documents so they could be made public.
Chief Justice John Roberts imposed a temporary freeze on Nov 1 to allow the court to weigh the legal issues raised by Trump's lawyers and the counterarguments of the administration and the House of Representatives. Just over three weeks later, the court lifted Roberts' order without comment.
Richard Neal, the committee chairman until the next Congress begins in January, said in a statement that his committee "will now conduct the oversight that we've sought for the last three and a half years".
The Trump campaign did not immediately respond to a request for comment.
Special treatment
In another legal setback for Trump, a federal appeals court appeared deeply skeptical on Tuesday that Trump was entitled to challenge an FBI search of his Florida estate or to have an independent arbiter review documents that were seized from the home.
A three-judge panel of the US Court of Appeals for the 11th Circuit, including two Trump appointees, repeatedly suggested Trump was seeking special treatment in asking that the "special master" conduct an independent inspection of records taken in the search of Mar-a-Lago on Aug 8.
"Other than the fact that this involves a former president, everything else about this is indistinguishable from any pre-indictment search warrant," said William Pryor, the court's chief judge, a George W.Bush appointee.
The judges indicated through their questioning that they were likely to side with the Justice Department, which has sought an immediate end to a special master review process that it says has unnecessarily delayed its investigation into the presence of classified documents at Mar-a-Lago.
Agencies - Xinhua