Celebration of game that led to modern soccer
By Li Yingxue | Updated: 2022-11-30 08:15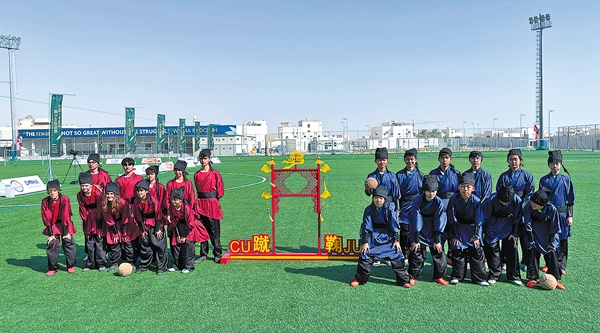 "Lotuses moving gracefully in the wind" and "swallows returning to nest" are phrases that evoke images of nature at its best. But they serve another purpose. They are also the names of tricks in the ancient Chinese game cuju, a forerunner of modern soccer.
Li Weipeng, the seventh-generation inheritor of cuju in China, demonstrated these tricks during the China-Qatar youth cuju exchange on Nov 21 in Doha, Qatar, where the World Cup is in full swing.
Li also led Chinese and Qatari youth players, wearing traditional cuju costumes, to sample the ancient game and see for themselves the similarities and differences between cuju and soccer.
A cuju photo exhibition was displayed at the event, which attracted the attention of the guests and youth players from both countries. The exhibition introduced the history of cuju and the background of the ancient Chinese game.
Cuju, which has been traced back to the Linzi district of Zibo, Shandong province, was acknowledged by FIFA as the earliest form of soccer in 2004. The word cu means to kick, while ju refers to an ancient type of leather ball filled with feathers.
The event is hosted by the Chinese and Foreign Cultural Exchange Center of China's Ministry of Culture and Tourism, the Shandong Provincial Department of Culture and Tourism, and Zibo city's government.
Chinese Ambassador to Qatar Zhou Jian said at the event that cuju is one of the spiritual symbols and part of the cultural essence of Chinese civilization.
"I hope that this event will be an opportunity to attract more Qatari people to understand and perceive Chinese culture, and promote the exchange and mutual appreciation of Chinese and Qatari cultures," Zhou says.
China fully supports Qatar in hosting the World Cup, Zhou says, and the two countries have carried out fruitful cooperation in many fields, including the construction of the World Cup venues, public transportation and broadcasting.