BRI bonds, ASEAN spurring regional businesses
By ZHONG NAN and ZHUANG QIANGE | China Daily | Updated: 2022-11-30 10:15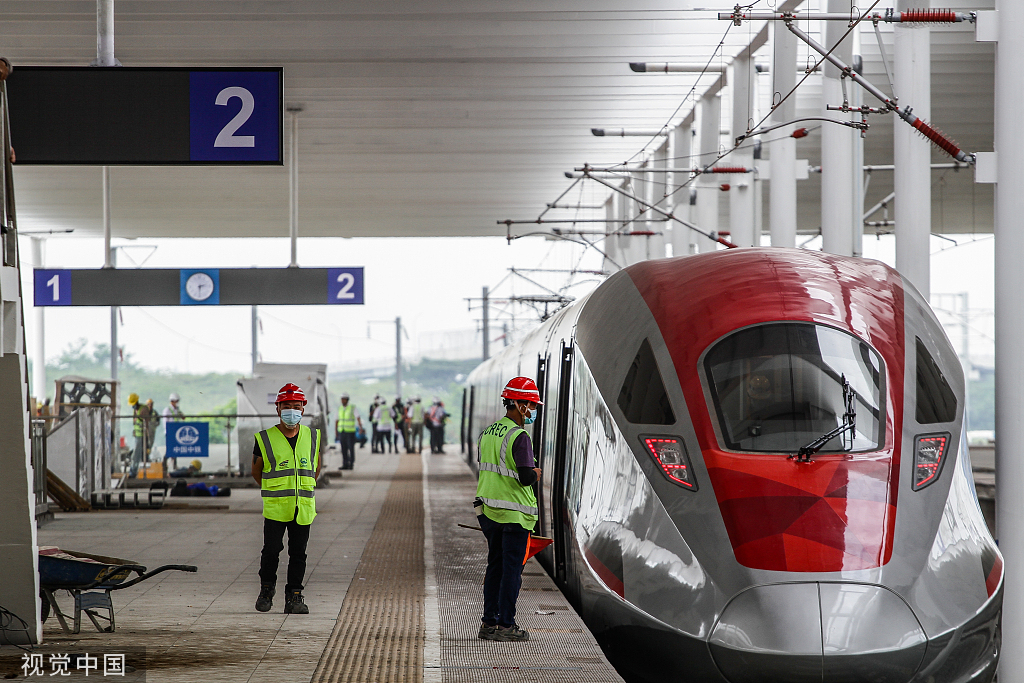 The tangible growth of the Belt and Road Initiative and Southeast Asia's soaring demand for the latest infrastructure projects will attract more Chinese State-owned enterprises to expand their market presence in the region in the coming years, said analysts and business leaders.
Despite the complex international environment and rising global uncertainties, trade and investment activities between China and the Association of Southeast Asian Nations continue to grow, reflecting the strong bond between the two sides and facilitating regional economic and social development, said Wang Jian, a professor of international trade at the University of International Business and Economics in Beijing.
For example, trade value between China and ASEAN surged by 15.8 percent year-on-year in the first 10 months to 5.26 trillion yuan ($730.61 billion), accounting for 15.2 percent of China's total foreign trade. And China has become the second-largest investor in ASEAN, with its investment in 2021 reaching $14 billion, up 96 percent year-on-year, according to China's General Administration of Customs and Ministry of Commerce.
Invested and built by the Power Construction Corp of China (PowerChina), the first gas turbine of the Kyaukpyu gas-fired combined cycle power station in Myanmar was put into operation in mid-October.
The station has a total installed capacity of 135 megawatts and is equipped with two gas turbine units, two waste heat boilers and one turbogenerator unit.
"Once operational, the project is expected to provide about 1 billion kilowatt-hours of power annually," said Chen Guanfu, president of PowerChina International Group Ltd, an international arm of PowerChina.
The project will be a key power source in Kyaukpyu and will greatly improve power supply capacity in the country, which will help ease power prices while improving living conditions, Chen said.
CCCC Tianhe Mechanical Equipment Manufacturing Co, a unit of Beijing-based China Communications Construction Co Ltd, supplied a tunnel boring machine for the Jakarta-Bandung High-Speed Railway project in Indonesia. It has a 13.19-meter diameter cutter as well as the largest diameter slurry shield in Southeast Asia.
The TBM was used in the No 1 tunnel of the railway project, which is 1,885 meters long and the deepest part runs 26 meters underground.
Zhang Boyang, chairman of the Jiangsu province-based company, said the tunnel was bored through a mixture of cohesive soil, loose gravel, sandy soil and fine gravel that has a high underground water-content level and abundant surface water. It has to pass through a volcanic accumulation layer with poor self-stabilization capacity.
Real-time tool wear monitoring was undertaken during the process, said Zhang.
A test run on the landmark Jakarta-Bandung line was successfully completed in mid-November, said China Railway International Co Ltd, which is overseeing the project.
The implementation of the Regional Comprehensive Economic Partnership agreement is another encouraging move to highlight multilateral cooperation, openness, free trade and investment. It will impart fresh impetus to China-ASEAN economic and trade ties for the years to come, Zhang added.