Logistics plays including SF Express, Cainiao aim for skies with air cargo
By FAN FEIFEI | China Daily | Updated: 2022-12-01 09:18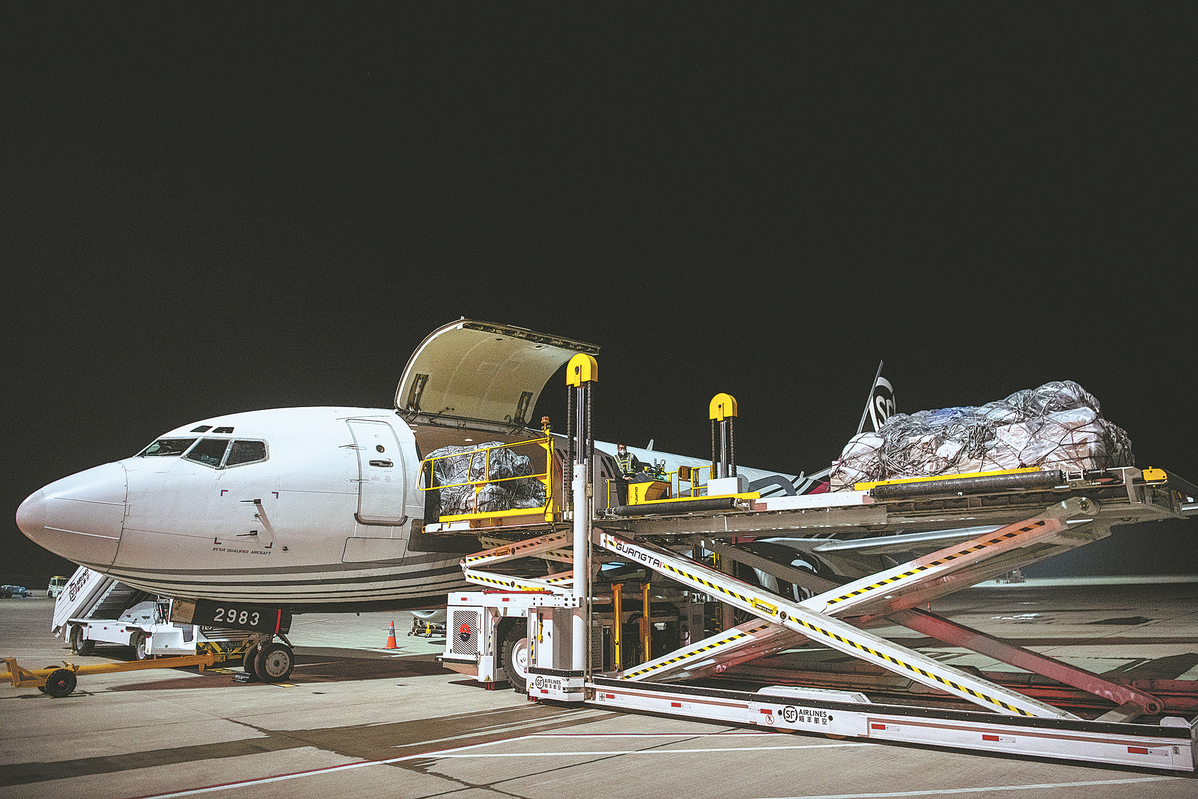 Chinese logistics companies are beefing up efforts to invest in the air cargo segment and expand their global footprint as part of broader push to build logistics networks across the globe, improve delivery efficiency and ensure the stability and smooth operation of supply chains, experts said.
Ezhou Huahu Airport in Hubei province, which is backed by Chinese logistics service provider SF Express, recently launched its first all-cargo air route linking Ezhou with Shenzhen, Guangdong province.
As the first dedicated air freight airport in Asia and the fourth of its kind in the world, Ezhou Huahu Airport is expected to open more than 50 domestic routes and over 10 international cargo routes by 2025, with cargo throughput reaching 2.45 million metric tons.
Wang Wei, chairman of SF Express, said the company will speed up the construction of Ezhou Huahu Airport and aims to build a world-class international air cargo hub.
The airport will open another all-cargo route from Ezhou to Shanghai soon, and is scheduled to add international routes connecting with Osaka, Japan and Frankfurt, Germany within this year. SF Express' freight transit center located at the airport is expected to begin operations in the second half of 2023.
Other logistics firms have invested heavily in providing air cargo services and building global logistics infrastructure. JD Logistics, an arm of Chinese e-commerce platform JD, has received approval from aviation authorities to put its self-owned air cargo fleet into operation.
The company said it will first develop domestic air cargo to cover major cities nationwide and accelerate its layout in international air cargo markets such as North America, Europe, the Middle East, Southeast Asia, Japan and South Korea by the end of 2025.
JD Logistics is stepping up efforts in the construction of logistics infrastructure globally. It has launched self-operated overseas warehouses in the United States, Germany, the Netherlands, France, the United Kingdom, Southeast Asia, the Middle East and Australia.
Yang Daqing, deputy director of research at the China Federation of Logistics and Purchasing, said currently, air cargo only occupies a relatively small portion of China's comprehensive transport system, which cannot meet consumers' fast-growing demand for high-tech products as well as cold chain logistics services covering the transport of fresh commodities and medicines.
Developing international air freight business will help enterprises boost long-haul freight capacity, establish overseas logistics networks and further improve cross-border delivery efficiency, Yang said.
Cainiao Network, the logistics arm of Alibaba Group, has set up six smart logistics hubs around the world, operates more than 3 million square meters of cross-border logistics warehouses and has over 240 chartered flights for trunk logistics every month.
To reinforce its global logistics network, Cainiao has expanded the number of its overseas distribution centers to 12, with a focus on last mile deliveries and smart lockers to optimize and localize its services in destination countries.
Last month, the company announced it had launched its first smart distribution center in Brazil, and plans to launch another nine distribution centers in the country in the next three years.
"Overseas warehouses serve as vital infrastructure that boost growth in the nation's cross-border e-commerce sector," said Zhang Zhouping, a senior analyst of business-to-business and cross-border activities at the Internet Economy Institute, adding such facilities enable quicker Customs clearance, faster delivery and lower costs.