Macron: US risks unity of West
By EARLE GALE in London | China Daily Global | Updated: 2022-12-02 09:53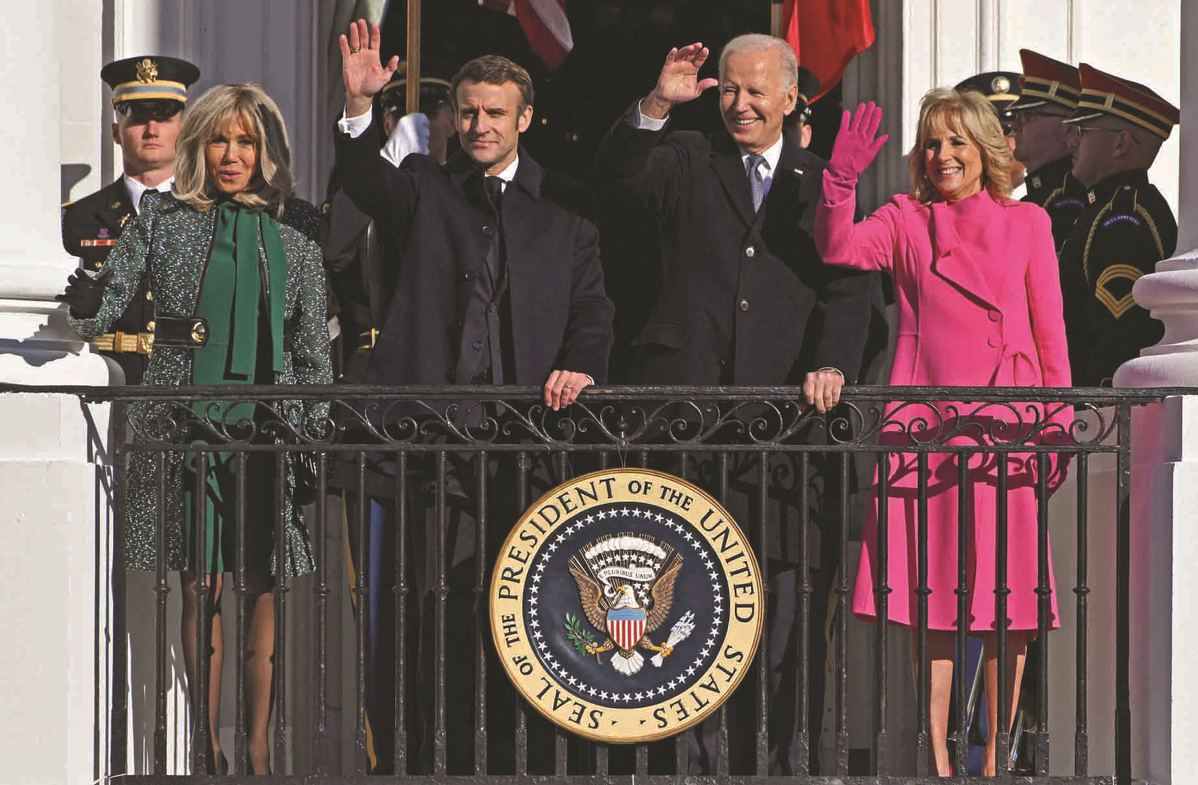 France's leader complains subsidies would leave Europe at disadvantage
France's President Emmanuel Macron has said the United States will risk the unity of Western nations if it moves forward with legislation Europe believes amounts to a breach of international competition rules.
He made the observation on Wednesday evening, at the end of the first full day of his state visit to the US, telling guests at a reception at the French embassy in Washington the US threatened "fragmenting the West" over President Joe Biden's Inflation Reduction Act, or IRA, which calls for subsidies for US companies that other nations say are unfair.
"The choices of the past few months, in particular the IRA, are choices that will fragment the West," Macron said. "We need to coordinate and re-synchronize our policy agendas."
He echoed claims made by the European Union, that the IRA, in allowing $400 billion of government subsidies for US companies, would make rival enterprises in Europe and elsewhere less competitive.
The subsidies, which ostensibly are aimed at encouraging US companies to transition to low-carbon green energy and environmentally friendly technologies, have been highly controversial in the EU, which has said it may lodge a grievance at the World Trade Organization.
Earlier that same day, Macron also told executives and lawmakers from both sides of the US political divide about his opposition to the IRA at a private lunch in Congress earlier on Wednesday, when, according to Agence France-Presse, he described it as "super aggressive for our companies".
"Perhaps this law will solve your problems, but it will make mine worse," AFP quoted him as saying.
Macron's criticism of the IRA will likely be aired again and amplified during face-to-face meetings with Biden on Thursday, the Financial Times reported, during which he will likely ask for exemptions for EU companies that are similar to those the US has already granted Mexico and Canada.
Macron has said the EU could, if necessary, retaliate to the IRA, by passing a so-called Buy European Act that would offer similar subsidies to its enterprises.
The Reuters news agency said the EU believes the IRA, which Biden signed in August, could seriously damage Europe's economy, especially coming as it does on top of fuel and food shortages attributed to the Russia-Ukraine conflict that have driven up inflation.
But Karine Jean-Pierre, Biden's press secretary, insisted the IRA also "presents significant opportunities for European firms, as well as benefits to EU energy security".
The White House has also said the fact that Macron is the first national leader to be granted a US state dinner as Biden's guest shows how highly he is regarded in Washington.
Macron, meanwhile, has also called on the US to join hands with France and the EU in reforming the International Monetary Fund and the World Bank, so they can better help nations grappling with climate change.