The "States' Participation Index of Global Governance 2022 Report" recently published
chinadaily.com.cn | Updated: 2022-12-05 10:32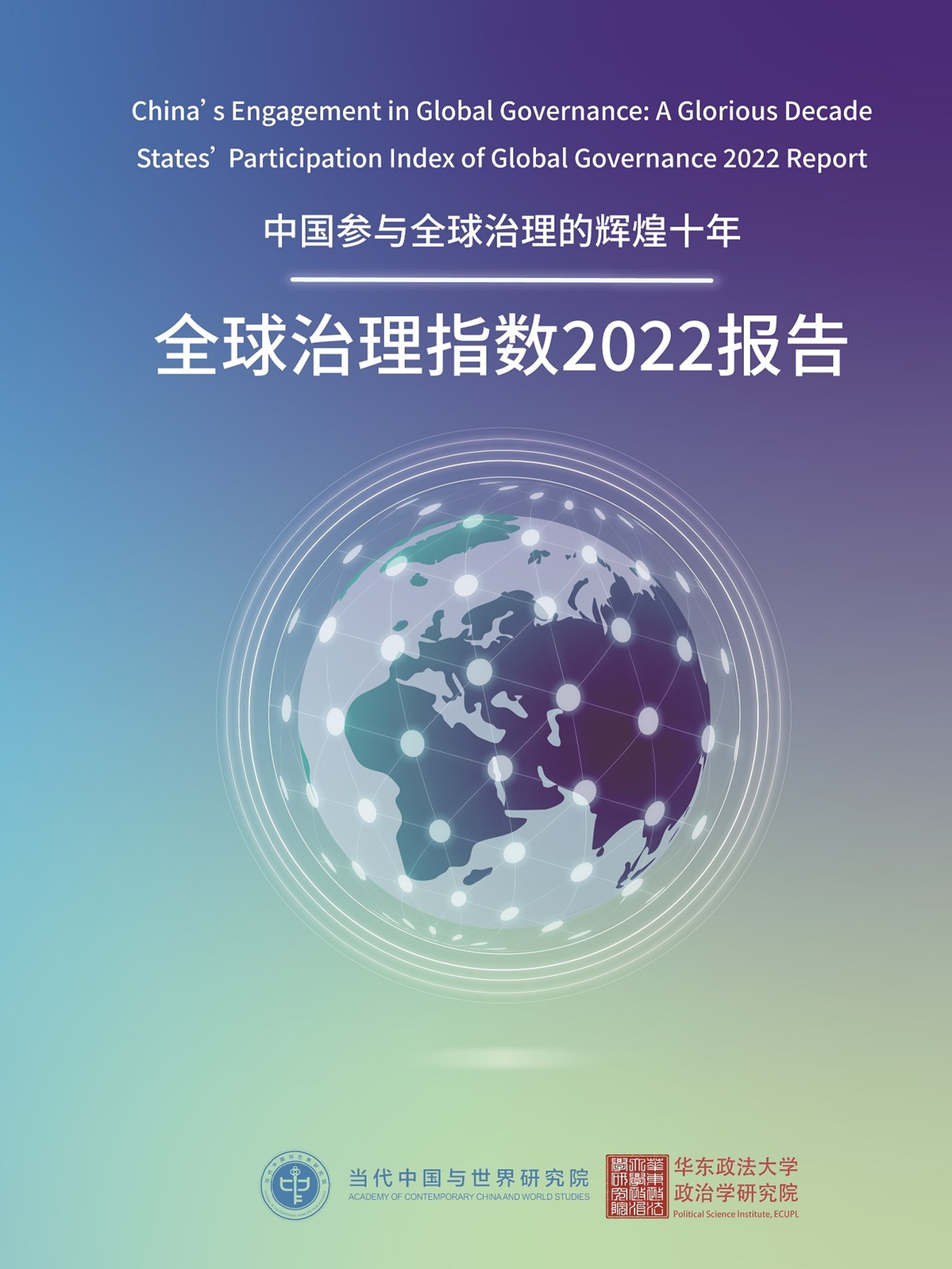 China's Engagement in Global Governance: A Glorious Decade
On December 3rd 2022, the "States' Participation Index of Global Governance 2022 Report" ("Report" hereafter) was jointly published by Institute of Political Science at East China University of Political Science and Law, and Academy of Contemporary China and World Studies, China International Communication Group. The global governance index is consisted of four major parts--mechanism, performance, decision and responsibility, among which each of these four includes numerous indicators respectively, aiming to objectively measure and evaluate the degrees to which 189 states worldwide participate and contribute to global governance based on data collected. This report is the ninth annual report since 2014, which presents systematic evaluation on each state's participation in global governance all year. In the meanwhile, this report goes through all relevant data for the past decade according to the current indicator system. With "China's Engagement in Global Governance: A Glorious Decade" as the theme, this report summarizes the history of China's engagement in global governance, achievement and significant contribution since the conference of 18th CPC National Congress.
The report concludes that as global governance has been facing severe challenges, however, China strives to overcome all difficulties and actively engages in global governance in a more deeply and comprehensive way. For the past decade, China's participation in global governance has shifted from "partially engaged" to "fully engaged", with less prudence and more confidence, and finally won glorious achievements. As China plays an important role in governing global issues, it begins to pursing its expanding role in global governance, such as proposing "Belt and Road" initiative and "a community with a shared future for mankind" thought, jointly founding Asian Infrastructure Invest Bank and progressing Agenda for Sustainable Development. The data in past decade not only shows China's strong support for governing global issues, especially deepening its participation in intergovernmental platform of global governance, but also addresses China's great contribution in reviving global economy. According to statistics from 2013 to 2021, China has contributed an average rate of 38.6% to global economic growth, more than G7 countries combined, which makes China the top engine powering world economy boost.
At the same time, this report provides systematic investigation into 189 states' participation into global governance in 2021 through chosen indicators. 2021 was the second year of COVID-19 pandemic, which brought unprecedented shock to each country. Even though each country has showed signs of revival, the general trend is still "struggling recovery", according to the real data.
Surviving from the first wave of shock, each country has rebounded in area like economy and social well-being. Nonetheless, they did not show strong will in handling global governance. For example, the pandemic has significantly reduced the financial resources that could have been available to greenhouse gas reduction and environmental protection, which poses severe threats to global environmental governance and global climate governance.
The research data indicates that China, United States and France still keep their "A++" places, positioning in top ranking of global governance.
Imbalanced recovery actually gives regional and global powers more edges to further strengthen their dominance in the global governance, while most developing and less developed countries are likely to become more alienated from global governance amid the epidemic impact, sounding alarm for the future of global governance. Among them, the regions exerting least influence in global governance are West and Central Asia, while the regions exerting most influences remain concentrated in Western Europe, North America, and China in Asia. This North-South divide in global governance has still not been eliminated.
Affected by the epidemic prevention, the press conference of"States' Participation Index of Global Governance 2022 Report" was held via online and offline. The opening ceremony was hosted by Professor Gao Qiqi who is the dean of Institute of Political Science at East China University of Political Science and Law and chief expert of this project. The vice president of East China University of Political Science and Law-Professor Hanqiang, has delivered welcome speech, in which he spoke highly of the long-term effort dedicated to this research and positive social influence produced by this report. He expects to make full use of this report and turn it into cutting edge of academic development.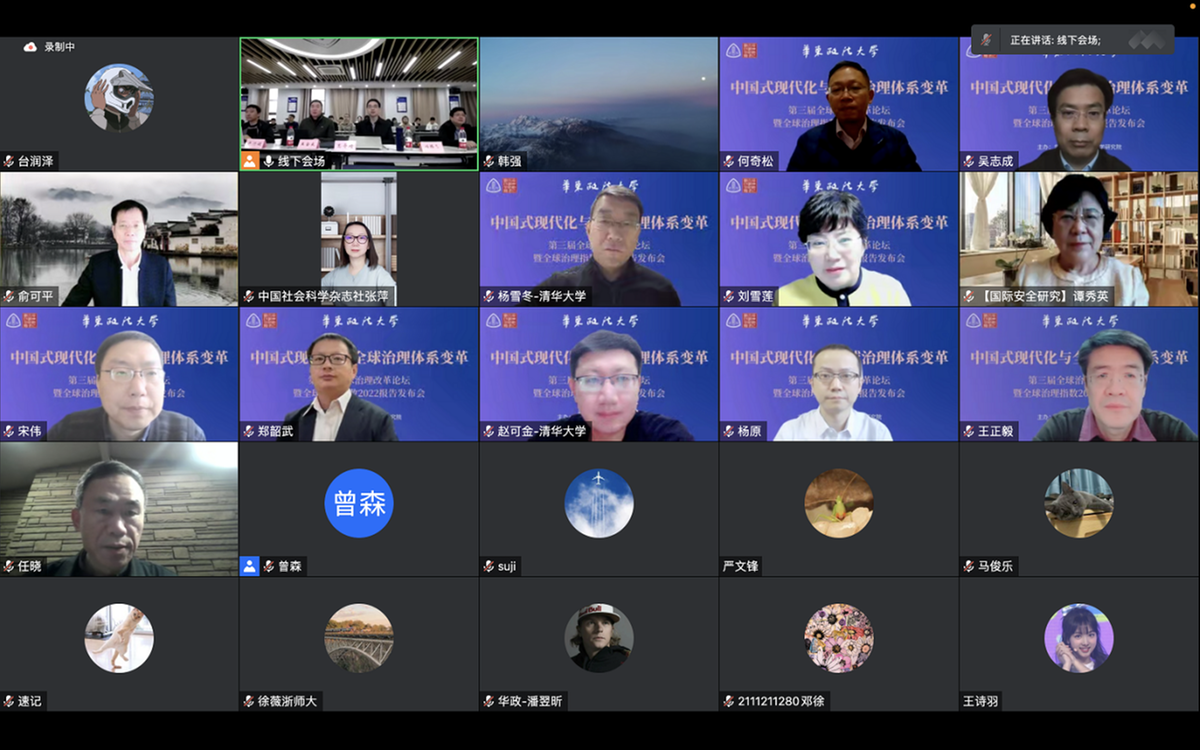 On the press conference, associate professor Yan Xingjian, the director of global governance index project from Institute of Political Science at East China University of Political Science and Law, offered systematic analysis over the report. Experts attending the meeting carried out in-depth discussion focused on the report and other relevant issues of global governance, proposing advices in further revision.
Research fellow Sun Jingxin, associate dean of Academy of Contemporary China and World Studies, China International Communication Group, thought that subsequent work on index report is of great significance. First, it helps us better carry out dialogues with international peers, which could facilitate promoting China's international discourse. Second, it helps achieve theoretical consensus domestically, which could help construct independent knowledge system and academic community with Chinese characteristics. Third, it serves to provide academic evidences for decision makings by higher department.
Fourth, it could lead public opinion to pay more attention to China's foreign policies in handling global issues. He suggests that the report goes through expert review to obtain more professional ideas beyond data analysis, in order to make it more convincible and acceptable, laying solid foundation for promotion on domestic and international level.
Professor He Qisong, from School of Government Administration in East China University of Political Science and Law thought that, this report presents highly scientific research findings by assessing each country's contribution to global governance based on relevant data and indicators, which can promote participation in global governance and enhance China's international discourse from academic and policy levels. More importantly, Chinese Modernization in the past decade has been proved to be effective, and the practice in shaping new model of globalization with Chinese characteristics, has provided a vivid example and reference for other developing countries who are on their way to modernization. In addition, Chinese path to modernization is also helpful to promote value diversity, discourse equality and openness and inclusiveness in global governance system. We should put more effort on promoting global governance index abroad, and encourage researchers to actively cite relevant report and data to enhance the vitality of the global governance index.
Professor Song Wei from the National Academy of Development and Strategy in Renmin University of China, highly recognized the report of global governance index, thanks to its large amount of data collected, opinions and conclusions with long-term persistence. Based on data from authoritative sources, this report constructs a scientific and reasonable indicator system, which greatly increases credibility of conclusions. Nevertheless, there is room for improvement, for which he pointed out that this report might have put more focuses on collecting data of domestic governance when constructing the indicator of "performance", lacking investigations on how each country makes the world a better place through their participation in global governance. Given the fact that NGOs have played crucial part in global governance, this report could take this into consideration.
Professor Zhao Kejin, associate dean of School of Social Sciences, Tsinghua University, has pointed out that this report demonstrates the strengths and achievements of China's participation in global governance, however, shortcomings and deficiencies deserve more attentions so as to acquire a deeper investigation regarding the research and improve assessment system. For instance, the relatively simple presentation of overall index on evaluating China's decision-making and influence on global governance could possibly not provide panoramic view of China's participation in global governance. We should put more focuses on its drawbacks which make room for improvement. At the same time, compared with the Western countries, China put more emphasis on state-led global governance, neglecting the influence from non-state actors. In further research, we should make comparison with non-state actors, so we are able to find out our own advantages and make good use of it.
Professor Liu Xuelian, Director of Northeast Asia Institute of Geopolitics and Economics, Jilin University, strongly admired the persistent work dedicated to global governance index in the past decade, and she suggested combining this report with the team's cutting-edge research on big data. Meanwhile, she also pointed out that the data accumulated for the global governance index can provide important support for theoretical research, so the Index report should also address key problems in global governance field, in response to issues widely concerned by academic community, such as the dilemmas and changes faced by global governance, the role of emerging countries in global governance, and how to advance the reform of global governance system, etc. Hence, a more organic interaction between establishing index system and academic research can be formed, in which this report appears to be more prominent.
Amid the publication, attendees also joined the third forum for global governance reform hosted by Institute of Political Science, East China University of Political Science and Law. The theme is "Chinese Path to Modernization and Global Governance System Reform". Professor Yu Keping, director of Peking University Research Center for Chinese Politics; Professor Wang Zhengyi, deputy director of school of social sciences in Peking University; Professor Huang Renwei, executive vice dean of Fudan Institute of Belt and Road & Global Governance; Professor Wu Zhicheng, associate dean of Institute of International Strategy in National Academy of Governance; Professor Liu Hongwu, dean of Institute of Africa Studies in Zhejiang Normal University; Professor Yang Xuedong, head of department of political science, School of Social Sciences, Tsinghua University; Professor Ren Xiao from Institute of International Studies in Fudan University; Professor Men Honghua, dean of Tongji University School of Political Science & International Relations and Professor Liu Zhenye, associate dean of Globalization and Global Issues Institute in China University of Political and Law, they all delivered key note speech and conducted in-depth discussion over the topics of global civilization and global governance, Chinese path to modernization and global governance, China's participation in global governance, global change and new model international relations construction.
The views don't necessarily represent those of China Daily.