Pursuit of perfection pays off for bricklayer
By GE TIANLIN | China Daily | Updated: 2022-12-07 09:07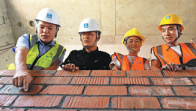 "What is youth?"
When asked this question, Zou Bin said that it was a little difficult to explain.
Born in a village in Hunan province in 1995, Zou moved to the provincial capital, Changsha, and began working as a bricklayer on a construction site when he was 16.
While the other bricklayers tried to build walls as quickly as possible, Zou looked at his job differently.
"The more you do, the higher your wages. But if I wasn't satisfied with my work, I would push the wall over and redo it," he said. "The other workers would tease me that no matter how well I built, I wouldn't get paid extra. But I wanted to set the bar high for myself."
That pursuit of perfection may explain why Zou became the first Chinese winner of the bricklaying contest at the 43rd WorldSkills Competition.
"In addition to practicing 10 hours a day, he had to learn to read construction plans at night. That was tough. I remember seeing the blisters on his hands," said Zhou Guolin, a mentor at the competition.
Zou went on to win the National Model Worker award in 2020 and the China Youth May Fourth Medal last year. Now, he is director of quality control at the China Construction Fifth Engineering Division Corp.
Speaking of his accomplishments, Zou said they have added to his sense of responsibility and have increased the pressure on him. "I'm fully aware that there are many other outstanding craftsmen out there. I am just one of them," he said.
In 2018, he was elected as a deputy to the National People's Congress, joining the trend of more deputies being chosen from the grassroots level. Over the years, he has submitted plenty of proposals related to the welfare of migrant workers.
"I feel that I am lucky because I happen to be in the best of times, a time that celebrates craftsmanship," he said.
Chinese migrant workers have contributed greatly to national development. This has also given workers pursuing craftsmanship opportunities to realize their dreams, as mentioned in the report made to the 20th National Congress of the Communist Party of China in October.
Now, when Zou wanders the places where he once worked, seeing all the skyscrapers, he feels a sense of pride. "In my youth, I contributed to urban development," he said.