Great power without great infrastructure: Uncle Sam's infrastructure woes
By Xin Ping | chinadaily.com.cn | Updated: 2022-12-07 09:40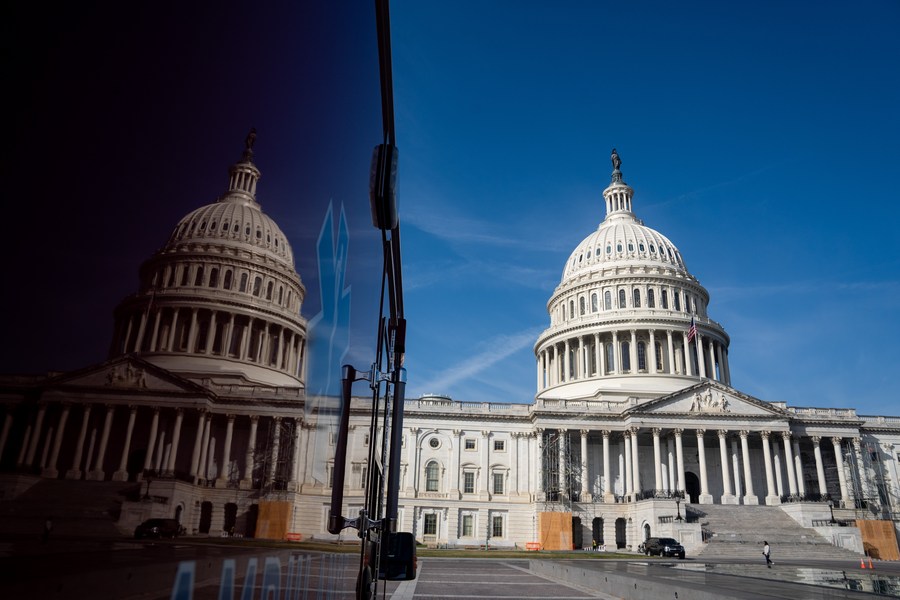 Joe Biden and Donald Trump agree on at least one thing: the United States has aging and fragile infrastructure. Both have openly lamented the country's declining infrastructure, even comparing its airports to those of a "third-world country". Fifty years ago, such characterization would sound impossible. From the Hoover Dam to the Golden Gate Bridge, from the Empire Building to the Lincoln Tunnel, the U.S. was long renowned for its well-developed infrastructure, leading the world for the most part of the 20th century.
But today, infrastructure has become one of the biggest problems in the United States. The country's existing infrastructure is crumbling. According to the Report Card given by the American Society of Civil Engineers (ASCE), America's infrastructure got a C- (on a F to A+ scale) in 2021, with its aviation, roads and transit evaluated as D+, D, and D- respectively. In addition, new projects under construction are often mired in years of delays and overrunning costs.
Why does infrastructure, once a national pride for Americans, now become some sort of embarrassment for the "City upon a Hill"? The reasons are complicated. Shrinking spending, shortages of technical professionals, and political failures are among the most obvious reasons.
For declining spending on infrastructure, the U.S. public sector is to blame. With the private sector unwilling to invest in infrastructure because of the high costs and slow returns, the public sector needs to step in and take the lead. However, according to the latest report by the Congressional Budget Office, the country's public spending on transportation and water infrastructure as a share of GDP peaked in late 1950s at 3%, and then steadily decreased to 2.3% in 2017. What's worse, most of the curtailed spending went to operation and maintenance of existing projects, rather than being invested in new projects. As a result of years of underinvestment, the ASCE estimated a nearly $2.6 trillion "infrastructure investment gap" this decade.
Some may argue that President Biden's "ambitious" Infrastructure Investment and Jobs Act, with $550 billion in new road, rail and other infrastructure, provides a "once-in-a-generation" opportunity to fill that gap. However, the record-high inflation and soaring infrastructure costs have slashed billions off its real value. Biden's infrastructure act is therefore far from enough to fill that gap.
Ken Simonson, chief economist of the Associated General Contractors, found that 2.3 million construction jobs disappeared during the Great Recession of 2008 and its aftermath, but only 1.2 million were recovered since. A major reason is because the mass lay-off of skilled construction workers during the economic downturn has made construction an unstable industry in the eyes of most Americans.
The manufacturing industry in the U.S. also suffers a serious shortage of skilled labor exacerbated by the COVID-19 pandemic. According to the U.S. Chamber of Commerce, the manufacturing industry has lost roughly 1.4 million jobs since the pandemic, and the sector now has 50% of its job openings unfilled. Deloitte, a consultancy, predicts a shortage of more than 2 million American manufacturing workers by 2030. That means that even if the U.S. government can raise enough money to fill the funding gap, its infrastructure projects may still experience slowness and delays because there are simply not enough workers.
But fundamentally, political failure is the biggest obstacle to infrastructure development. In an era of partisan strife, consensus between the parties, a must before any bridge gets built, can often be elusive. As The Hill points out, given the lack of political will and trust between and within the Republicans and Democrats, it can be difficult to make them agree on "what to fix at what cost and with what approach" in terms of infrastructure. Even Biden's so-called "bipartisan" infrastructure law was a victim of such divide. When first initiated, it was supposed to be a $2.4 trillion bill. Confronted with objections from the Republicans and even within the Democrats, the bill was first trimmed to $1.7 trillion and further cut to $1.2 trillion, only half of its initial amount. This is one of countless examples on how partisan politics in Washington makes a mess even worse.
Biden once said it was "unacceptable" that the U.S. only ranked 13th in the world in terms of quality of infrastructure. He might want to seriously address the systematic and deep-seated problems of funding, labor, and political dysfunction, lest this great power's infrastructure ranking slide further.
The author is a commentator on international affairs, writing regularly for Xinhua News Agency, CGTN, Global Times, China Daily etc. He can be reached at xinping604@gmail.com.