Flawed policies hurt growth, envoy says
By Zhao Huanxin in Washington | chinadaily.com.cn | Updated: 2022-12-07 23:01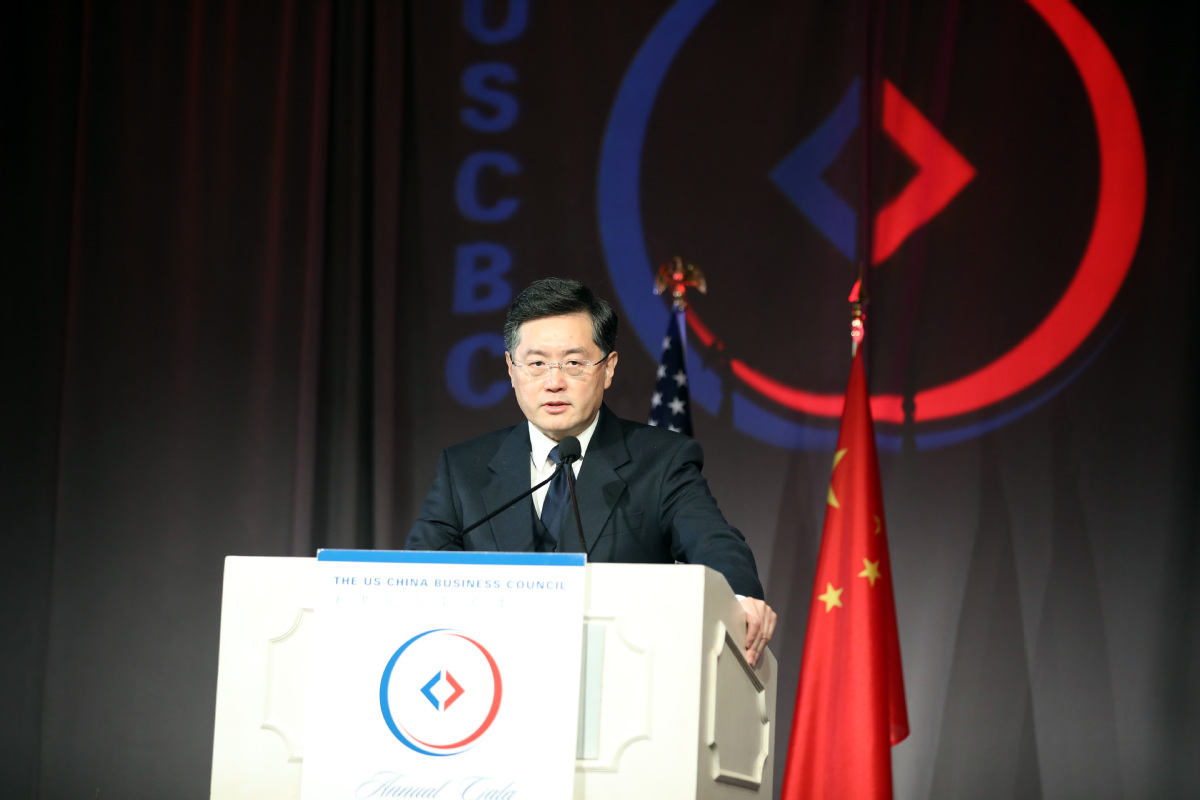 Concerns about "national security" should not stand in the way of economic growth and efforts to improve people's lives in both countries, China's top envoy to the United States said.
At the US-China Business Council, or USCBC, 2022 Gala on Tuesday, Ambassador Qin Gang said a tense China-US relationship will hamper economic and trade cooperation, and soured trade relations would be to the detriment of the US' own interests in growing its economy and adding jobs.
The annual celebratory event of the USCBC, which represents more than 280 US companies doing business with China, recognizes people who contribute to strengthening the world's most important bilateral relationship.
This year it recognized Qin as a Distinguished Honoree for his efforts over the past year and a half to stabilize relations.
"I believe none of us wants to see global warming. But all of us want to see a warming of China-US cooperation," said Qin, referring to the theme of the gala: Climate Change: Shared Challenge and Responsibility.
Qin said China and the US are major trading and investment partners and their industries are deeply integrated and complementary, meaning cooperation can unlock huge potential for gains.
But the US administration defines China as a most serious competitor and the most serious long-term geopolitical challenge, which is a "great strategic misperception and misjudgment", according to Qin.
As a result, the US has imposed export controls, import restrictions, investment reviews, as well as measures in tech cooperation, industry supervision and industrial subsidies.
"These measures have reduced semiconductors, new energy and other areas that should have provided business opportunities to some no-go areas," he said.
They run counter to the principles of a market economy and the rules of international trade and are disruptive to global industrial and supply chains, the envoy noted.
"What the US needs is growing its economy, adding jobs, cutting inflation and reducing budget deficits," Qin said. "Healthy stable and cooperative trade relations with China will serve America's own interests."
US Commerce Secretary Gina Raimondo recently also acknowledged that the US reaps huge benefits from trade with China and spoke of not wanting to see an economic decoupling. But she added a caveat: critical technology and other areas that Washington deems could "undermine" national security would be off limits.
Qin notes that stretching the concept of national security and politicizing and weaponizing economic and trade ties should not be the real purpose and the normal state of such ties.
"We should not let national security stand in the way of economic development and the improvement of people's lives in both countries," he said.
For the US, to decouple from China is to decouple from potentially the biggest market in the world and to cut off supplies for China is to cut itself off from the opportunities, he added.
The ambassador also said that it is "totally baseless" to claim that China will move backward from being an open country to a closed one.
He said that the 20th National Congress of the Communist Party of China in October affirmed that China is committed to its fundamental national policy of opening up to the world.
"We are not developing behind closed doors but realizing the coordinated and integrated development of domestic and international markets," Qin said. "This will bring new opportunities for companies worldwide."
Jon M. Huntsman, the US ambassador to China between 2009 and 2011, said the world expects the US and China to "lead on our common global challenges", including global inflation and economic issues, health challenges, energy security and climate change.
The meeting between US President Joe Biden and Chinese President Xi Jinping last month has led to a commitment to restart important discussions between the two governments, the former envoy said in a video speech.
"It was positive news that one of the outcomes of the recent leaders meeting was the climate talks would restart," Huntsman said. "There have been many examples where the US and China have been able to align around larger strategic issues, and surely climate can be one of those."
Huntsman also said the seriousness of some of the differences between China and the US is significant and should not be underestimated.
"But with a well-tailored agenda, clear channels of communication and empowered officials on both sides, dialogue should help stabilize relations," he said. "That is essential. The stakes are simply too high."
Speaking via video from Beijing, China's Special Envoy for Climate Change Xie Zhenhua said the two countries have different national conditions and are at different stages of development, but both are pursuing the most effective use of resources and energy, speeding up the transition toward green development and innovation, and promoting global climate governance.
This creates an opportunity and platform for the two countries to cooperate, Xie said.
"I believe that business communities on both sides hope to promote trade, investment and technical exchanges and cooperation in the new energy, and green and low-carbon sectors, and neither side agrees to politicize the climate issue and adopt trade protection measures," he said.