Embroidering a future for tradition
By Li Yingxue and Yang Jun | China Daily | Updated: 2022-12-23 10:58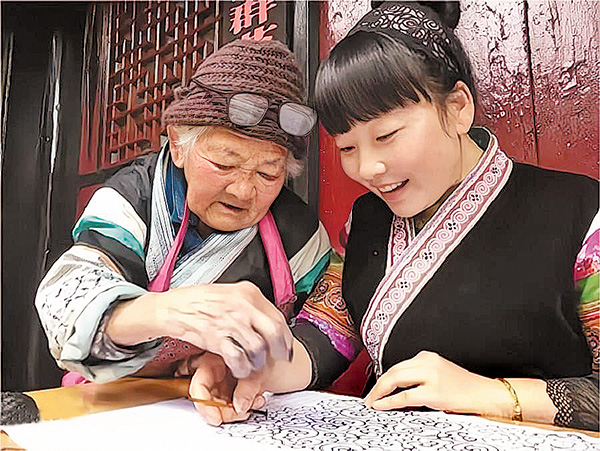 Almost as soon as Cai Qun was born, 42 years ago, in a Miao village in Zhijin county, Guizhou province's Bijie city, her mother started to make her wedding dress. It took her around 15 years to finish the traditional Miao garment, as each step, from making the thread and weaving the fabric to each stitch of embroidery, was entirely handmade.
Inspired by her mother, Cai fell in love with the traditional batik and embroidery techniques. She has been learning these skills from her mother since she was 8.
When Cai also became a mother to a daughter, she took more than a decade to make a similar dress, with embroidered dragon heads, fishtails, butterflies and phoenixes, representing prosperity, happiness and good fortune.
Known as "fingertip ballet", the batik technique of the Miao ethnic group in Zhijin county, which has a history of more than 2,000 years, was enlisted as a national intangible cultural heritage last year.
In Zhijin, the embroiderers use a copper knife that has been dipped in liquid wax to outline a pattern on white cloth. They then embroider along the pattern.
"The patterns of the batik are passed down generation to generation, and the circular patterns, which are almost perfect, are all hand-drawn without the use of a ruler or compass," Cai says.