Brewing support among the young
Xinhua | Updated: 2022-12-26 07:48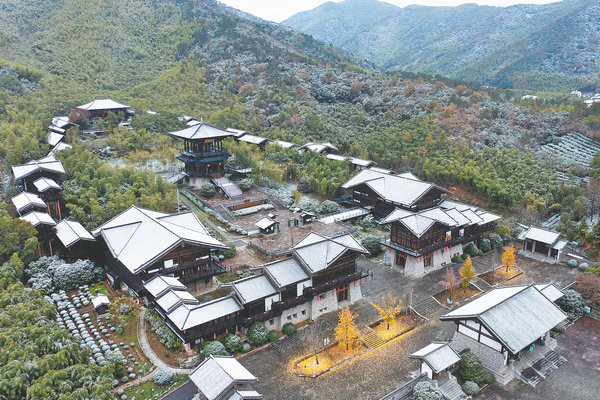 Crushing tea leaves, sifting tea powder, adding hot water, and stirring with a whisk until thick bubbles appear … A special tea party was held at the Tribute Tea Museum of Tang Dynasty in Changxing county, East China's Zhejiang province.
By restoring this ancient ritual, Zheng Funian, a national intangible heritage bearer of the Zisun teamaking technique, together with his apprentices, was celebrating the addition of China's traditional tea-making to the intangible cultural heritage list of UNESCO in late November.
"More than a thousand years ago, our ancestors had already painted or written on the tea foam, which is even more sophisticated than today's latte art," Zheng says, adding that the processing of Zisun tea has existed since the Tang Dynasty (618-907).
Since tea was discovered and utilized by the Chinese people in ancient times, China's culture of making and drinking tea has become popular all over the world, and the culture has also been developed and spread more widely.
A thousand-year legacy
Manjuelong village in Hangzhou is one of the core production areas of China's renowned Longjing tea. From picking to roasting tea leaves, tea maker Tang Hejun has made tea by hand for years.
Longjing tea makers have to adjust the roasting time and technique depending on the moisture content and quality of the tea leaves, making each pot of tea unique.
"We have to deal with the 200 C pot every day," Tang says, adding that roasting tea is "tough work". As more people left the tea villages for big cities and machine-roasted tea sells much cheaper, manual tea roasting skills were once in danger of being lost.
The villagers have come up with various ways to pass on the tea art. This year in the Longjing tea production area, a course on manual tea-making techniques has attracted more than 200 people, mostly youngsters, to participate. Fu Bo was one of them.
"Compared with machine-roasted tea, handmade tea has abundant flavor. Different tea makers will give the tea unique tastes, which is the charm of Chinese tea," Fu says. He grew up in a tea garden, through which he got to know the essence of tea culture.
Fu says tea has become a common interest among young people, and learning how to roast tea is a new trend among the younger generation.
In Wengjiashan village, another production area of Longjing tea, Sun Bin, the village's Party secretary, has launched courses about tea brewing, tea processing and other related skills.
"About 50 young villagers came to participate in our courses, of which the youngest was born in 2013." Sun feels relieved that more young people are willing to learn tea production techniques.