The peak of imagination
By Fang Aiqing | China Daily | Updated: 2022-12-29 07:57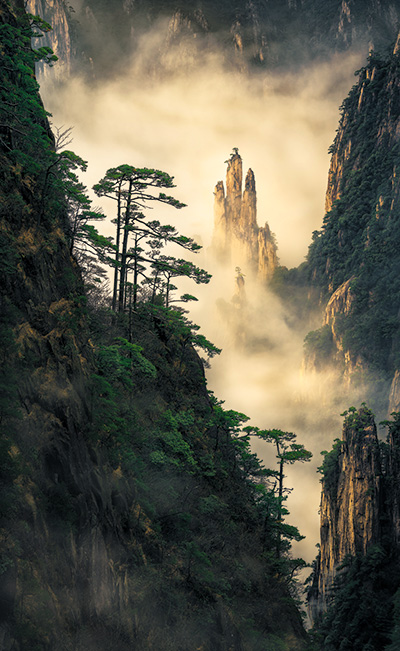 Editor's note: China is home to 56 UNESCO World Heritage sites. To find out how these natural and cultural gems still shine and continue to inspire the nation in this new era of development, China Daily is running a series of reports covering 10 groups of selected sites from across the country. In this installment, we visit the southern part of Anhui province to explore a world above the clouds and traditions steeped in history.
A "monkey" squats on his haunches, looking into the distance from the mountaintop.
Time goes by silently and he will not be hurried. He can glance upon what is happening in Taiping town — the name means "peace and tranquility" in Chinese.
He observes, unmoved, clouds rolling in and away, seeming to mirror the tumult of the sea below.
The stone monkey, actually a rock in the shape of a primate, has been surveying his domain since time immemorial. It could be measured in millennia but that would almost seem too short a time span.
It is one of the most famous rock formations on the Huangshan Mountain, also known as the Yellow Mountain, in East China's Anhui province. People call it the "Monkey Watching the Sea".
For thousands of years, the Chinese have been fascinated by these vivid rock formations that seem to spark the imagination into action: "Mr Immortal Showing the Way", "Blossom at Ink Brush Tip", and "Dragon-head Fish Carrying the Golden Turtle" are just some of the colorful descriptions.
Nature shaped them, as if to play with human sensitivities.
And this gives Huangshan Mountain a unique charm: It makes you feel the unity of man and nature, offering a fresh perspective, no matter how many times you've been there.
Huangshan Mountain is inscribed on both UNESCO's world cultural and natural heritage lists. It is a UNESCO Global Geopark characterized by its Mesozoic granite landscape.