Teacher overcomes hardship to help deaf-mute children speak
By Liu Kun/Zhu Lixin | China Daily | Updated: 2023-01-02 10:42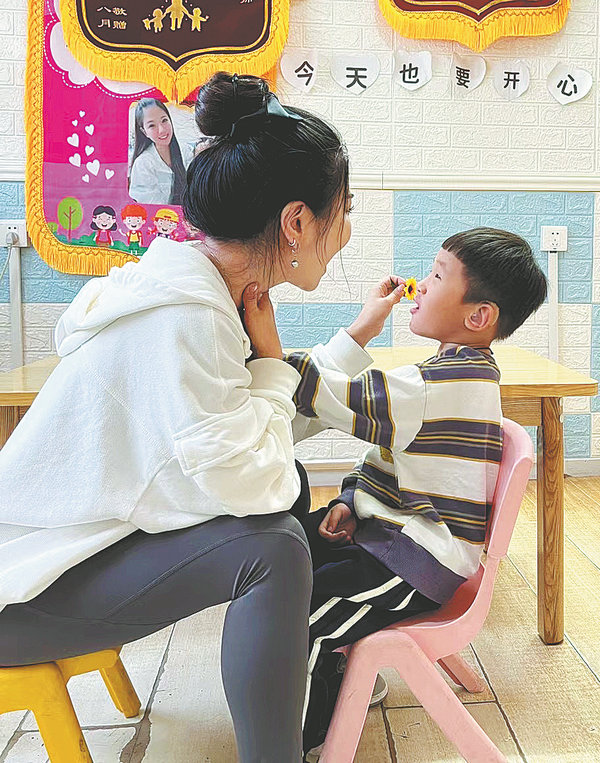 Over the past 13 years, 31-year-old Li Hongjia from Wuhan, Hubei province has helped nearly 500 deaf-mute children return to ordinary schools.
A teacher at the Little Sunflower Rehabilitation Center in Wuhan, Li has gained experience and developed her own techniques for training the children to speak.
For example, when teaching a child to pronounce "tu", which means rabbit, she puts a paper in front of the child's mouth. She said it's a great joy to see the paper moving from the child's breath.
"It gives me happiness to hear the children speaking, especially when they say 'mom' or 'dad' for the first time," Li said. "Sometimes, that first 'mom' make me feel like I was the mother."
Li, who was born in Jingmen of Hubei, entered Hubei University in Wuhan at age 18, majoring in architecture.
"My parents wanted me to follow their path to find a job in the architecture industry, but volunteer service experience changed my mind," she said.
As a freshman, she went to the Little Sunflower Rehabilitation Center as a volunteer and started working with deaf-mute children.
"One day I found a child with a painful illness. He tried very hard not to cry. He was voiceless but brave, and that touched me deeply," Li said, who decided then that she wanted to help the children more.
After graduation, Li fulfilled her plan to become a teacher at the center — but without support from her parents. In fact, they objected strongly, especially her father.
"My decision was final and could not be changed, and I rented a basement room of less than 10 square meters near the center," she said. "At that time, I took a salary of only 800 yuan ($115) per month, and the rent was 200 yuan," Li said, adding that she could not even afford a bed.
To make one, she set up two benches and laid planks between them. Sometimes, she would take children to the room and cook for them.
Li's father refused to see her for nearly a year. Then one day he came to the center to get a better understanding of his daughter's work.
"Seeing the children for the first time, my father's eyes teared up," Li said. "Then he asked me to do my best for them."
The parents then rented an apartment near the center to replace the basement room. They have been living with Li to help support her career.
As the children need continuous training, Li works more than 11 hours a day, providing guidance to more than 20 children.
To help more children, she turned to internet to present her own video programs teaching parents how to train their children. Now her social media accounts have more than 760,000 followers.
"If a job is only for the sake of money, I would not choose this one," Li said. "But, this job gives me a great sense of accomplishment."