Stronger ties, cooperation with China expected as Brazil's Lula returns to presidency
Xinhua | Updated: 2023-01-08 07:10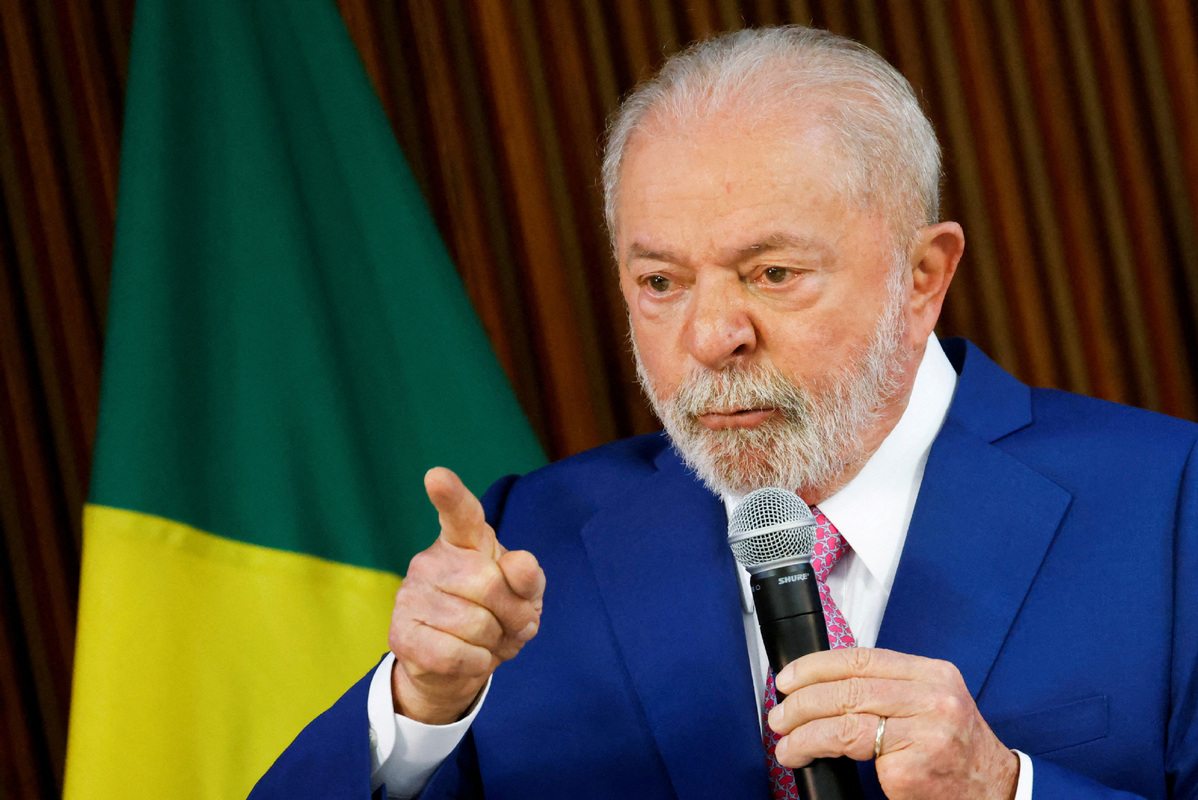 BRASILIA - Luiz Inacio Lula da Silva's return to the Brazilian presidency is expected to energize China-Brazil relations and cooperation between China and Latin American and Caribbean (LAC) countries, and help promote common prosperity around the world, Brazilian media, experts and scholars say.
Chinese President Xi Jinping's Special Representative Vice President Wang Qishan attended Lula's inauguration on Jan. 1 in capital city Brasilia, along with representatives from more than 60 countries and international organizations.
NEW ERA OF LULA DIPLOMACY
In his inaugural speech, Lula stressed his new government will be committed to "unity and reconstruction," to resolving the current crises and challenges facing Brazil, to placing Latin America's largest country among the world's leading economies once again, and to promoting Brazil's return to the international arena.
This is Lula's third presidential term. He was given another four-year mandate in general elections in October 2022, winning with 60.3 million votes, or 50.9 percent of the total, while his predecessor Jair Bolsonaro obtained 58.2 million votes, or 49.1 percent.
On the foreign policy front, Lula pledged to pursue multilateral diplomacy and actively develop cooperative ties with China, the European Union (EU) and other international partners, underscoring the importance of multilateral mechanisms such as South American trade bloc Mercosur and the BRICS bloc of emerging economies comprising Brazil, Russia, India, China and South Africa.
As Xi's special representative, Wang handed over a letter signed by Xi and conveyed Xi's congratulations as well as his invitation for Lula to visit China. He said Lula is an old friend of the Chinese people, who has long been caring for and supporting the development of China-Brazil relations.
Mauricio Santoro, a political scientist and professor at the State University of Rio de Janeiro, said Lula stresses the importance to Brazil's economic growth of partnerships with major developing countries, and seeks to create more balanced relations with Western heavyweights.
ELEVATED CHINA-BRAZIL TIES
Brazilian scholars view Lula's new term as a chance to lift Brazil-China relations to higher levels, which will also contribute to global governance, the international order and multilateral mechanisms.
Marcos Cordeiro Pires, a professor at Brazil's Sao Paulo State University, believes "Brazil and China have great potential for future cooperation."
"During Lula's administration, Brazil-China relations will be further improved, developed and enhanced. The two countries will strengthen coordination on issues such as global development and security, support multilateralism, oppose protectionism, cooperate in building infrastructure, and respond actively to climate change and global warming," he said.
"Brazil-China relations will become an important cornerstone for maintaining world peace and development," Pires added.
Bruno de Conti, an economist and professor at the Economic Research Institute of Brazil's State University of Campinas, expects scientific and technological cooperation between Brazil and China to be deepened and better benefit the two countries.
Filipe Porto, a researcher at the Brazilian Foreign Policy Observatory, agrees, saying Brazil and China are likely to fully cooperate in an array of fields besides economy.
Being confident in a better relationship between Brazil and China, de Conti said, "as the trust between Brazil and China becomes stronger and stronger, starting in January, there will be more and more opportunities for various negotiations between the two sides."
CHINA-LAC COMMON PROSPERITY
As Latin America is a region with abundant potential and growing international influence in recent years, higher-level China-Brazil relations are also expected to spur China-LAC cooperation.
China is willing to work with LAC countries in such fields as green economy, poverty alleviation, food security, vaccines and climate change to improve people's well-being and boost common prosperity around the globe through cooperation.
Ivan Oliveira, a researcher at Brazil's Institute for Applied Economic Research, believes that green finance will play an important role in bilateral and multilateral cooperation between China and LAC countries.
Brazilian scholars also share the view that China's path to modernization, high-quality development and sustainable development strategies can offer opportunities for bilateral and multilateral partnerships between China and LAC countries.
Since the outbreak of the COVID-19 pandemic, China, as one of the first countries to distribute vaccines to developing countries, has provided nearly 400 million doses of vaccines and nearly 40 million units of pandemic-fighting supplies to the LAC region.
Looking to the future of China-Latin America relations, Chinese Ambassador to Brazil Zhu Qingqiao said Latin America will also embark on a modernization path tailored to its needs like what China has been doing.
"In the new era, China is committed to building a China-Latin America relationship that is equal, mutually beneficial, innovative, and open and beneficial to the people, and to boosting China-Latin America ties and overall cooperation between China and Latin America to a higher level, so as to better benefit the people of China and Latin America," said Zhu.